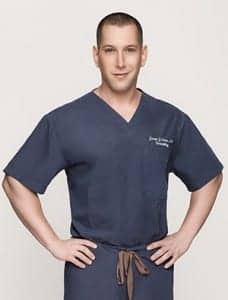 Plastic Surgery Practice magazine is proud to welcome its newest editorial advisory board member, Jason Emer, MD, a fellowship-trained, board-certified dermatologist at Spalding Drive Plastic Surgery in Beverly Hills, Calif.
Emer earned his MD at the University of Illinois at College of Medicine in Chicago and went on to complete his preliminary medicine internship at Chicago's Saint Joseph Hospital. Emer next completed a 2-year dermatopharmacology fellowship at The Mount Sinai Hospital in New York, where he also served as chief dermatology resident. It was here that he established a cosmetic clinic to treat facial lipoatrophy from HIV with fat and soft-tissue fillers. The clinic has grown considerably since its 2010 inception.
Emer recently joined the prestigious Spalding Drive Plastic Surgery practice in Beverly Hills as a cosmetic dermatologist with a specialty in facial and body rejuvenation. His niche is surgical and nonsurgical body contouring, skin tightening, anti-aging procedures with lasers and fillers, and preventative skin care treatments.
"If you read PSP magazine, you are aware of just how valuable Emer's contributions have been. He is a skin care product aficionado, and the features we have worked on together have been extremely well-received, not to mention fun to write and read," says Denise Mann, chief editor of PSP.
PSP editorial advisory board members are tasked with helping to refine the long-range vision, strategic plan, and annual priorities of the brand, as well as providing feedback on articles and suggesting timely topics.
"I'm honored to join the editorial advisory board for Plastic Surgery Practice magazine," Emer says. "Even though the title specifies 'plastic surgery,' this brand does an exceptional job of covering cosmetic and medical dermatology and dermatologic surgery," he adds.
"One of PSP's long-term strategic goals is to expand the brand's reach into the dynamic dermatology space," says PSP publisher Jodi Smith. "Having Emer on board will certainly help us get a better feel for the dermatology community, and we are thrilled to have him join the team."