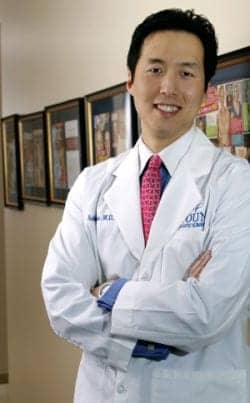 Youn has rocketed to national media prominence in the past few years.
Anthony Youn, MD, FACS, lives in Troy, Mich, a suburb of Detroit. Although that fact alone does not suggest Youn would receive significant national media attention, he has been quite active in the mass media. He has made guest appearances on numerous national television programs, such as Dr. 90210 and The Rachael Ray Show, as well as recently publishing a memoir about becoming a physician, In Stitches, for a division of Simon and Schuster.
How has he created and maintained this national media exposure from a Detroit suburb? The answer is a lesson in the new age of social media—hard work, and, Youn admits, a bit of being in the right place at the right time.
FROM "JAWZILLA" TO DR. 90210
As the son of an OB/Gyn, Youn grew up with the expectation that he would one day become some type of surgeon like his father. Plastic surgery barely crossed his mind as a future surgical subspecialty … until "Jawzilla," the name he gave for his mandibular protrusion, a congenital development that appeared during the crucial teenage years.
Amazon.com's description from Youn's book relates his life from those days: "Too tall and too thin, [Youn] wore thick Coke-bottle glasses, braces, Hannibal Lecter headgear, and had a protruding jaw that one day began to grow, expanding Pinocchio-like, protruding to an unthinkable, monstrous size."
Immediately after high school, Youn finally had mandibular setback surgery, celebrating his graduation summer with his jaw broken, reset, and wired shut for 6 weeks.
"That changed my life," Youn says. "That was the first step to me becoming a plastic surgeon, because it showed me how changing your appearance can significantly change how you feel about yourself and how you look at yourself."
Aside from his own personal experience with oral surgery, Youn ties his plastic surgery interest to a time in medical school when he helped repair the face of a small child who had been attacked by a wild animal.
"Talking to the plastic surgeon and seeing how the surgeon remade the child's face, it changed people's appearance for the better," Youn says. "That's when I got hooked, working with the plastic surgeons and seeing what they did."
Youn spent 3 years of general surgery and 2 years of plastic surgery residency through the Grand Rapids-Michigan State University General and Plastic Surgery Residency programs. Though he didn't know it at the time, a 1-year fellowship in Beverly Hills, Calif, would be the spark of national attention that would eventually jump-start his career … back in Detroit.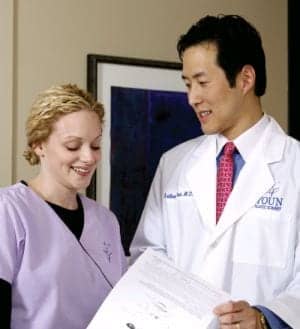 Youn recently upgraded and expanded his practice by relocating to a larger space in Troy, Mich.
TIMING AND A FEW CHOICE WORDS
Youn received a fellowship offer from Richard Ellenbogen, MD, the Beverly Hills-based plastic surgeon who at the time was starting to appear on Dr. 90210. Simply having a fellowship with a celebrity plastic surgeon was in no way a free ticket to national media attention. First, Youn had to acquire the surgical skills and work ethic to gain his sponsor's respect. Together, they coauthored several papers on facial fat grafting and other innovative techniques.
Nevertheless, it was Youn's decision to leave Ellenbogen's practice and return to the Detroit suburbs that kicked off his first national media exposure. In 2004, the year of Youn's fellowship, Dr. 90210 featured segments starring Ellenbogen. Toward the end of his fellowship, Youn could be seen on the program, but mostly in the background.
In the meantime, Youn returned to Michigan, where he and his wife had family ties and friends. Preparing to leave Los Angeles, Youn sent 30 letters to other plastic surgeons in the Detroit area, but he didn't get any offers to join existing practices. With $200,000 in medical school loans between himself and his wife, a pediatrician, Youn applied for a small business loan and started his own practice in Rochester, Mich, and would later move his practice to Troy.
"The great thing about getting no response from any plastic surgeons in town was that it got me to start thinking about promoting myself," Youn says. "Because if I didn't promote myself, then nobody knew me there and I was going to go bankrupt."
Despite his tenacity, he still couldn't make a living. "I can't tell you how many talks I gave to the orchestra guild, the Rotary Club, the newcomer's club, anything I could think of. I offered to give a talk, and, in exchange, any stipend for me, I would donate it to charity. I was trying to get someone, anyone, to pay attention to me," he adds.
Still, there were no patients. Then Youn got a call from the producers of Dr. 90210: His appearance on the program would be broadcast soon. Although he appeared on-screen for around 5 minutes, it represented something quite large to Youn.
About Youn, Ellenbogen said two things: "I made him an offer he couldn't refuse, and he refused it." Youn continues, "Then, while they filmed my going-away party, he said, 'Dr Youn is leaving my practice and going to Rochester, Michigan, to start his own practice.' "
Suddenly, Youn's skills, name, and practice location were public, and by the end of the next day he had 10 cosmetic surgery consults. A press release that he wrote prior to his appearance on Dr. 90210 also got through to a local talk radio station, where Youn appeared as an on-air guest for an hour. Another nine consults resulted from that, and Youn's practice grew from there.
"That really taught me the power of media, and of really being in the right place at the right time," he says.
BECOMING SOCIAL MEDIA SAVVY
PRACTICE AT A GLANCE
---
Practice: Youn Plastic Surgery
Location: Troy, Mich
Years in practice: 8
Specialty: Facial fat grafting, breast augmentation, abdominoplasty
Office square footage: 4,000
Staff: 3
Patients per week: 30 to 40
Days surgery performed per week: 2.5
Though Youn's appearance on Dr. 90210—along with Ellenbogen's endorsement—can be credited with launching Youn's Michigan solo practice, it had little to do with his future appearances on The Rachael Ray Show and various other programs. That can be chalked up to Youn launching himself and his practice into the modern age of social media marketing.
Blogs, Twitter, Facebook, and other interactive platforms fall under the umbrella of "social media." Youn started with blogging, and, as with many turning points in his life, the idea came by him being in the right place at the right time.
The right place was his office, where he heard about a friend of his receptionist who was publishing a celebrity-oriented Web blog that was so successful that he could quit his job and move to Los Angeles thanks to all of the online advertising revenue.
When Youn began publishing his own blog, he did not believe he would receive any significant passive income from it. The idea was to simply have access to an unfiltered medium to promote his practice on the Internet. The next step was deciding what to blog about. "Everyone wants to hear about celebrities," Youn says.
With his blog's angle set in his mind, Youn registered the Web site domain celebcosmeticsurgery.com. Four years later, he has clocked more than 11 million visitors to his blog and a steady stream of 13,000 to 20,000 unique page views per day.
Although the blog and his corresponding Facebook page generate few local consultations, Youn says that it is more like a free publicity tool. With it, Youn says news and entertainment producers searching the Internet for experts on celebrity cosmetic plastic surgery can more easily locate him.
It was one such Internet search that allowed a producer from The Rachael Ray Show to find him. Since then, Youn has become a frequent Rachael Ray guest, speaking about celebrity and noncelebrity plastic surgery, as well as cosmetic surgery techniques, trends, and tips.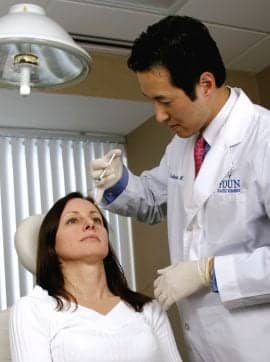 Being a media personality, Youn says, makes his job as a plastic surgeon even more interesting
BLOGGING TAKES TIME AND EFFORT
Youn was one of the first physicians to blog about celebrity plastic surgery, but he is not the last. Currently, competition is stiff, he says, and writing a blog takes time, consistency, and a talent for writing interesting, useful content.
Youn's material is a mix of content. For example, he regularly comments on celebrities who have recently been in the spotlight. In addition, he scours the Web for information on celebrities who have admitted to having some type of procedure, and he uses the example to explain how the procedure is performed and its possible complications.
Youn will also write about hot plastic surgery topics in the news, as well as engage in some self-promotion (such as promote his television appearances or publicize his new book).
Youn says each blog post takes approximately 45 minutes to prepare, although more complex articles (such as his "Top 10 Predictions for 2010" piece) involve additional research on trends and celebrities. For shorter posts, he will identify a cosmetic surgery-related news story, write a brief comment, and then provide a link to the original source.
"In the evenings when the kids are asleep and if I'm not spending time with my wife, I spend time looking at plastic surgery news stories and posting them on my blog. It's my hobby, and to some extent, my obsession," he notes.
Besides regular appearances on The Rachael Ray Show, Youn has made numerous appearances on Fox News outlets, CNN, and other medical reality television shows. Some opportunities can be sourced to the blog, and others from the Rachael Ray exposure, he says.
YOU CAN DO THIS, TOO
Youn has received minimal media training, although he did consult with a media professional during his fellowship in Los Angeles. Otherwise, he has done little more than bring his natural personality to the set. In terms of online social media tools, Youn uses Facebook a little, posting links to his latest blog posts or excerpts of his new book, but he identifies the blog itself as his core social media tool.
"People will ask me what advice do I have for doing social media," he says. "The only advice I have is to just be active, because your patients are going to be active." Even though his blog alone gets 15,000 page views per day, it generates very few patients, Youn adds. "I get a lot of patients that read my blog, and I get a lot of media attention from the blog. Ultimately, it's the media attention and word of mouth that lead to patients. My actual blog does not necessarily lead to a lot of patient referrals."
As for Twitter, Youn says he's still trying to figure out how to benefit from that social media platform. "I don't Tweet that often. I may Tweet every few days, but it's just another thing to do, and I'm actually trying to consolidate these things right now."
No matter what type of social media he uses, Youn remains cautious about how he responds to patients online. Whereas he wants to be interactive, there are always patient privacy and medical liability concerns. Consequently, Youn never answers personal patient queries on his blog.
"I don't give medical advice," he says. "I'll repost information from, say, the American Society of Plastic Surgeons or respond on very obvious things, but at no time will I respond directly when people say, 'This is my problem. What do you think I should do?' " To those types of questions, Youn suggests the person should consult a board-certified plastic surgeon.
Another key to Youn's blogging success is that he strikes a balance between publicity and useful or interesting information. "I try to look at my blog as a combination of entertainment and self-promotion. But if it's all self-promotion, nobody will read it. On the other hand, if it's all entertainment, then I don't get anything out of it. So, [I'm] trying to ride that thin line of being self-promoting, yet not turn people off."
ON-CAMERA QUALIFICATIONS
For those wanting to get more media appearances, Youn says that it's less important to have an attractive face for television than it is to be accessible to a lay audience. "What producers tell me is that I appear approachable," he remarks, adding that he avoids a lot of scientific jargon and instead relies on easy, regular terms that most people can understand.
In addition, Youn applies mentor's advice from Ellenbogen to both his practice and his media appearances. "What Dr Ellenbogen said to me when I left LA was, 'Tony, the one thing you have to offer these patients that other doctors may not is your time. Spend time with your patients. Talk with them.' That was also something I learned in medical school. Michigan State's goal was to teach you how to be a surgeon who cares like a primary care doctor."
Asked how he feels about being a celebrity doctor, Youn says, "I don't consider myself a celebrity. It's not like I'm constantly recognized by people on the street. Occasionally, I'll go through a drive-thru or somewhere, and someone will say, 'Hey, are you Dr Youn?' But I'm not a celebrity. I'm not Robert Rey or Dr Oz, or anyone like that."

On The Web!
See also "Taking the Guesswork Out of Blogging" by Cheryl Whitman in the April 2009 issue of PSP .
The best part about being a part-time media personality, he says, is that it makes his job as a plastic surgeon even more interesting. "For me, I enjoy taking care of patients, seeing patients, and operating on people, but the media just adds something different. It's not the daily grind of 3 days of surgery every week and 2 days in the office. It adds a 'you never know what happens next' element to me."
Youn's next media opportunity—and challenge—is helping his publishers publicize his new humorous memoir, In Stitches. Otherwise, his spare time is devoted to his wife and two young children, and occasionally playing guitar in his church's band.
---
Tor Valenza is PSP's associate editor. He can be reached at [email protected]