By Alison Carole, Paramedical Esthetician, LE-CMT
Myotonology® uses microcurrent technology to take facial toning to the next level.
In response to a growing trend toward more natural, cost-sensitive alternatives to surgery, a number of innovative products have been introduced that combine injectables, energy devices, and topical regimens. One of them is Myotonology®, a US-patented microcurrent skin-toning treatment that increases circulation and collagen and boosts the oxygen supplied to the muscles.
Myotonology is based on faradic microcurrent technology, which has been used for more than 30 years to treat Bell's palsy and restore muscle tonus. The treatment systematically reduces the signs of aging by maintaining or increasing muscle tone in three ways: circulation, microcontraction, and cerebral effect.
During a session, the practitioner isolates approximately 30 muscles of the face and stimulates the muscle fibers with low-microcurrent impulses. These impulses restore proper tone to the facial muscles. The result is healthier, younger, toned, and refreshed skin. Myotonology is the only facial toning treatment designed to take care of all 30 muscles in the face.
Treatment comprises up to 12 sessions, depending on the patient's needs. Each session is administered 2 to 3 days apart for a cumulative effect—although results are noticeable after one session. Once the series is complete, monthly follow-up maintenance treatments can be designed based on the patient's health, skin condition, genetic influences, lifestyle, and hormonal milieu.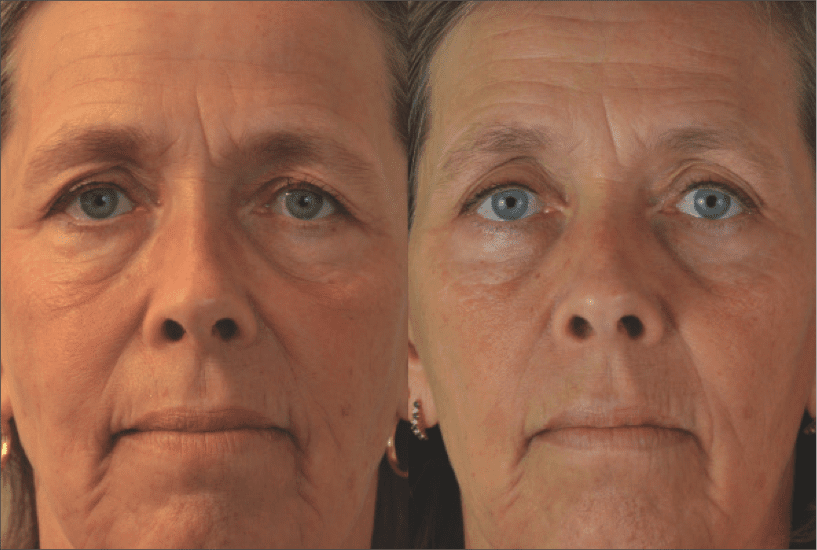 Before (left) and after Myotonology
Before (left) and after Myotonology

The Myotone® Med unit allows the practitioner to fine-tune the treatment for each area of the face, sculpting the dermis at deeper levels and producing a result that is very close to a facelift. Because this treatment is so detailed, practitioners can work under the lash line to drastically reduce the signs of aging around the eyes.
In addition, the penetration of specialty serums can be delivered more efficiently to resolve pigmentation disorders and dull skin, as well as presurgery and postsurgery applications.
Giving Clients an Optimal Experience
Sessions take an hour or less, and there is no downtime required. The treatment is safe, comfortable, and relaxing for the patient, and the booster sessions give estheticians an opportunity to build upon client relationships. What's more, this treatment is affordable, and represents an opportunity to look younger without pursuing a treatment that would be radically invasive or involve shots, anesthesia, healing time, or scarring. The cost of sessions varies based on geographic location, but the average is $120.
Still, Myotonology can complement several cosmetic procedures, including botulinum toxin Type A, microdermabrasion, chemical peels, photo facials, intense pulsed light therapy, dermal fillers, and ultrasound therapy.
There is also a complementary line of botanical skin care products called Myo Essentials®. This line offers additional practice enhancements, extending patient loyalty and fulfilling their requirements for appropriate follow-up care. Prices start at $12. The products help nourish the skin and rebuild collagen. They are everyday products that clean, protect, and moisturize the skin. They can be used by everyone regardless of whether or not they have had the treatment.
Mytonology and Your Practice
It is ideally suited for seasoned estheticians working within the anti-aging realm, nurse practitioners, nurses, naturopathic practitioners, wellness center professionals, and other health specialists who can take advantage of an on-site certified training program, consulting and technical support that are included with the purchase of the Myotone Med unit. The unit is easy to clean, trouble-free, and accompanied with excellent training, service, and support. In an exclusive deal for PSP readers, the myotonology unit costs $9,995. n
Alison Carole is a paramedical esthetician who specializes in noninvasive treatments. She is based in Sacramento, Calif. She can be reached at PSPeditor@allied360.com.