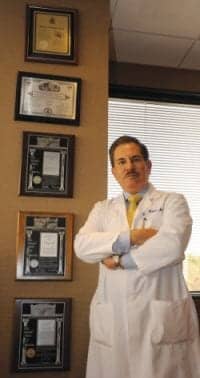 William J. Binder, MD, FACS, is known worldwide as the man who pioneered the use of alloplastic implants to enhance chins, cheeks, and other facial features. He is also behind the use of CT scans and 3D imaging to create more precise customized facial implants for both cosmetic and reconstructive purposes. Binder also conducted preliminary studies on Botox Cosmetic for the effective and safe treatment of facial wrinkles in the 1980s and has published numerous articles on his findings in leading medical journals, as well as being the founder and pioneer in the use of Botox for migraine headache.
"My discovery in the use of Botox for treating migraine headaches, which dates back to 1992, was finally acknowledged when the recent FDA approval news broke on October 15, 2010," Binder says. "That was a proud day for me."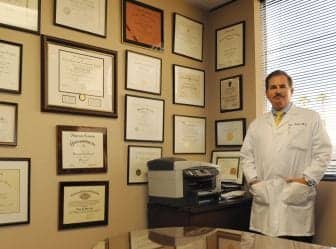 With an office and surgical facility in Beverly Hills, Calif, Binder is assistant clinical professor at the David Geffen School of Medicine, UCLA, and attending surgeon at Cedars-Sinai Medical Center in Los Angeles. He is certified by both the American Board of Facial Plastic and Reconstructive Surgery and the American Board of Otolaryngology–Head and Neck Surgery, and he is a fellow of the American College of Surgeons, the American Academy of Facial Plastic Surgery, and the American Academy of Otolaryngology–Head and Neck Surgery. He holds more than 10 US and worldwide patents on numerous medical devices and pharmaceuticals, and he has held many national elected and appointed committee positions.
Along with his impressive credentials, Binder's strength, he says, lies in his ability to see all that the world presents to him. When it comes to refining facial aesthetics, he doesn't hesitate to pursue new techniques, new materials, and new methods, and then train other physicians in those developments and techniques.
So, who is this guy?
PRACTICE AT A GLANCE
Practice: Duke University Medical Center
Location: Beverly Hills, Calif
Specialty: Facial plastic and reconstructive surgery
Years in practice: 30
New patients per year: 350-400
Patients seen per day: 20-25
Days worked per week: 4-5
Days surgery performed per week:2-3
Number of employees: 8
Office square footage: 5,000
THE MAN BEHIND THE REPUTATION
During his first baby steps into his career in medicine, he did not realize at first that he would become a surgeon. "I interviewed for a neurology residency," he reminisces, "until I went through a clinical rotation and decided that wasn't for me."
Binder is originally from New York. "I did my Internship and General Surgical residency in San Francisco—a little adventurous at the time," he explains. "I wanted to explore the open spaces of the western part of the US, particularly California. I fell in love with the geography of the West Coast. I had no original intention to move permanently to Los Angeles, though, so I decided to go back to New York and finish my residency training at the Mt. Sinai Hospital and Medical Center."
As fate would have it, Binder and his wife did an about face and ultimately relocated permanently to California when he found an opening for a plastic surgeon in Los Angeles. The change of location gave Binder a new world of possibilities from which to draw, that would play a critical role in his next move: revolutionizing the field of facial contouring and aesthetics.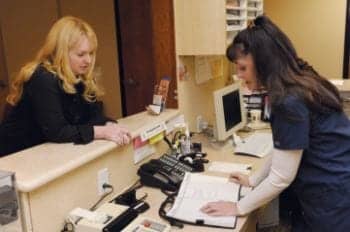 Binder's busy Beverly Hills facility handles around 25 to 30 patients per day, and he performs surgery about 2 to 3 days per week.
His idea was to create a facial implant that was more anatomical in design and function than existing products, which he was able to realize through his work with 3D computer modeling software and CAD/CAM engineering software. The implants are now sold by Implantech Associates Inc, Ventura, Calif.
At the time, Binder not only created a new product, he revolutionized how implants are designed and manufactured. "Patients would desire more defined cheek-bones. Or, some may have already undergone cheek-augmentation surgery with ill-conceived implant designs and unnatural-appearing results. Unfortunately, that really gave cheek implant surgery a bad name for a long time."
According to Binder, the original type of cheek implant that was used was a little oval disc that was placed over the cheekbone, and had no basis for the anatomical aesthetics for that region of the face.
As these implants would never give a natural contour to the face, Binder went to work on his concept of the submalar implant.
California was the epicenter of the aerospace industry, which was using CAD/CAM technology for both designing products and controlling manufacturing processes.
For Binder, CAD/CAM was a good way to map the face, create structure, and design molds for facial implants. "I visited the City of Industry, El Monte, South El Monte, and finally ended up in a facility in Arcadia," Binder says. "The owner of the facility and I worked for 6 months designing the implants, as well as beta testing a new CAD/CAM software system specifically for this purpose. I was able to design implants that were significantly improved and adapted more closely to the contours of the face."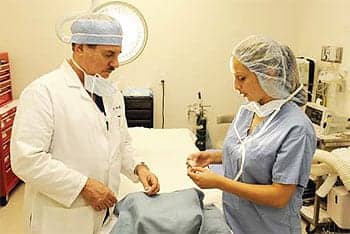 Binder is eager to pursue new techniques, new materials, and new methods in facial aesthetics, and then train other physicians in those developments and techniques.
The CAD/CAM software enabled them to resize and readjust implants with curved and smooth surfaces—a process relatively unknown at that time. As it turns out, most of the implants made today are manufactured through a similar process to the one Binder developed. His submalar implants were the first computer-designed implants ever produced.
The submalar implant, Binder adds, was "the first volumizer. Today, the emphasis is on volumizing the face. And that submalar implant was the first volumizer ever, because the essence of youth is not to be pulled tighter but to be 'filled out.' This is still the best volumizer. It's permanent, and it can be done in about 25 to 30 minutes. It's reversible, and it doesn't upset the soft tissues. Nowadays, many practitioners are forgetting the aesthetics of the face and making balloon faces by overinjecting synthetic and/or natural fillers."
Currently, Binder is involved in improving facial implants for the future. He is in the early stages of developing a system that combines computer-based imaging with a CT scan and surface imaging. As the image is captured on the computer with 3D definition, the surgeon can custom design the implant and predict the aesthetic outcome preoperatively. Binder expects this technology to be available to other surgeons within the next few years.
RHINOPLASTY, REVISED
Though his role has been critical in the area of facial contouring, most of Binder's day-to-day work lies in revision rhinoplasty, which makes up 65% of his work. In this area, Binder's crossover genius lies with combining the newer, popular open rhinoplasty technique with the older closed rhinoplasty technique. Binder has dubbed the resulting hybrid technique "structure rhinoplasty."
In outlining the evolution of rhinoplasty, Binder says, "People identified the older techniques as the quote unquote 'bad nose job,' which is too short, upturned, with a pinched look and flaring nostrils, etc. Then came along a more structural phase of rhinoplasty that was introduced primarily through the open technique. Open technique has become extremely popular because it is a lot easier to learn. It has started to dominate in terms of its prevalence. The only problem is, in certain instances, after a nose has been open several times, your best mode of fixing that nose would not be an open rhinoplasty—it would be a closed technique.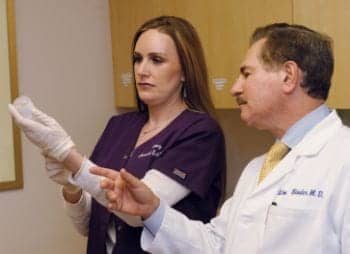 Binder holds more than 10 US and worldwide patents on numerous medical devices and pharmaceuticals.
Binder believes his structure rhinoplasty technique points to a future path for practitioners to follow. "I combine the closed and open rhinoplasty techniques into a more versatile and sophisticated closed technique," he says. "It works very well. In a sense, it is similar to reserved currency. It is a procedure that you can reserve if you know how to do closed rhinoplasty, since you'll be able to correct those cases that have not turned out well because you have an added level of superior skill."
Binder thinks knowing the closed approach is extremely important. "For example, I recently saw a lecture about a patient who originally had rhinoplasty 20 years ago and then had a revision performed about a year ago because the tip had changed," he explains. "The patient was extremely unhappy with the surgeon because she liked her first nose better. Her problem could easily have been fixed with a small graft using a closed approach and a minimum amount of additional surgery.
It is not possible for every plastic surgeon to be an expert in all procedures. This is particularly true for rhinoplasty and even more so in revision and corrective nasal procedures. The nose is extremely complex, as well as being the most obvious anatomic focal point of the face. Maintaining or improving its function while simultaneously creating a natural shape is vitally important for a patient's physical and psychological well-being and takes an experienced and highly skilled surgeon.
"In my opinion and in my many years of experience, the closed approach is a great technique and there are many reasons surgeons should adopt it. Hopefully, it will not become a lost art," he says.
BOTOX FOR MIGRAINES
Though rhinoplasty is Binder's first love, he admits, "I've been sidetracked as far as what I'd really like to do, which is teach rhinoplasty and be more involved in the teaching of courses on rhinoplasty. I just haven't been able to do it the last several years because of probably the biggest event of my lifetime, which is associated with the original development work for the use of Botox for migraines."
It has been a long journey, he says. "I was the first [in California] to inject Botox for wrinkles, and out of that original study came the discovery, which is now worldwide, which is the use of Botox for migraines."
He speaks of the moment of discovery: "When we began our first big wrinkle trial, patients were followed for their wrinkle results. Subsequently, some of them insisted that their headaches were gone. Initially, I was skeptical. But when patients came in who had previously been in severe pain telling me that they now had zero headache pain, I realized that I was on to something. It was an amazing experience to see that happening. I didn't report it at first because I couldn't make sense of it.
"I read all of the articles on migraines, read all of the articles on Botulinum Toxin type A, and found that there is a link. Because Botox is a neurotoxin—that is, it doesn't work on muscles, it works on nerves—it could potentially be a blocking agent.
"We knew the mechanism of action for motor nerves, but we thought it didn't work on sensory nerves. My premise was that it may have other actions on other types or nerves and as inhibitory agents to other neurosecretory inflammatory proteins (as found in migraine)," he says. "At that time, we didn't have enough research to really find out what was going on."
For 2 years, Binder conducted his own study. "At first, I thought it might work for certain tension headaches, believing it would alleviate the muscle tension," he says. "Well, the fact is that tension headaches have nothing to do with muscle contraction."
However, he noted that the discovery was significant in that the application of Botox also eliminated the associated symptoms of nausea and vomiting along with headache pain.
"That led me to believe that it worked on migraine more than tension headaches or other types of headaches," he says. "I thought this was bizarre. How could an injection in the forehead or temple region have a medicinal effect?"
In 1994, Binder set forth on a multi-institutional study of this phenomenon with fellow surgeons and colleagues at Columbia University, Mount Sinai Hospital, and the University of California at both San Francisco and Los Angeles. Binder was in Los Angeles.
"We evaluated our results in 1996 and found that we all got similar results for migraine using the specific protocols I had done in my first patient study," he says. "I presented it for the first time in 1998, again in 1999, and our paper came out in 2000. FDA clinical trials started in 1997. It's been in the FDA for 13 years. The Phase III trials are currently the largest headache study ever done and were performed on the most refractory chronic migraine population—those with no less than 15 headaches a month.
"This is a treatment that targeted the worst migraine population in the world. There is no other course of treatment for these patients, as medication most often does not work for them. In addition, the treatment acts as a prophylaxis or preventive therapy and can prevent recurrence of headache pain for over 3 months. It is a definite life-changer."
INJECTION VARIATIONS
Facelifts Meet Fat Grafting
David Shafer, MD's practice has been transformed by fat-grafting techniques and technologies—and his patients love it, he says.
As an aesthetic surgeon in private practice for only 2 years, Shafer realizes that he may have an advantage with some procedures because they were ingrained in him throughout his education.
"Fat grafting has been around as I've been going through my training, so it's been very natural for me," he says, adding that he uses fat grafting alongside 90% of the facelifts he performs. "It doesn't add bruising or swelling because you are already manipulating the tissues. Fat grafting is a great procedure for people just starting out, especially if you're not combining it with a surgery. You can do it under local anesthesia in the office. It's cheap; there are no product costs, just equipment costs."
That equipment could be special strainers or other devices, but Shafer says he uses a basic centrifuge. There is no standardized method for dealing with extracted fat, but physicians have several options available. "You just have to do it the way you do it, knowing what results you get," he states.
With fat grafting, Shafer has noticed around a "70% take rate," and that some patients need a touch-up at a later date. Studies are showing that if the fat-grafting treatment lasts several months, it will probably last forever, he adds.
The downside of fat grafting, he says, is that "the fat continues to act like the fat from where you took it. If you always gain weight in your thighs and they took the fat from your thighs, if you gain weight then your face is going to gain weight. That fat will always act like thigh fat."
—SR
Although there are some overlapping similarities to injecting Botox for wrinkles, the injection process for migraine headaches is different.
"The dose is different," Binder says. "Typically, injection areas are within the glabella, forehead, temporal areas; as well as occipital, suboccipital, and neck areas."
Binder notes that the article he and his colleagues published in the December 2000 issue of the journal Otolaryngology – Head and Neck Surgery offered a detailed overview of the injection technique.
This technique was the precursor to the new, revised technique as part of the FDA guidelines and recently published in the October 2010 issue of Headache Journal.
In practice, will people automatically think to go to a plastic surgeon for the treatment of migraine headaches?
"Who should be injecting it?" he says. "I'm a plastic surgeon, I'm the first one to ever do this, but I took up an interest in reading up on the subject and I know how to work up headache patients as a plastic surgeon. If I didn't, I certainly would want to work with a neurologist in terms of management of these types of patients."
Binder is emphatic about the need for physicians of all specialties to undergo complete training in the use of Botox for migraine. Even physicians currently injecting Botox for wrinkle reduction must take a course specifically outlining the types of headaches, proper work-up, as well as using proper dosage and injection technique specific for migraines, Binder says.
He urges physicians to not be flippant about this. "What if the patient does not get a proper neurological work-up about their headache problems and actually is suffering severe headaches for other reasons, such as a brain tumor or aneurism?" he says. "Doctors cannot just assume it's a migraine and start injecting."
It is quite different from the regimen used for treating wrinkles, he says, adding that he intends to conduct more training courses.
"I'm not saying that patients should exclusively be treated by neurologists," he says. "But if patients are going to be treated by other physicians, they have to have the headaches fully documented, the patient must be analyzed as a neurological patient, and the doctor performing the injection must be properly trained regardless of their medical discipline."
WHAT HIS FUTURE HOLDS

On The Web!
See also "Surgeon In the Hood" by Sarah Russel in the May 2010 issue of PSP.
After spending the last few years teaching the injection techniques for migraines, as well as facial implant dissection workshops, Binder hopes to be able to focus more on teaching courses in rhinoplasty—which continues to be one of the most commonly requested surgical procedures in America, he notes.
Apart from his professional life, Binder continues to enjoy living and practicing in California. In his rare free time, skiing, mountain biking, and golf are at the top of his list of after-hours activities.
When asked to look back on his many accomplishments and express which stands out as his highest achievement, Binder's response is disarming. "My family life consists of two grown children and a long, successful marriage. That's perhaps my greatest achievement," he says.
---
Sarah Russel is a contributing writer for PSP. She can be reached at [email protected].