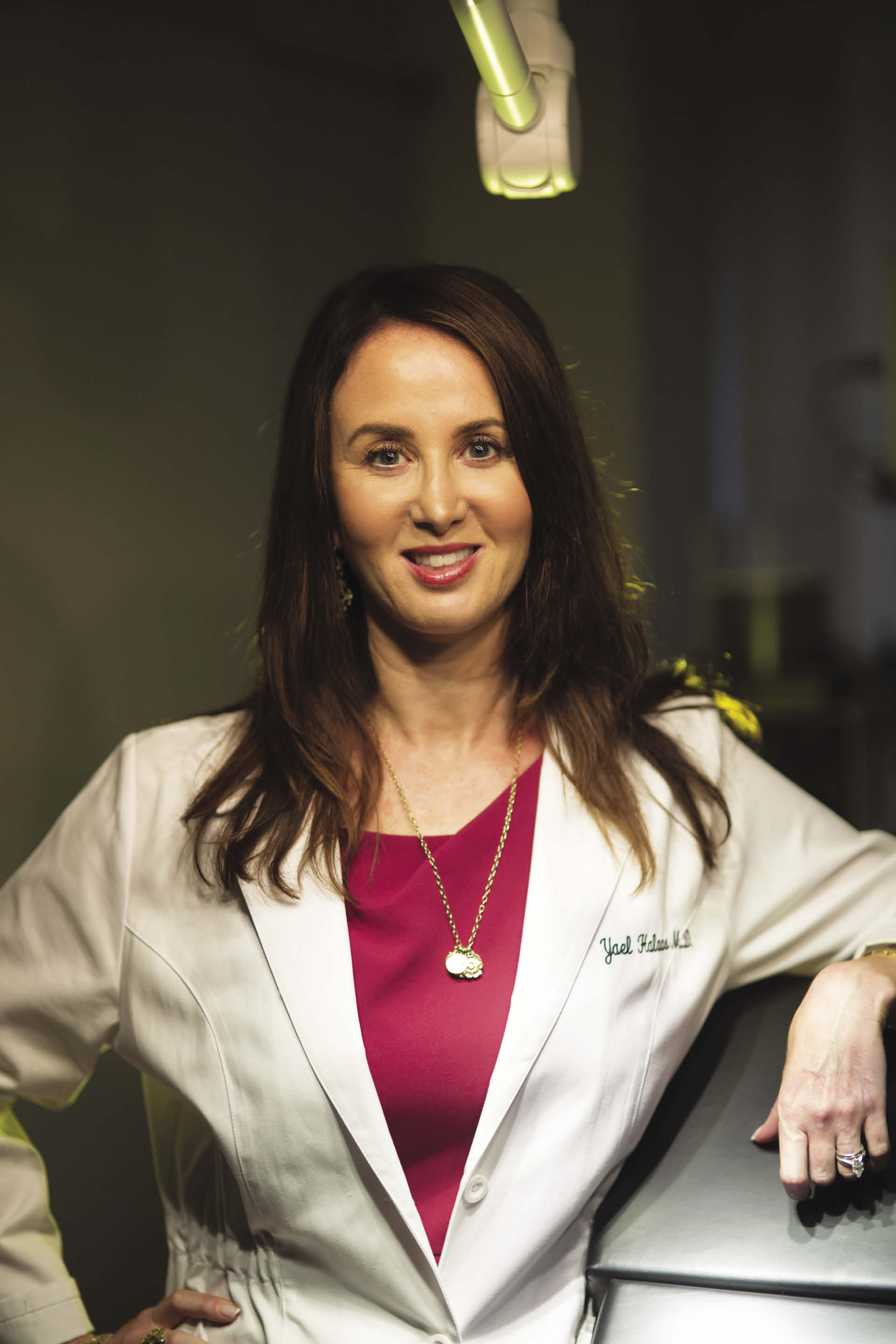 Yael Halaas, MD, on balancing work and family
By Denise Mann
It's around 3:30 pm or so on an overcast Thursday in Manhattan, and just as facial plastic surgeon Yael Halaas, MD, ponders the first question in our interview, her phone rings.
She glances down casually, sees a familiar number, and her expression changes from one of placidity to one of controlled alarm.
"It's my children's school," she says, and answers it.
All mothers fear that call from the school, and working moms, like Halaas, may dread it even more so due to their lack of proximity. Halaas' three children go to school in suburban Westchester, while her facial plastic surgery practice is based on the Upper East Side of New York City. Door to door, the commute is about 1 hour.
A few seconds of silence pass. Halaas starts looking more relaxed, and the color returns to her face. She smiles at me before speaking into her smart phone. "Yes. I called this morning. He is going straight to the birthday party after school," she says, and hits "End."
"Crisis" averted.
A FINE BALANCE
Rather fittingly, the question at hand was, "How do you balance a practice and three children, age 10 and under?"
Not easily and not always gracefully, Halaas admits.
"My secret is that my mother is a retired pediatrician fluent in four languages, and she lives three blocks away," she says.
That's not to say she outsources much, if anything. Halaas is very hands-on and detail-oriented as both a mother and as a surgeon. Her newly remodeled office is a testament to the art history major's attention to detail and flair for design. In it, soft gray tones and splashes of magenta play off mirrors, opening up the sleek space.
The office is modern and elegant, yet warm.
Just like Halaas herself.
| | |
| --- | --- |
| | |
| Halaas is one of a handful of female facial plastic surgeons. | "Hair transplantation is an art, and it requires a lot of adjustments by the surgeon." |
Still, the balancing act is a challenge, and one that not many females seem up for. In fact, Halaas happens to be one of a small handful of mommy facial plastic surgeons and one of an even smaller group of female doctors who offer hair restoration. She is a member of the American Academy of Facial Plastic and Reconstructive Surgery (AAFPRS). Of this group, 2,700 members, just 10% are women.
"Despite the fact that we try very hard to mentor women, the hours are long and the surgical training is fairly rigorous," says Edwin F. Williams, MD, an Albany, NY-based facial plastic surgeon and the AAFPRS group vice president for public and regulatory affairs.
"It's physically demanding and difficult when you have toddlers," he says. The Academy is making efforts and inroads to recruit more women. "We are trying to get our women leaders to mentor women of potential, because lets face it: We like the best and brightest."
Not actively recruiting and fostering the development of female doctors would also place the Academy at a disadvantage member-wise, since growing numbers of students in medical school today are women.
According to the Association of American Medical Colleges, the number of female medical school applicants peaked for the 2012-2013 school year, and seem to be catching up with male applicants.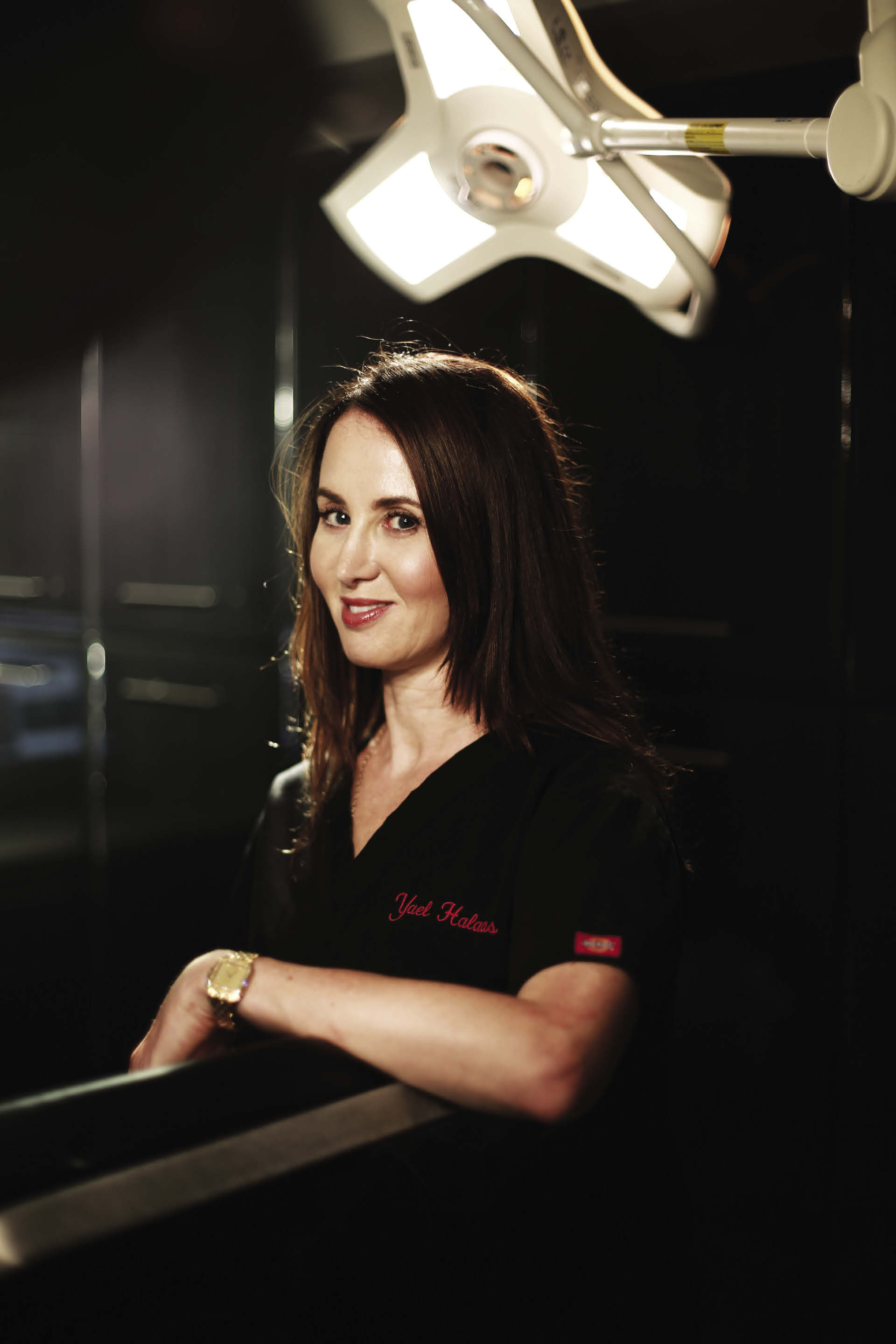 "Once they are in the office, women know they can ask me anything."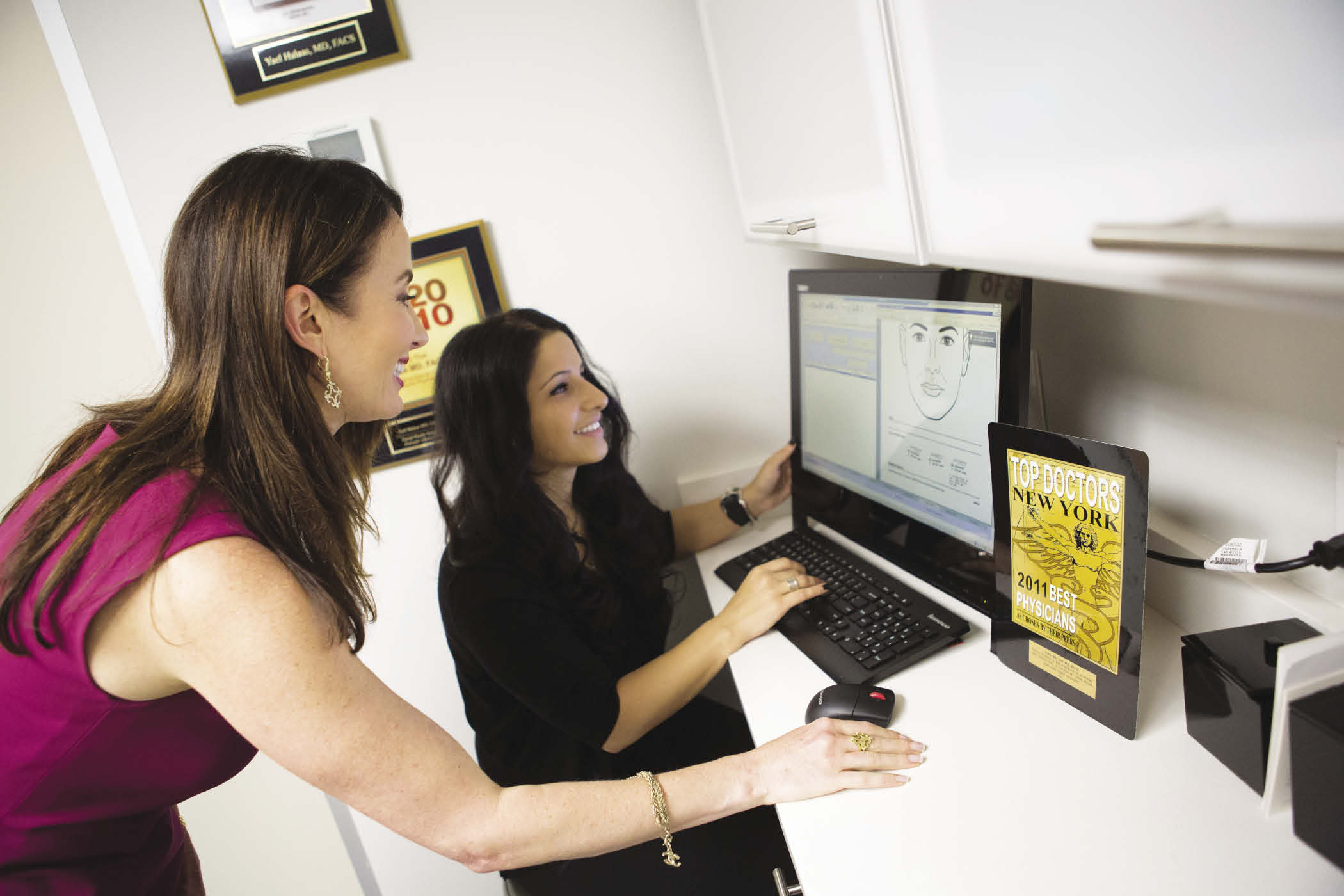 Halaas prides herself on running a boutique practice.
THE GIRLFRIEND'S GUIDE TO FACIAL PLASTIC SURGERY
While Halaas' gender puts her in the minority among colleagues, it also provides an edge. Women often feel more comfortable talking about age-related concerns with other women.
"Once they are in the office, women know they can ask me anything," Halaas says.
And they do.
This is not a freeway practice with constant back and forth of patients. Instead, the office always seems comfortably, but quietly busy, and this is no accident. "I spend so much time talking to patients that I do develop an empathy and really want to relate to them," she says.
A consultation with Halaas is just that: A consultation with Halaas. It feels more like meeting a friend for coffee than a clinical examination.
That's her style, and her lure. "She is compassionate, an excellent surgeon, and her patients love her,"
6 Things You Don't Know About Yael Halaas, MD
1. Her "brainiac" husband, Jeffrey Louis Halaas, MD, PhD, helped discover Leptin, one of the hormones that tells us to stop eating.
2. She was born in NY Cornell Hospital, where she later went to medical school.
3. Her mother is from Argentina and South America, and her father is from Cuba.
4. She is the New York City Director of The R.O.S.E. Fund, a national non-profit organization dedicated to recognizing, assisting, and empowering women who have broken the cycle of domestic violence.
5. Halaas is a big fan of indoor cycling.
6. She shares her New York City office with Julius Few, MD.
says one of Halaas' mentors, Jeffrey Epstein, MD, a facial plastic surgeon in Miami and New York City.
"I don't do a case and then run around from room to room. This is a boutique practice," she tells Plastic Surgery Practice. Halaas generally sees 80 to 100 patients each week, and performs about four surgeries per week—usually, some combination of blepharoplasties, facelifts, and rhinoplasties.
This is not to imply that she always jumps right to surgery. "I am a surgeon, but if I can give you an alternative method that is noninvasive, I am happy to do that."
Halaas is not particularly sold on fat grafting, largely because there are so many out-of-the-box volumizers that offer predictable results. "Fat still has a level of unpredictability," she says.
Halaas, like many colleagues, is excited that Allergan's Juvéderm Voluma™ may be coming to the United States soon. The General and Plastic Surgery Devices Panel of the Medical Devices Advisory Committee voted unanimously that the benefits of Juvéderm Voluma™ XC outweigh the risks for cheek augmentation. (The FDA is not obligated to follow the advice of its panels, but it usually does.)
Halaas' chosen specialty also makes her very popular at play dates, birthday parties, and school functions. During office hours, she is a surgeon first and a mom second. But at these events, she is a mom first and a surgeon second (but it often feels like a really close second).
"Botox does come up at play dates," she says. Many neighborhood parents also have her number on speed dial in case their child should fall and need a plastic surgeon to make sure there are no lasting scars. For these reasons, she is considering opening up a satellite office in her Westchester home.
HAIR TODAY
These neighbors feel as comfortable asking her questions as her in-office patients do, but she admits that female hair loss is one of the few remaining taboos, and a very hard subject to broach even if it is staring you in the face.
Sometimes she treads carefully and brings things up in a general way. "I may say, 'I hate hair extensions.' I have so many patients who use those extensions or wear tight braids, and it really pulls out their hair and causes thinning. It drives me crazy," she says. "This way, the door is open, and if you want to walk in you can."
Halaas' interest in hair restoration began under the tutelage of Mark Glasgold, MD, FACS, at Robert Wood Johnson University Hospital in New Brunswick, New Jersey, during a fellowship, and she has kept up with what has been an evolving field. She performs six procedures per week, including some eyebrow transplants for a woman who overplucked, overwaxed, or overdid it on any number of depilatory methods when thin was in for brows.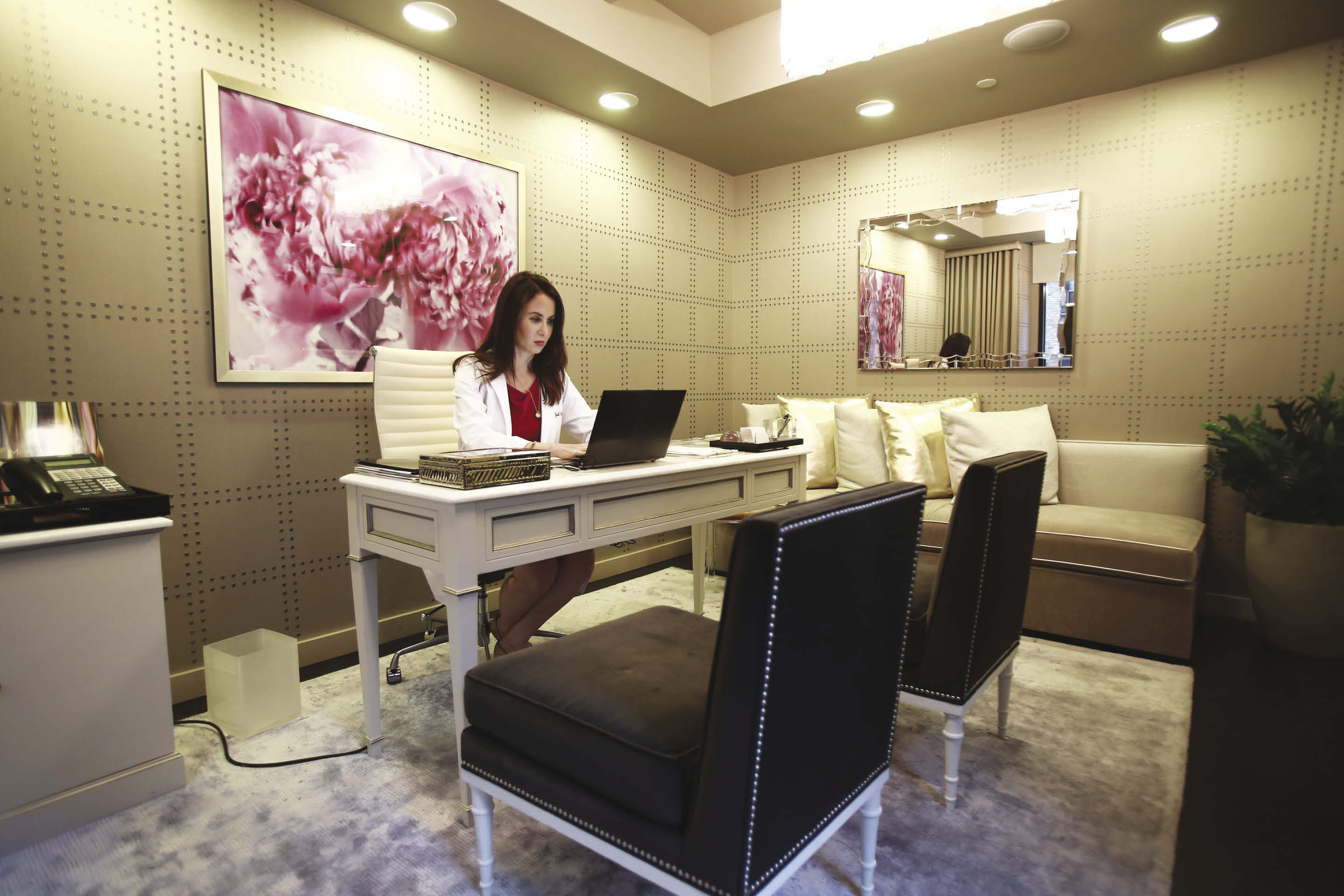 Halaas at work in her office.
"The latest techniques include the use of plasma-rich protein and stem cells to promote hair growth," she says. Robotics, or automated hair restoration tools, are also coming of age, but Halaas hasn't embraced them yet—and she may never do. "Hair transplantation is an art, and it requires a lot of adjustments by the surgeon," she says.
Yes, facial plastic surgery is a demanding residency, Epstein agrees, but adding a hair transplantation specialty on top of it makes it even more time-consuming and rigorous.
"Women may be reluctant because hair transplantation has largely been considered a procedure for men, and men have always preferred to go to other men for hair," he says. "It's hard to build any cosmetic practice, and hair is competitive," he says. "If you do a nice nose, patients will tell others. But if you do hair transplants and they look really natural, no one talks about it."
But Halaas is making it all work seamlessly. I don't know how she does it.
Denise Mann is the editor of Plastic Surgery Practice. She can be reached at dmann@allied360.com.