Choosing the most appropriate system, instrument, device, procedure, protocol, or product can be a vexing matter for many plastic surgeons, simply because of the breadth and depth of what's available.
Miles H. Graivier, MD, FACS, a solo practitioner in Roswell, Ga, has been grappling with that challenge for quite some time—not out of befuddlement but as a knowledgeable clinical investigator attempting to separate wheat from chaff.
Graivier serves on the New Technology subcommittee of the American Society of Plastic Surgeons, where he is helping to determine—scientifically—which choices for the operating room are most effective in relation to any given condition or complaint. Additionally, he participates in clinical studies of various products and devices seeking federal FDA clearance.
"If there is a common thread to what my clinical studies reveal, it is that jumping right on the bandwagon in support of whatever is new is a mistake," he says. "Until the claims about a technology are proved, you have to keep your enthusiasm in check."
Among the investigations Graivier most relishes are those intended to substantiate or refute efficacy claims surrounding radiofrequency and laser modalities used in the treatment of cellulite. He is known as a go-to doctor when it comes to adiposis edematosa, dermopanniculosis deformans, status protrusus cutis, and gynoid lipodystrophy.
PRACTICE AT A GLANCE
Name: North Atlanta Plastic Surgery & Day Spa
Owner: Miles H. Graivier, MD, FACS
Location: Roswell, Ga
Specialty: Cosmetic surgery of face and body
Years in practice: 18
Patients seen per day: 50 (max)
New patients per year: 500
Days worked per week: 5
Days surgery performed per week: 3.5
Number of employees in practice: 26
Office square footage: 7,200
"Some of these modalities turn out to be better suited for skin tightening rather than removing cellulite," he says. "It would be useful to know that because if, for instance, a patient has diminished skin elasticity owing to natural aging, then we're probably going to get a more satisfactory result by intervening with a technology that permits body contouring. But a problem with that is skin contraction can only go so far.
"I've been able to identify a few of the newer laser lipolysis and ultrasonics devices that offer a less invasive means of going beyond that contraction limit by allowing heat to be applied to the collagen, which achieves further skin tightening," he adds. "This is beneficial if you consider that, in the past, a patient whose problem was more a matter of skin laxity in the neck—as opposed to excess fat in that same area—would have been instantly labeled a candidate for a mini-neck lift or mini-facelift. Now, thanks to the strides in technology, we can offer a laser lipolysis skin-tightening procedure that requires nothing more than local anesthesia."
SHIFT IN DEMAND
Professional curiosity is part of the reason Graivier devotes himself to these clinical studies. The other part is that he wants to make sure he possesses none but the finest equipment—a desire intensified by concerns about the currently sputtering economy.
"Given the toll being taken on people's pocketbooks, it only makes sense for plastic surgeons to proactively look at these technologies in order to be able to deliver the most consumer-pleasing services possible," says Graivier, a member of the Georgia Society of Plastic and Reconstructive Surgeons and the American College of Surgeons. He practices under the business name North Atlanta Plastic Surgery.
Interestingly, the recession has not caused Graivier's case volume to decrease. Rather, it has triggered a shift in demand. "What I'm seeing are fewer requests for big-ticket surgical procedures and an increase in those far less-invasive cosmetic procedures, such as lasers and injectables—chiefly, fillers and Botox," he says. "And my on-site accredited surgery center is just as busy as ever. I still have the same amount of OR utilization as before."
Eighty-five percent of the work Graivier performs is cosmetic plastic surgery, while the remainder is reconstructive (he is board certified in both areas). His retinue of cosmetic plastic surgery services include thread-lift facelift, eyelid surgery, minimal-incision endoscopic forehead lift, cheek enhancement, midface suspension, lip implants, neck lift, breast augmentation, breast reduction, breast reconstruction, tummy tuck, abdominal surgery, and tumescent liposuction.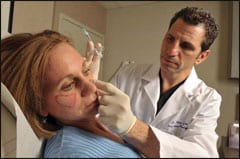 Eighty-five percent of the work Graivier performs is cosmetic plastic surgery.
Graivier recently added hyperbaric oxygen therapy as a way to improve cosmetic plastic surgery results for smokers and to help shorten recovery times for others.
"Hyperbaric therapy forces oxygen into the tissue, which dramatically reduces swelling and improves wound healing," he notes. "Years ago, my reconstructive work at several of our area hospitals sometimes required putting into very large hyperbaric chambers burn victims, osteomyelitis patients, and those with severe infected or nonhealing conditions. I found this technology intriguing.
"Then, about 4 years ago, portable hyperbaric chambers became available," he says. "Studies demonstrated that these portable chambers were actually better tolerated by patients than the older, stationary type. I decided to acquire two of these portable chambers. Since incorporating this therapy, we've received many referrals for it."
North Atlanta Plastic Surgery occupies 7,200 square feet of a 16,000-square-foot commercial office building. A significant portion of this space is taken up by a high-end medical spa.
Facial treatments offered via the spa include four-layer facial mask, PCA exfoliating peel and oxygenating treatment, PCA/Obagi Blue Peel®, antioxidant therapy treatment, microdermabrasion treatment, Dermaglow treatment, Aluma: vibradermabrasion, photofacial rejuvenation, and LED-lightwave therapy. Body treatments include enzymatic body wrap, herbal body wrap, and revitalizing hand treatment. There also are massage services consisting of percussive, integrative therapeutic, relaxing, hot stone, and pregnancy rubdowns.
In addition, the spa makes available aesthetic treatments, such as tinting, tattoo removal, and permanent cosmetics (full and partial eyebrow enhancements, full lip coloring, liner enhancements, areola pigmentation, and scar camouflage).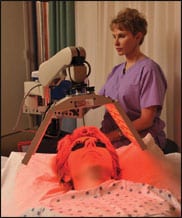 North Atlanta Plastic Surgery was one of the Southeast's first medical skin care clinics, Graivier says.
Graivier employs a state-of-the art Lumenis 1 Laser system in the removal of unwanted hair from the upper lip, chin, cheeks, beard area, lip and chin, back and shoulders, arms, underarms, neck (front and back), bikini area, abdomen, lower legs, upper legs, entire legs, feet, and toes.
Patients can use the spa for these services on an a la carte basis, but Graivier reports encouraging demand for custom service packages. One such package, called "Saturate Your Senses," includes peppermint body wrap, PCA exfoliating peel, and an hour-long massage. Another, known as "Transformation," consists of endermatic cellulite treatment, eyebrow contouring, eyebrow tinting, Dermaglow treatment, and a 30-minute relaxation massage. There is even one billed as a "Vacation Before the Vacation," which offers eyebrow and eyelash tinting, a four-layer facial, hand and foot massages, and airbrush tanning.
CAREER TRACK
Graivier is a graduate of the University of Texas Medical School in Houston, which he entered after earning a degree from Tulane University in 1980. However, even before starting his postsecondary education Graivier knew he wanted to be a physician.
"I was exposed to medicine early in life because my father was a pediatric surgeon—one of the nation's first, in fact—and in high school, during the summers, I was privileged to work as an unofficial surgical tech and assistant at the hospital where my father was on staff," he says. "Some of the cases I took part in or was invited to observe were plastic surgeries, which I found incredibly fascinating."
Born in Chicago but raised in Dallas (his mother was a Texas native), Graivier likes to joke that a career in medicine and plastic surgery beckoned once he figured out that his physical size and speed were below the minimums necessary to give him a shot at a berth on the Dallas Cowboys football team.
After completing medical schooling in 1984, he embarked on a 5-year general surgery residency at Emory University in Atlanta. From there, he entered the University of California at Los Angeles for training in plastic surgery.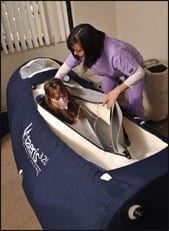 Graivier's in-house medical spa combines a wellness center with aesthetic medicine.
In 1991, Graivier launched his private practice in Roswell. "I wanted to make the Atlanta area my home because I really liked this part of the country, and so did my wife, Kathy," he says, adding that he also chose Roswell because several young physicians with whom he had become friendly while at Emory cajoled him to join them on staff at a newly built local hospital's trauma center.
"My colleagues spoke of the potentially large volume of cases I could expect in the way of reconstructive and cosmetic plastic surgeries by teaming up with them at the just-opened facility," he says.
Currently, Graivier remains a solo practitioner, although he is hardly alone: North Atlanta Plastic Surgery employs a staff of 26.
GENEROUS COVERAGE
Not long after he started the practice, Graivier hired a registered nurse to perform glycolic acid peels and other skin care services. Over the years, he added more employees and increased their responsibilities, such that they now handle approximately 30% of all injectable treatments (and many of the laser procedures).
It was the presence of the first of those RNs that led Graivier to open his medical spa. "Mine was one of the Southeast's first medical skin care clinics," he says, a fact duly noted by CNN Headline News, which, in 1992, sent a camera crew out to observe Graivier at work. "It was great publicity, and it helped open the floodgates where cosmetic case volume was concerned."
The news media have been generous in their coverage of Graivier over the years since. For example, he was selected by Inside Northside Magazine as "The Doctor You Would Want to Put You Back Together Again," and he was featured on CNN's Living in the '90s, Health Works, and Paging Dr. Gupta.
Georgia Public Television showcased him on a program called Open Window, during which he demonstrated laser surgery. Similarly, he was invited by Atlanta-based commercial television stations WSB Channel 2 and Fox Channel 5 to give walk-throughs of lip-augmentation procedures. Also, he was featured in a Fox 5 investigative report on men who choose plastic surgery. Allure and More magazines have interviewed him about Radiance dermal filler, and Peachtree Magazine added him to its stable of columnists. (He has written about—what else?—aesthetic surgery.)
CELLULITE KILLER
In today's economy, where husbanding one's money is of paramount importance, plastic surgery patients are understandably keen about less-invasive procedures for the simple reason that these cost but a fraction of the amount of conventional operations.
One example of the type of lessinvasive procedure capturing the attention of consumers is Photomology in combination with laser energy and mechanical manipulation, which Miles H. Graivier, MD, FACS, uses to treat cellulite.
This particular technology package is marketed under the name SmoothShapes and is sold by Eleme Medical Inc of Merrimack, NH.
"This is technology offering an innovative way to safely and effectively treat cellulite and achieve long-lasting results," Graivier says. "SmoothShapes targets the bumpy appearance of cellulite by restoring enlarged fat cells, resulting in smoother skin. It also treats the dimpling of cellulite by remodeling collagen for tighter, more flexible skin.
According to Graivier, the system uses specific laser and light wavelengths to target the physical manifestations of cellulite—that is, enlarged fat cells and inflexible fibrous septae. "During treatment, collagen is remodeled in order to restore fat cells and smooth and tighten treated skin," he says. "The Photomology component gently stimulates metabolic processes to minimize the underlying causes of cellulite such as edema, impaired blood circulation, and decreased metabolism, to restore the tissue to a better state."
The two wavelengths utilized during treatment are 915 nm and 650 nm.
"The 915-nm wavelength penetrates well into the tissue and is preferentially absorbed by lipids, causing fat liquefaction," Graivier reports. "The contoured rollers then move the liquefied lipids from the interstitial space to the lymphatic system for dynamic drainage.
"The 650-nm wavelength, on the other hand, modifies the permeability of the fat cell membrane to allow the liquefied fat to move into the interstitial space. This transitory change does not damage the adipocytes; the integrity of the cells is maintained."
-RS
These exposures nicely complemented Graivier's marketing efforts. "The best form of outreach, in my opinion, is the satisfied patient, because that so often results in a referral," he says. "About 70% of our new patients are cultivated in this manner." (The remainder of referrals to the practice come from physicians and insurance companies, he notes.)
Graivier explains that patient satisfaction is promoted, first and foremost, by delivering good results. "But it's more than that," he inserts. "Satisfaction is also achieved by making sure our overall environment is very positive. Friendly, competent staff is a key part of that positive environment."
Then there are the promotional events, such as one called "An Evening of Beauty." "We use the occasional 'Evening of Beauty' to introduce the community to our newer technologies and procedures," Graivier says.
Another promotional results-getter entails offering to patients' caregivers discount coupons for medical spa services. "The person who will be looking after the patient at home following surgery is usually under some degree of stress in that role, so we like to invite that caregiver in to receive a massage, a facial, or something else that will prove relaxing and give a boost to the emotions."
THE IMPORTANCE OF TIME
Graivier works long hours, so it helps that he is in excellent physical shape. Being athletic helps in other ways, too. When he recently turned 50, his wife arranged for him to go snow skiing in western Canada, arriving at the slopes— the country's remotest—by helicopter. "I enjoy skiing more than any other sport," Graivier confides.
Football is perhaps a close second when it comes to sports. "I played competitive flag football until about a year and a half ago," he says, claiming that his wife persuaded him to hang up his cleats for good and convinced him that he was playing the game more with his mind than his body. She still has her work cut out for her when it comes to changing his mind about softball—Graivier continues batting away in a community league. "My team has won the league championship 10 years in a row now," he beams.
In addition to work and play, there also is family. Graivier and his wife, Kathy, are the parents of 7-year-old son Max and 1-year-old daughter Sofia. Whenever possible, Graivier likes to take them to a lake house in the mountains of north Georgia where they hike, water ski, and enjoy other recreational pursuits.
OVERSEAS WORK
Recreation was perhaps the last thing on Graivier's mind back in 1994 during a trip he made to war-torn Croatia with other US physicians. "That was a life-changing 2 weeks for me," he recalls. "A truce had been declared by the combatants, so we were able to go right into the battle zones to perform surgeries. A goal for us was to teach Croatian surgeons what they needed to know in order to take care of their own wounded and injured."
See also "The Integrator" by Rich Smith, in the February 2007 issue of PSP.
Graivier's contributions as a member of that US team were so well received that, 4 years later, he was invited back to Croatia as a visiting professor at the University of Zagreb, where he delivered the keynote speech at the First International Meeting of Croatian Plastic Surgeons.
When surveying present-day America's economic landscape, Graivier thinks back to Croatia and that country's troubled time and place. Nonetheless, he remains buoyant about his practice's prospects and growth potential.
"Our proactiveness has helped us avoid trouble in the past, and it's continuing to help us do that now, so we're not going to change that approach," he promises. "We're in a good place, but we're not going to stand still when it comes to trying to find better ways of running the practice and developing new services that consumers will want. That means we'll be on the lookout for innovative, promising technologies and techniques. But it also means we're going to continue objectively evaluating our results—short-term and long-term—in order to make sure that what we offer really is the best there is."
---
Rich Smith is a contributing writer for PSP. For additional information, please contact plasticsurgery@allied360.com