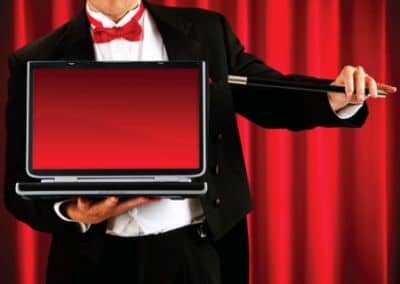 A beautiful, eye-catching Web site design can certainly generate a lot of "oohs" and "ahhs," but if your Web site's back end isn't strong, that is about all your gorgeous site will get you.
"Back end" is industry-speak for your Web site's software and hardware infrastructure, including server software. Your back end also determines how search engines such as Google and Bing "see" your site and how easy it is to transfer, update, or upgrade your site.
So, is your back end up to snuff? Asking three simple questions can help you determine if your back end software is working for you or against you.
IS IT "CRAWLABLE"?
Google and the other search engines constantly "crawl" the Internet using software-based robots (or "bots"). Search engine algorithms then rank Web sites based on certain components. If your back end software is not easily crawlable, it will hurt your rankings. Without good rankings, your site design is lost in cyberspace.
In order to be crawlable, your software should do the following:
Allow you to establish unique page headings, Meta data, and URLs (uniform resource locators, or Web addresses);
Create "readable" URLs such as www.mypractice.com/breast-augmentation-dallas/ as opposed to something like www.yourpractice.co-/dataprogram/?=12345/pages/set=zhow/; and,
Make sure your site's content or navigation is built into the HTML page code, not in a separate file. Search engines may not be able to crawl through the content if it is held in a separate file.
(HTML, or hypertext markup language, is the code that formats your Web site content so it can be read by Web browsers.)
DOES YOUR BACK END RESTRICT THE DISPLAY OF YOUR BEFORE-AND-AFTER GALLERY?
Before-and-after galleries are by far the most frequently and heavily trafficked pages on any plastic surgeon's Web site. Your gallery should showcase your artistry. Many Web site hosting companies say they offer the ability to easily change and update your photo gallery. While this may seem appealing on the surface, it is important to lift the hood and double check that claim for yourself.
This one-size-fits-all, cookie-cutter approach may not be the best way to sell your practice or spotlight your skill. Before-and-after pictures should be properly shaded and aligned. Simply uploading the pictures and letting the software handle the details may compromise your craft. Would you purchase an expensive piece of artwork and then just hang it on the wall without proper lighting and a nice frame? The same principle applies with your before-and-after pictures.
You want to show off your work and place it in the best possible light. Make sure your Web site hosting company can shade the photos appropriately, align the photos so the various body parts are in anatomical order, and add a background that matches the look and feel of the rest of your Web site.
CAN YOU TAKE IT WITH YOU?
Back-end software may not be transferable. It should be. Ask if your site's content management system is uniquely created by the Webmaster, "open source" software, or proprietary software that requires a licensing fee.

On The Web!
See also "Who Really Owns Your Web Site?" by David Evans, PhD, MBA, in the March 2011 issue of PSP.
Asking these simple questions about your Web site's infrastructure now can help you make sure that your Internet marketing strategy has staying power.
If you are not satisfied with the answers, then some changes may be needed, including building a new Web-based presence using a different infrastructure. This task may seem overwhelming, but should you decide to make a change your newfound knowledge about the back end will help you make the right decisions, going forward.
Your practice's new Web presence will eventually replace the old, and you will have regained your flexibility.
---
David Evans, PhD, MBA, is the CEO of Ceatus Media Group, based in San Diego. A recognized authority on Internet medical marketing strategies, Evans has spoken at meetings of the American Society for Aesthetic Plastic Surgery, European Society of Cataract and Refractive Surgery, and the American Society of Plastic Surgeons, among others. He can be reached at or (858) 454-5505.