By Denise Mann
The reinvention and reintroduction of Julius Few, MD
After several attempts over the past couple of years, Julius Few, MD, has finally agreed to be the cover story for Plastic Surgery Practice magazine.
What changed for the Chicago-based, board-certified plastic surgeon? "I have a renewed clarity in terms of my professional life, and I want to leave a mark on the specialty," he says.
This epiphany helped propel the already well-respected surgeon into a deft multitasker. Few recently finished writing a chapter on blepharoplasty in the textbook Plastic Surgery, Third Edition, and his articles on such topics as transconjunctival deep-plane midface lift and the ever-expanding use of botulinum toxin type A in clinical practice regularly appear in peer-reviewed journals. His dance card at major national and international conferences is full, and he is about to kick off a new fellowship. Oh, yeah, he is also rolling out the JF Aesthetic MD skin care line to a much wider audience.
Perfect Storm
Few, the founder of the Few Institute for Aesthetic Plastic Surgery in Chicago, is already an American Society for Aesthetic Plastic Surgery (ASAPS) board member, and he would not rule out the possibility of becoming an ASAPS president in the future. "It may be in the cards," he says.
These accomplishments, his ambition, and renewed purpose all helped create the perfect storm for a cover article in this magazine.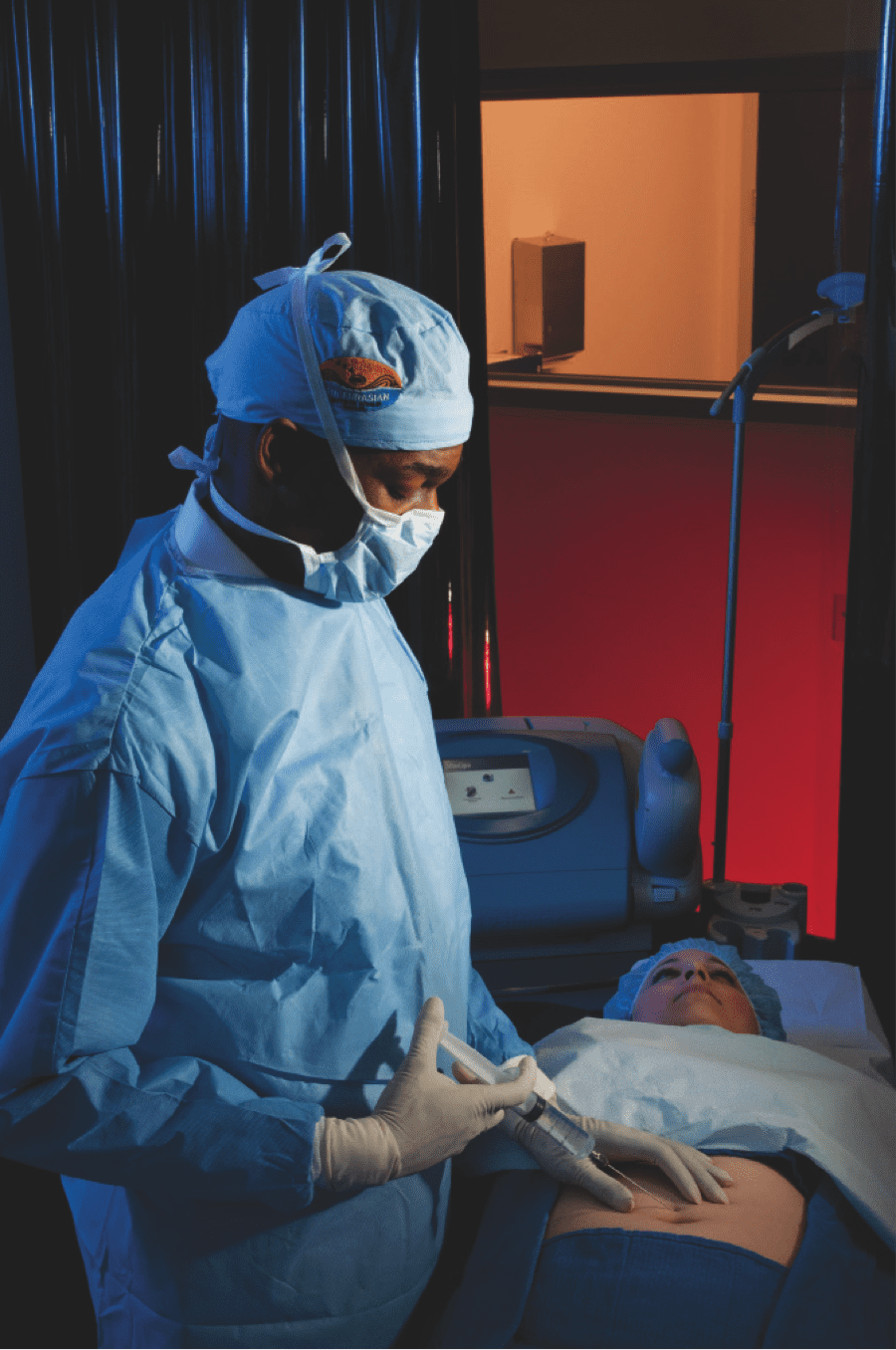 Julius Few, MD, in the OR
Perhaps the yoga he does every morning is responsible for this enhanced focus, but part of it also lies in
his excitement about a new blended approach to beauty and aging, which is a paradigm shift for Few and other cosmetic surgeons who are helping to put a new and not-so-plastic face on plastic surgery.
"There is an entire movement toward a more holistic approach to aesthetics," he says. "This blended approach is very scientific and strategic," he says. It pairs surgical and nonsurgical procedures and techniques along a continuum to slow the hands of time, not hit the brakes abruptly. "People can do strategic cost-effective things that do not necessarily involve dramatic or drastic overfilling or overinflating," he says. Put another way: "If you want to renovate your bathroom or kitchen, you don't tear down the whole house." Few calls this the continuum of beauty.
In his office, the blended approach equates to a thorough analysis during the initial consultation, followed by an ongoing treatment plan that falls within a person's budget and aesthetic yearnings. "My job is to listen to what patients are looking for," he says. "I don't try to tell them what will look good. Instead, we say, 'This is what we can realistically achieve.' "
Patients need to share what they are open to doing and that which they would never consider. "It is just as important to know what they don't want as it is to know what they do," he says. "Everyone comes with a preconceived idea and a fundamental knowledge base that is far greater than what it used to be largely due the proliferation of information about cosmetic surgery on the Internet."
The holistic approach also created the impetus for the global launch of the JF Aesthetic MD product line.
The reason for doing it now was simple: "demand." The products were available exclusively to the Few Institute patients since 2010, but now they are available for the first time to consumers nationwide. "People were coming in using all kinds of things, some of which were expensive and potentially getting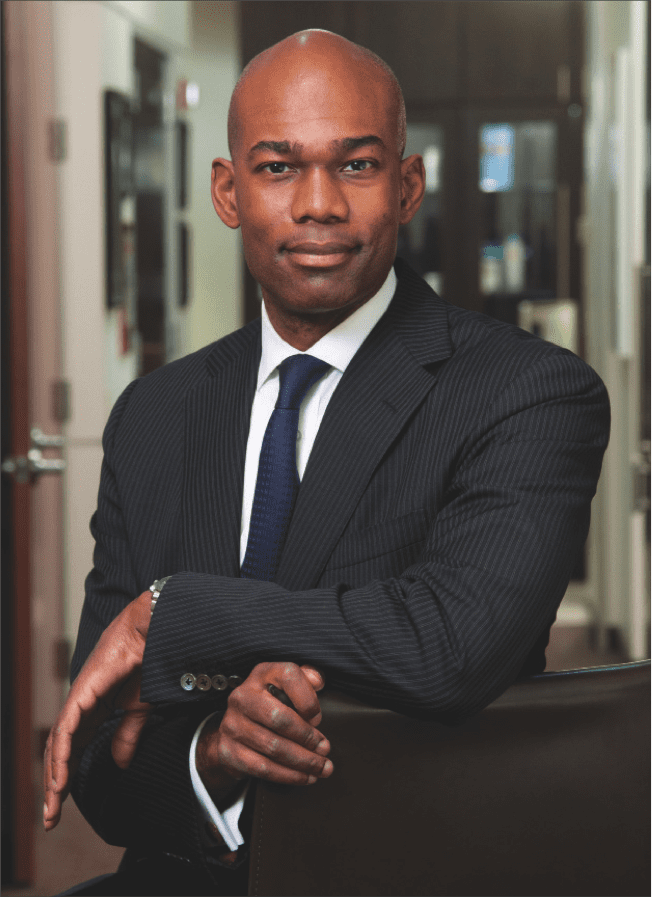 Julius Few, MD
in the way of what we were trying to do," he says. "A number of patients come to Chicago from out of town for services, and they wanted access to the skin care line for themselves and their friends."
Blended Beauty
The blended approach also resonates with Few's ethnic plastic surgery patients, and, in part, was sired by these patients. For a time, many were skittish about plastic surgery for fear that it would obscure their ethnic identity, à la Michael Jackson, but now more patients are open to subtle enhancements and rejuvenation techniques. Few is considered a pioneer in ethnic plastic surgery, and he has since taken what he has learned in these populations and applied them to broader ranges of patients.
"My passion or interest is in finding options that are applicable to all backgrounds," he says. Procedures with low risk of scarring and hyperpigmentation benefit virtually all patients, not just those with dark or ethic skin. Few have mastered techniques that help to reduce these risks, including injecting wrinkle fillers deeper into the skin and minimizing skin tension during surgery by stitching up the deeper skin layers when closing up an incision."
These are some of the many signatures that Few has put on the surgeries he routinely performs. "I walk the fine line in that much of what I do is a hybrid of things that have been done here and abroad," he says.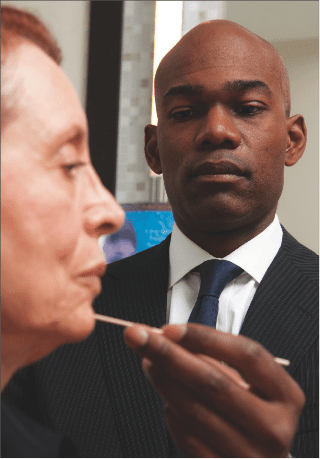 The blended approach in action.
While he is a surgeon first and foremost, Few also handles the business side of his spa and skin care line, something many doctors are not eager or well-suited to do. Few, however, has business acumen in his blood. He worked his way through college in IBM's junior management program. "I learned a lot about business and good business principles," he says. "The biggest thing that gets plastic surgeons into trouble in a difficult economy is not sufficiently emphasizing their strengths and working on weaknesses," he says.
For example, a classic mistake occurs when an office that has experienced a drop in business during the recession goes straight to marketing instead of practice infrastructure as a means to enhance patient retention and growth.
Few also hold the purse strings, and tends to be an early adapter of new technology. "I take calculated risks for technology," he says. "I look at potential investments critically and have a certain budget per year."
But he doesn't buy a laser or device and then starts peddling it. "Physicians get into trouble when they jump at everything that sounds good," he says. "They oversell and overhype it, and do damage to their brand when it turns out that the device or product underdelivers."
A Few Good Men
Few is more of underpromiser and overdeliverer.
Always has been, recalls Few's former residency roommate, Sanjay Gupta, MD, the chief medical correspondent for the Health, Medical & Wellness unit at CNN. "He is a natural talent. He is certainly a perfectionist, but it is more than that," Gupta says. "He has a rare gift, where no matter the challenge of the operation, he still makes it seem effortless. I would have him operate on me or any member of my family, without hesitation."
It is more than surgical skill that makes Few one of the greats. Gupta recalls seeing Few sleeping next to the bed of a critically ill patient in the intensive care unit during his internship years. "Julius wasn't just on call, or just available in the hospital call room—Julius wanted to literally sleep in the patient's room, so he could immediately address any concerns that might arise," he says.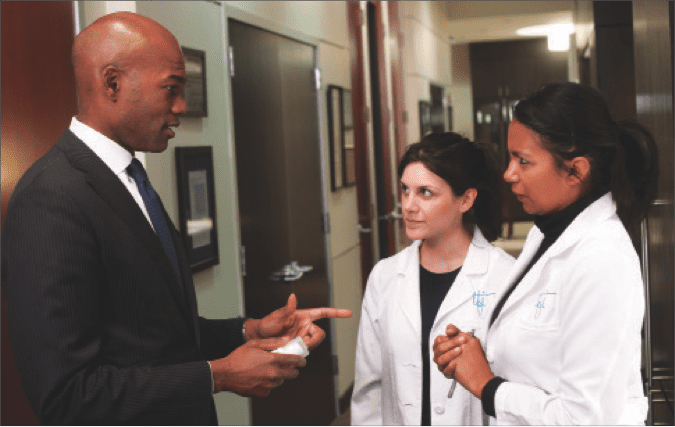 Consulting with colleagues.
Their first meeting was like a scene out of ABC-TV's medical drama Grey's Anatomy. "I first met Julius when all the new hotshot surgical interns showed up for their first day," Gupta recalls. "I was a medical student, and we were all curious about the new team. I was really struck by the fact that all the interns looked tired, worn down, and somewhat miserable—except for Julius," he says.
Few was dressed in a bow tie and a perfectly crisp white coat, and was freshly showered. "I immediately knew this guy was incredibly organized and fastidious," he says.
Gupta wasn't the only doctor who noticed Few. "It was clear that all the mentors and professors in the medical school thought very highly of Julius," Gupta says. "At a very early stage of his training, Julius was allowed to be involved in operations and procedures usually reserved for much more senior residents. Julius was that good."
As far as the bow tie, Gupta suspects that Few sleeps wearing one. "He is always well-dressed, even in his sleep. You will never catch him off-guard!"
But the guard does come down when he talks about his two sons, Miles, 7, and Max, 5. It may sound clichéd, but he grins from ear to ear—literally—when discussing them. Few even takes his kids with him to medical meetings. "They find it exciting," he says. A single dad, he also brings his parents along for the ride. "They are very involved grandparents." It's a win-win. "They are getting vacation, and they get to spend time with their grandkids."
In truth, much of Few's recent professional reinvention stems from his role as a father. "I want to do something they will be proud of."
Denise Mann is the editor of Plastic Surgery Practice. She can be reached at dmann@allied360.com.