Leslie C.M. Amodei has been the marketing manager at Rhytec in Waltham, Mass, since 2005. She has 15 years of experience in aesthetic and ophthalmic medical devices. Her responsibilities include furthering the awareness of Rhytec products through advertising, promotions, and innovative programs. Amodei has a bachelor of science degree in psychobiology from the University of New Hampshire, Durham.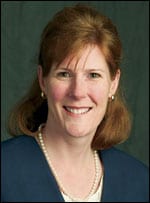 Leslie C.M. Amodei
How does Rhytec's Portrait® device use nitrogen plasma to generate new skin?
Portrait plasma's thermal profile stimulates a significant skin response without creating an open wound like ablative procedures. Plasma is nonchromophore-dependent and is predictable at all treatment levels. Its thermal energy is absorbed by all components of the skin's architecture, leading to intense fibroblast activity deep in the dermis that naturally creates the right combination of growth factors and stimuli for skin regeneration. Plasma energy also creates a collagen matrix, which improves the appearance of fine lines and deep wrinkles for up to 1 year after treatment.
Describe the six treatment options that patients can choose from.
There are six Portrait treatments, and each offers significant benefits:
a course of three repeated low-energy treatments for the face or targeted areas of the body;
a single high-energy treatment for the face or targeted areas of the body;
a single high-energy treatment with a second pass on the more sun-damaged areas of the face or targeted area of the body;
a single high-energy treatment with a second pass on the entire area treated;
a treatment on other areas of the body; and
the Portrait Express™, a course of up to six very low-energy treatments for the face spaced 3 weeks apart, with no downtime. Portrait Express is pending FDA clearance.
How is the number of treatments determined?
The number of treatments that the physician recommends depends on the patient's level of sun damage, expectations of the results, and availability for recovery time. Low-energy treatments are recommended for a patient with minimal sun damage. A patient with moderate to severe sun damage would be a good candidate for a single-session high-energy treatment.
What FDA clearances does Rhytec have?
Rhytec has been cleared for treatment of wrinkles and rhytides of the body, superficial skin lesions (sun damage and dyschromia), actinic keratosis, viral papillomata, and seborrhoeic keratosis.
What types of patients are good candidates for Portrait?
Ideal candidates for Portrait include:
individuals who are considering laser surgery, a facelift, or other plastic surgery;
individuals seeking to repair photodamage and improve the appearance of age spots or hyperpigmentation;
individuals seeking to remove precancerous lesions;
individuals wanting to reduce the appearance of fine lines and deep wrinkles that do not respond to other treatment modalities;
individuals looking for improved skin elasticity; and
individuals wanting to improve overall skin texture to recapture their own healthy skin, youthful skin quality, and complexion they have not enjoyed in years.