Postbariatric surgery was developed with women in mind—that they would regain some semblance of the female form after massive weight loss, multiple pregnancies, or genetic lipodystrophies.
Recent statistics on postbariatric surgery from 2006 compiled by the American Society of Plastic Surgeons1 shows that approximately 3,500 postbariatric procedures were performed on males, including buttock lift, lower body lift, thigh lift, upper arm lift, breast lift, and extended abdominoplasty.
Compare this to approximately 64,000 procedures performed on females during the same period.
In addition, of the estimated 200,000 gastric bypass procedures that will be performed in the United States this year, only an estimated 15% (or roughly 30,000) will involve male patients.
The notably smaller percentage of male postbariatric patients—as well as male gastric bypass patients—is fairly easy to explain: overall, males are not as body-image conscious as females. Also, society tends to be more accepting of an abnormal male body habitus.
For instance, truncal procedures, which encompass the breasts to the knees, are the predominant post-weight loss procedures for males and females.
However, these procedures were designed to accent the female waistline; to lift and shape the buttocks as well as trim and lengthen the thigh; and to shape the mons and reduce the excess breast tissue while shaping and augmenting the breasts with lifting procedures and implants.
Most of these contour improvements are neither applicable nor important to most males. Males are not as concerned about scar placement, a defined waistline, or buttock shaping.
Further, in contradistinction to women, male clothing is not designed to flatter or accent the male form but merely to cover it. Also, unlike females, men are not expected to maintain their youthful shape as they age.
PATIENT EVALUATION
A number of factors are important in evaluating the male weight-loss patient versus the female patient.
Men have more muscle mass and less subcutaneous fat than females. They tend to have a predominantly truncal distribution of fat affecting the chest, abdomen, flanks, and back. Their extremities are affected to a lesser degree.2
In males, the fascial zones of adherence in the inguinal area and pelvic upper rim produces the "spare tire" effect around the abdomen, which, post-weight loss, tends to cause an excess of skin to drape from higher on the abdomen in the anterior and lateral aspects. The excess is more than is expected in females, who tend to have lower zones of adherence on the hip areas. Thus, in females the excess skin folds drape from a lower point.
GETTING STARTED
---
The preoperative examination of any male weight-loss patient should include the following:
General body habitus;
Assessment of skin redundancy;
Quality of the skin-fat envelope;
Probable scar placement2; and,
A general medical evaluation with appropriate lab work to establish surgical worthiness, because gastric bypass patients are known to have significant metabolic abnormalities postop
The post-weight loss male breast often has, compared with the female, a less defined inframammary fold and typically has ptosis of excess skin more inferiorly and laterally, with often-moderate breast projection and significant nipple areolar complex displacement.
The male back tends to have only two or three of the four folds normally seen in females,3 and often does not exhibit the breast fold and hip fold. More commonly, it exhibits the scapula fold and lower thoracic fold.
Males have less breast tissue to begin with. As a result, they are less likely to form a breast fold laterally and posteriorly, and a higher zone of adherence in the trunk. The hip fold, seen in females due to a lower truncal zone of adherence, is missing in males.
In evaluating the arms, although the male body has more muscle mass and less subcutaneous fat—especially noticeable in the upper and lower extremities—there is significantly less loose ptotic skin in the upper extremity than in females. Some males will require corrective surgery, though usually to a lesser degree than females.
Male thighs, again due to more muscle mass and less subcutaneous fat, tend to have more moderate medial and upper lateral thigh skin ptosis with moderate excess buttock skin.
Females, on the other hand, tend to have significant excess skin medially, anteriorly, and laterally, as well as over the upper and lower buttocks.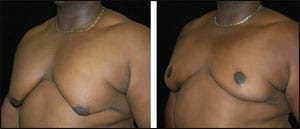 Upper-body contouring includes managing the excess skin and fat of the upper back, lateral chest, and breasts.
POSTBARIATRIC SURGERY
Surgical body contouring in massive weight loss patients is generally done in stages, because the patient has numerous areas requiring correction. Also, as operating on one area usually impacts another area, it often is best to wait and see the results of the previous surgery before proceeding into another area.
Lower-body contouring in males can include procedures such as panniculectomy, abdominoplasty, belt lipectomy, circumferential abdominoplasty, and lower-body lift with thigh lift.
In general, a lower-body lift treats the lower trunk and thighs as a unit and will elevate the proximal, anterior, and lateral thigh complex. A belt lipectomy will create a more defined waist with less of an impact on the thighs.
It is generally accepted that a lower-body procedure should be the first procedure performed when doing body contouring in the massive weight loss patient. A lower-body procedure can have a positive effect on surrounding areas, such as the lateral thighs, chest, and back.
The lower-body lift is generally more compatible with male patient deformities, because it is not a waist-defining procedure. It affects the abdomen, back, and thigh areas, which are usually important to the male massive weight loss patient.

Males tend to have a predominantly truncal distribution of fat affecting the chest, abdomen, flanks, and back.
Upper-body contouring includes managing the excess skin and fat of the upper back, lateral chest, and breasts. If the male patient's breasts are not in need of shaping or augmenting, the primary techniques should be excisional in nature, addressing the problems of ptosis, excess skin, NAC displacement, and possible hypertrophy.
Typically, procedures performed on male breasts include liposuction of hypertrophic tissue, inverted-T mastopexy, direct excision of excess tissue at the inframammary fold with free nipple graft, and direct vertical elliptical excision of excess tissue along the flank and axilla.
The upper arms in males often do not have the ptotic excess skin noted in massive weight loss female patients. However, skin laxity can be present on the lateral thoracic wall, extend to the axilla, and be present to a lesser degree on the inferior aspect of the upper arm extending to the elbow.
The usual techniques in upper arm lift for male post massive weight loss patients include major brachioplasty, modified brachioplasty, and mini or axillary brachioplasty.4
Male Postbariatric Surgery
TALKING POINTS
---
A relatively new branch of aesthetic surgery, with a limited and unique patient population.
The deformities treated by this type of surgery, which is usually extensive and with a high complication rate, can produce a remarkable change in the patient's physical and mental well-being.
Typically, patients can be among the most satisfied, postoperatively, of any aesthetic surgery patient.
The male postbariatric surgery patient does not have the same desires for correction of certain deformities as do female patients.
The thigh lift may be necessary even after a lower body lift, due to remaining excess skin noted medially, laterally, and anteriorly.
The techniques most commonly used in males include the vertical resection, which leaves a long scar from groin to knee; and the horizontal incision by Lockwood,5 which often does not relieve the circumferential skin laxity noted in some massive weight loss patients. A third option is a combination of both procedures addressing horizontal and vertical excess.
COMPLICATIONS
Complications are common after postbariatric surgery. In a series by Aly,6 out of 70 patients who had belt lipectomy procedures, 56% had at least one complication, 21% had more than one complication, and 44% had no complications. No deaths occurred in the series.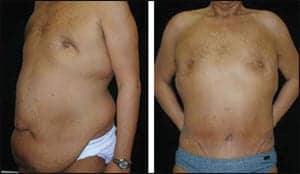 A lower-body procedure can have a positive effect on surrounding areas, such as the lateral thighs, chest, and back.
Although it is usually difficult to predict who will and will not have complications, in Aly's study complications increased as the BMI increased.
The most frequent complications in postbariatric surgery are seromas—usually a 30% to 40% incidence, especially if an extensive back dissection is involved. Others include wound dehiscence—usually a 10% incidence—local skin infections, flap necrosis, and scar migration.
However, Aly reported in his series a 2.9% rate of pulmonary emboli, postoperatively. It is unclear whether or not this was a true reflection of the incidence, because all of the positive findings could not be conclusively corroborated but were treated nonetheless.
In spite of the inability to corroborate the findings, all patients should be placed on sequential compression garments intraoperatively and ambulated as soon as possible postoperatively.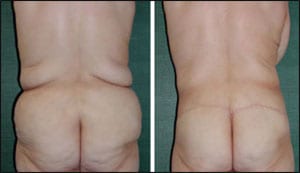 Male thighs tend to have moderate medial and upper lateral thigh skin ptosis with moderate excess buttock skin.
---
Adolfo Napolez, MD, is an aesthetic surgeon in private practice at The Center for Cosmetic and Laser Surgery in Munster, Ind. He can be reached at (219) 836-0066 or .
PHOTOS COURTESY OF ADOLFO NAPOLEZ, MD
REFERENCES
American Society of Plastic Surgeons. Cosmetic surgery gender distribution. [removed]www.plasticsurgery.org/media/statistics/2006[/removed]. Accessed January 22, 2008.
Kenkil JM. Body contouring surgery after massive weight loss. Plast Reconstr Surg. 2006;117(1):supp.
Strauch B, Rohde C, Patel MK, Patel S. Back contouring in weight loss patients. Plast Reconstr Surg. 2007;120(6):1692-1696.
Nahai F. The Art of Aesthetic Surgery Principles and Techniques. St Louis: Quality Medical Publishing Inc; 2005.
Lockwood TE. Fascial anchoring technique in medial thigh lifts. Plast Reconstr Surg. 1988;82(2):299-304.
Aly A, Cram A, Chao M, Pang J, McKeon M. Belt lipectomy for circumferential truncal excess: The University of Iowa experience. Plast Reconstr Surg. 2003;111(1):398-413.