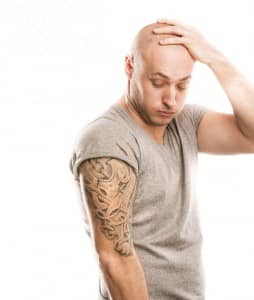 As many a celeb can attest, it's sometimes easier to get rid of an ex than an ex's name that's been inked somewhere on their body.
And for these and other reasons, tat regret is at an all-time high.
About 1 in 5 US adults are now tattooed, and revenue for removals surged 440% over the last decade, to an estimated $75.5 million annually, according to recent reports.
And this may just be the tip of the iceberg. RealSelf noted more than half a million consumer searches on tattoo removal in 2014 alone, and a 40% increase in consumer searches in June 2014, compared with May 2014
In a new RealSelf survey of Americans that have at least one tattoo:
• 23% of respondents have considered tattoo removal, citing regret, impact on professional life, and past love as the main drivers.
• 18% feel that their tattoo has held them back from getting a job, date or other opportunity…
• …but 71% believe that society has become more accepting of tattoos in a professional setting.
RealSelf users spend an average of $850 on the tattoo removal process,  86% say it was "worth it," and 98% of PicoSure consumers were very satisfied.