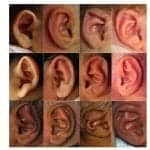 A newly improved nonsurgical procedure can safely and effectively correct newborn ear deformities in just 2 weeks — a drastically shorter period of time than previously reported, according to a study in the Journal of Plastic and Reconstructive Surgery.
Researchers from Weill Cornell Medical College and NewYork-Presbyterian/Weill Cornell Medical Center in New York City used the Becon EarWell Infant Ear Correction System, a rigid plastic mold that soften the curves and recontours the cartilage of infants' deformed ears within the first few weeks of their lives. The pain-free and noninvasive procedure could effectively transform ear shape in 14 days, compared to the 6 to 8 weeks doctors have historically advised, the study showed.
"This research represents a breakthrough in how we treat ear deformities," says lead author Melissa Doft, MD, a clinical assistant professor of plastic surgery at Weill Cornell Medical College and an assistant attending surgeon at NewYork-Presbyterian/Weill Cornell, in a news release.
The new study included about 100 newborns (and 158 ears) treated with the Becon EarWell Infant Ear Correction System between 2010 and 2013 at NewYork-Presbyterian/Weill Cornell.
Infants from the newborn nursery were referred directly to Doft in the first few days of their lives, when ears are characterized by greater plasticity. The investigators found that the process was nearly fail-proof, with a 96% success rate, largely due to the young age at which they initiated intervention.
While ear correction is typically cosmetic, early intervention and ear molding with the EarWell is often covered by insurance because it's considered a congenital deformity. Doft dubbed her research the Newborn Butterfly Project because abnormal ears are coaxed through a natural metamorphosis, similar to how a caterpillar becomes a butterfly.
Understanding Ear Deformities and Ear Molding
Fifteen to 20% of all children are born with an ear deformity, which includes constriction, a missing fold, a deep conchal bowl, or an obtuse angle. Of these deformities, 30% are expected to self-correct, but there is no scientific way to know which ones will improve. Infants are born with high levels of estrogen in their bloodstreams, which peaks at day 3 of life. This elevated estrogen increases the ear cartilage's plasticity, allowing the ear to be molded into the correct position.?? While ear molding has been taking place for centuries, the technique has traditionally been less effective in correcting deformities. Until recently, physicians had advised new parents to use dental paste, feeding tubes, and paper tape to make a hodge-podge of a mold that could reshape their baby's ears. However, this placed the onus of shaping the ear on the baby's parents, who can be overwhelmed with caring for a small child. The makeshift mold also wiggled and shifted so the ear was not continuously being folded into the correct position, elongating treatment times.
The EarWell device, released 5 years ago, changed things.?? "The EarWell is a little cradle that holds the ear in the perfect position so the parents do not have to do anything," Doft explains. "They just leave it on and do not even have to think about it. It applies pressure to the ear to conform to a more natural anatomy 24/7." ??Once estrogen levels return to normal — when infants are about 6 weeks old — using nonsurgical means to fix deformities becomes less reliable, causing infants with ear abnormalities to wait and have otoplasty later in life.
Ease of Use
The procedure is pain-free, does not impact children's ability to hear, and does not affect parents' ability to breast-feed. "The device is perforated, so the babies can hear perfectly fine. You can breast-feed with it. The only limitation is that you need to try not to get it wet because of the adhesive that sticks onto the baby's skin," Doft says. "Otherwise, you just treat it as if the baby is wearing little earmuffs."