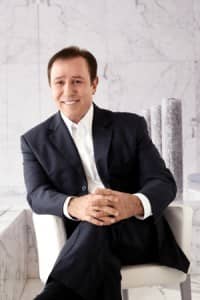 Dermatologist Zein Obagi, MD, the Medical Director of ZO Skin Health Inc in Beverly Hills, Calif, has a presence that can't be denied. When he speaks of skin and skin health, he speaks from his heart as well as from his head. Obagi's career has spanned decades, and his research continues to change the way doctors approach diseases of the skin.
He completed his dermatology residency while in the United States Navy, and started his private practice in 1981. Never one to coast, he has continued to push boundaries at a time when many others in his position would simply ride on their own coattails.
Obagi recently published The Art of Skin Health Restoration and Rejuvenation: The Science of Clinical Practice, Second Edition, which is sure to be his opus. He has grown his brands, ZO Skin Health and ZO Medical, and is expected to reach $100 million in annual sales in just a few years. ZO Skin Health is sold in 96 countries, and 40% of its business is international. In 2015, it will be sold in China. Obagi also trains plastic surgeons and dermatologists, and just graduated his first class of disciples.
At a recent New York City book signing, PSP talked to Obagi about his career trajectory, his new book, as well as where he sees this specialty headed.
You have influenced many ?dermatologists and plastic surgeons. Who or what influenced you?
During my time in the US Navy, I witnessed many deficiencies in dermatology treatments. Skin issues, such as burns and wounds, affected people's personality and self-confidence. The available treatments were limited. We could treat a burn, but we didn't care about the scar or we would cut out a skin cancer and leave the patient with a deformed nose. We also didn't talk about prevention.
We only treated what we saw.
When I finished my residency in the Navy, I decided to open a research center called the Obagi Institute in La Jolla, Calif, to see what can be done for these patients and to better address these deficiencies.
And?
I began my career in pathology, which allowed me to understand skin on a cellular level. I treated much disease in private practice and found that you can use the same treatments on a group of patients with the same disease, and three or four will improve and yet some don't respond. I started to wonder why. This was largely due to a lack of set standards. Each doctor has their own preference for how much of a treatment to apply and how frequently it was applied. This led me to focus on enhanced penetration, but there's more to treating damaged skin.
Like what?
We needed to create a definition of healthy skin so we can see what is missing in damaged skin and try to correct for it. Healthy skin is smooth, even in color, firm and tight, well-hydrated, tolerant, contour-rich, and disease-free. This model is inspired by baby skin. It's perfect because every cell is working properly so there is no damage. It's very protected and well-hydrated. This led me to the conclusion that all topical skin therapy will fail if it does not go to the cellular level. For example, if you have melasma, we have to affect the melanocyte, or if you want to stave off scarring, we have to prevent fibrosis from occurring. For a product or procedure to work, it must correct the damaged DNA.
Is this what drove the development of your first product line?
Yes. I created ObagiNuDerm in 1983. It was a hit because it went beyond the skin's surface, but the science continued to develop.
At that time, we didn't know that when you reduce melanin or stop its production with the bleaching agent hydroquinone, you take away natural protective material from the skin, which will result in more sun damage and rebound hyperpigmentation. I felt the company was no longer creating products that were based on my evolving philosophy of skin health restoration and decided to move on and start new.
What have we learned since that time?
We learned more about barrier function, water loss, and inflammation. I created ZO Skin Health to enable the public to have access to scientific skin care based on the principles of skin health. The new line strengthens your skin barrier, and keeps cells active and strong and resistant to the sun and other environmental stressors. If I prevent DNA damage, I save your skin from skin cancer. If I prevent inflammation, I prevent acne, rosacea, lupus, and other skin diseases associated with underlying inflammation.
Give us an example of this theory ?in action.
Moisturizers hydrate the skin surface by adding water, lipids, or oil. The skin itself is made of water and lipids. If your body sees a lot of water or lipids, it stops making its own and will become addicted to hydration from the surface. Think of a tree. It gets its nutrients and water from its roots, but if you cut the root and sprinkle the tree with the water, the tree will die. Now we repair the barrier to enable skin to maintain the water. We suppress inflammation and let the water come from within.
What comes next for you or the ?specialty of dermatology?
This is the future. One day, we will have the ability to either inject stem cells or growth factors that will allow skin to become more resistant to diseases. Until then, my book, The Art of Skin Health Restoration and Rejuvenation: The Science of Clinical Practice, is the bible. No other books have chapters about healthy skin. We don't want to wait until we lose healthy skin to treat problems. Now, every doctor I train learns to treat the disease under the umbrella of restoring healthy skin.
Denise Mann is the editor of Plastic Surgery Practice. She can be reached at [email protected].