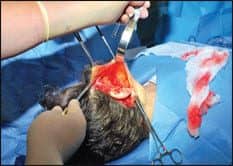 Figure 1: Smartlifted facial flap is shown immediately after elevation and demonstrates a nearly dry surgical field. No cautery was used after facial flap elevation.
Less invasive procedures for facial rejuvenation are becoming increasingly popular, as prospective patients seek out treatment options that offer the best possible results with the least amount of downtime and risk—including anesthetic risk.
One such option is SmartLifting, which utilizes Cynosure Inc's Smartlipo system for laser-based lipolysis and skin tightening via tissue coagulation during the preliminary stages of facial-rejuvenation procedures
The basic technique makes use of the Smartlipo or Smartlipo MPX system. The laser is applied subcutaneously prior to traditional facial flap elevation in established facial-rejuvenation procedures such as rhytidectomy or forehead rhytidectomy and neck lifts.
During initial studies, short pulses with the high peak power of a 1064-nm Nd:YAG system—FDA-approved for subcutaneous use—were utilized to irradiate subcutaneous tissue through a 600-micron optical fiber, with a 1-mm-diameter stainless steel microcannula of variable length connected to the tip of the fiber.
At the distal end of the cannula is a section of optical fiber, 2 mm in length, which interacts with the facial and neck soft tissue. A transillumination effect from a He:Ne laser source in the beam path shows precisely where the laser is working.
For most facial and neck anatomical regions, a 6W-12, 100 µs pulsed laser at 40 Hz and 150 mJ is appropriate. Recently, the Smartlipo MPX has been used with both the 1320-nm and multiplexed 1064-nm/1320-nm wavelengths. We have also investigated the use of a 980-nm continuous-wave laser for laser flap elevation. Power, laser action, time, or both can be decreased for small or superficial areas.
Laser dissection involves thermal and photomechanical effects. The Nd:YAG laser's hemostatic properties allow for the coagulation of small blood vessels in the subcutaneous plane, with the preservation of the dermal plexus of vessels. Skin tightening through tissue coagulation also occurs concurrently with the tissue separation.
There are usually three portals for the laser introduction, including the temporal, adjacent to the lobule, and posterior auricular.
The laser aids in tissue separation while tightening skin and tissue. The addition of the laser resulted in less bleeding than with traditional flap-elevation techniques, such as scissor vertical spreading techniques.
Operating time for flap elevation decreased by more than 50%, according to a retrospective review of more than 130 patients (our preliminary study). Many patients also experienced a decrease in postoperative bruising; some were able to return to work in as few as 3 days.
The procedure is based on the disruption of soft tissues usually in the area between the subcutaneous plane and the superficial muscular aponeurotic system (SMAS), or superficial fascial layers. Flap separation is also possible in typically difficult-to-reach areas, such as the nasolabial folds and the corner of the mouth when completing full rhytidectomy.
SmartLifting also facilitates tissue separation complicated by scar tissue and fibrosis during secondary rhytidectomy.
WHY USE A LASER FOR FLAP ELEVATION?
Early in 2008, I was consulted by a patient who was interested in a minimally invasive approach to correcting her facial and neck concerns. She was aware of the Smartlipo laser and had a specific interest in slimming her neck, which had quite a bit of preplatysmal and subplatysmal fat with concurrent laxity.
Figure 2: This patient underwent a LaserSmartLift with considerable improvement of her facial laxity and fatty deposits. Considerable acne scarring was also significantly improved. A minimal post tragal incison was made.
When I examined her further, I recommended a minimally invasive approach to tighten her mid and lower face in addition to her neck rejuvenation. In addition, I was very interested in evaluating how the laser would interact with her significant acne scarring. After explaining to her the nature of the laser's use for these problems, I scheduled her for a minimally invasive "Smartlipo" lift.
Firgure 3: This 46-year-old woman has jowls squaring off her lower face. She is an excellent candidate for Smartlifting as the vertical height of the face is lessened with Vertical Vector Rhytidectomy
Until recently, most of the procedures done in our office and in other offices across the country were performed using a laser for laser lipolysis and the concurrent tightening of the facial soft tissues that follows laser lipolysis. This is the Smartlipo procedure—or laser lipolysis itself.
In recent years, my practice streamlined our approach to the SMAS in our Mini-Lift procedure. Also, we began implementing Quill-SRS sutures for a vertically oriented SMAS plication, which was very helpful in correcting significant neck laxity as well as improving volume in the malar and submalar regions.
LASERSMARTLIFT AND ULTRAMINILIFT
The procedure begins with a usual flap elevation of 5.5 cm from the tragus, after epinephrine is injected as a local anesthesia. I use a modified Klein's solution to hydro-dissect and further vasoconstrict the flap, followed by applying the Smartlipo laser to separate the skin and dermis from the SMAS by creating multiple "microdissection tunnels."
After the skin has been mostly loosened from the SMAS, the flap is easily dissected with minimal bleeding. During this flap elevation, it is not unusual to not use the cautery at all. In several patients, I have elevated the flap in as little as 2 minutes; the average time is 4 to 5 minutes.
Talking Points
SmartLifting utilizing Cynosure Inc's Smartlipo and Smartlipo MPX lasers
The procedure promises to be very useful for facial plastic surgery procedures, particularly facial, forehead, and neck lifts.
The primary utility of this technique results from the significant hemostatic effect of the laser when used to microtunnel the surgical plane between the dermal-subcutaneous plane and the SMAS.
The thermodynamic changes induced by the laser in the dermis also contribute to a significant tissue tightening that is not possible in traditional facial, forehead, and neck lift procedures.
My patients have been very pleased with the natural results obtained from a procedure requiring just over an hour to complete and under only mild sedation.
Surgeons should be aware that SmartLifting requires advanced surgical skills in facial-rejuvenation procedures, such as rhytidectomy, forehead rhytidectomy, and neck lifts.
After the flap is adequated, elevated, and mobilized, the Quill-SRS sutures are used to elevate the jowl and upper neck. Occasionally, a small purse-string neck plication is done at the level of the mandibular angle. This original technique has evolved into the LaserSmartLift, which is a mini-lift version with variable-length incisions past the retroauricular sulcus.
Recently, several patients have been treated with an even less invasive approach I call the UltraMiniLift. The incision for the UltraMiniLift extends from the temporal hair tuft to the mid tragus level. Laser Smartlifting is then completed, and Quill sutures are placed.
This procedure works well in younger patients with early jowling who are interested in a minimally invasive surgical approach for correction. The improved hemostasis facilitated by Smartlifting the flap allows the surgeon to address the SMAS through such a small incision without significant concerns about limited exposure for vessel coagulation.
THE RESULTS
After completing the first SmartLifting procedure in early 2007, it was not the postoperative result that got my attention. After SmartLifting the facial flaps, I was pleasantly surprised to encounter almost no bleeding on either side.
My initial SmartLifting patient had significant dermal fibrosis caused by extensive acne scarring. Her preop and postop comparative views are shown in Figure 2.
After this initial procedure, we elected to use SmartLifting in all facial-rejuvenation procedures, including forehead rhytidectomy. The procedure continues to be significantly useful.
Figure 4: A 51-year-old female with "turkey neck" and mild jowling showed considerable improvement after LaserSmartLift with added volume to the malar and submalar midface and complete neck correction.
We have utilized it for festoons and malar crescents, as well as residual fullness after blepharoplasty procedures. Before-and-after views of two recent patients are shown in Figures 3, 4, 5.
Figure 5: Another patient with elongated mid-face secondary to jowling shows complete resolution of this "masculinizing" feature after LaserSmartLift.
COMPLICATIONS
SmartLifting has been utilized in more than 130 procedures since early 2007. These include face, neck, and forehead procedures; as well as concurrent use in subplatysmal fat ablation and muscle ablation during endoscopic forehead procedures.
There have been few complications in my earliest patients, who were all treated with the Smartlipo 6 and 18 W systems. However, the increased power available in the Smartlipo MPX—as well as its dual wavelengths and increased ablation capabilities—may lead to complications from thermal injury if the laser's lower settings are not used.
In my practice, we are developing newer protocols to maximize the enhanced coagulation properties inherent in the laser, while minimizing the potential for collateral thermal damage to the neural and cutaneous anatomy.
To date, I've seen one minor epidermal thermal injury during a procedure—this occurred adjacent to the lateral orbital rim, an area that was not injected with tumescent fluid.
---
Richard D. Gentile, MD, MBA, is the founder of the Facial Plastic and Aesthetic Laser Center in Youngstown, Ohio. Certified by the American Board of Facial Plastic and Reconstructive Surgery and the American Board of Otolaryngology – Head and Neck Surgery, he is one of only 19 such dual board-certified surgeons in Ohio. Gentile is a Fellow of the American Academy of Facial Plastic and Reconstructive Surgery and has served as treasurer of the Academy and its research foundation. He also serves as an editorial reviewer for the Archives of Facial Plastic Surgery, which is published by the American Medical Association. He can be reached at (330) 758-2001.