Many plastic surgeons locate their main office in a city and later open a satellite in the suburbs. Rarely do they take the opposite tack, as did Andrew A. Jacono, MD, FACS, who
7 years ago launched The New York Center for Facial Plastic and Laser Surgery by opening its flagship in Great Neck, NY—a bedroom community. He followed thereafter by setting up a branch in uptown Manhattan.
"This strategy worked very well for me," Jacono says. "I have a sizable clientele of high-profile individuals who have careers in Manhattan and want no one to know they're having a procedure done. By coming to Great Neck, they can be out of view when we perform it. On the other hand, these same patients also like that I have the satellite in Manhattan. It makes it very easy for them to pop in and out for a quick postoperative visit."
Launching a main office in the suburbs allowed Jacono to obtain the largest office space possible while keeping start-up costs down. He quickly found for lease a Great Neck office measuring 5,000 square feet.
"The same amount of money spent on a lease in Manhattan would have given me an office half that size or maybe even smaller," he says, noting that the Manhattan address he eventually rented measures approximately 1,500 square feet.
Busy Practice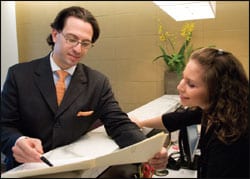 Jacono and administrative assistant Nicole Pastorelli in the doctor's Manhattan-based office.
Jacono is ranked among America's Top Physicians (according to the Consumer Research Council of America) and a Top 10 leader of Long Island plastic surgery (per The New York Times). He spends 70% of his 6-day workweek in Great Neck, where 80% of his surgeries take place—the vast majority of those in an on-site operating room certified by the American Association for Accreditation of Ambulatory Surgery Facilities.
When it becomes necessary to perform surgery in a hospital setting, he can choose from among several facilities. "I'm on staff at six hospitals in the area, including Manhattan Eye, Ear, and Throat Hospital and New York Eye and Ear Infirmary," he says. "I'm also the section head of facial plastic and reconstructive surgery at North Shore University Hospital, the second-largest health care system in the country."
Jacono calendars his operations on Tuesday, Wednesday, Friday, and Saturday. Monday and Thursday are reserved for consults, teaching, and lecturing. His average day begins a little before 6 in the morning and stretches past 7 in the evening; on Saturday, he ends his day by 1 or 2 pm.
The 80- to 90-hour workweeks translate into approximately 1,200 completed procedures annually. Of these, just over one third involve revision work. "My training in complex reconstructive surgery allows me to help people whose earlier cosmetic surgeries performed by others did not turn out the way they expected," he notes.
PRACTICE PROFILE
Name: Andrew A. Jacono, MD, FACS
Location: New York City and Great Neck, NY
Specialty: Endoscopic and small-incision face lifting, revision facial cosmetic surgery, rhinoplasty
Years in practice: 6
Number of patients per office day: 50 nonsurgical, 3–5 surgical
Number of new patients per year: 600
Days worked per week: 6
Days surgery performed per week: 3-4
Number of employees in practice: 9
Office square footage: 1,500 New York City and 4,500 Great Neck
Jacono limits his services to the face and neck but takes a comprehensive approach in what he offers. "Not everyone wants an invasive facelift; some would rather have a smaller procedure or no surgery at all, and I feel it's essential to be able to provide what my patients want," he says.
"For example, about 30% of my cases are endoscopic facelifts, which is what I fellowship-trained in," he continues. "Relatively few plastic surgeons offer this procedure; so, as a result, I attract patients from all over the world. In fact, about half of my total caseload is made up of patients from outside the United States."
Patients worldwide are drawn to Jacono's leading-edge use of fillers and injectables—"liquid facelifts," as he sometimes calls them.
"Hyaluronic acid-based filler can be injected beneath the eyes to create a nonsurgical eyelid lift," he explains. "You can fill in areas of the cheek and jowl areas that make it look as if the patient has had a midface facelift. Used in proper combination and administered the exact right way, fillers and injectables can wipe 10 years from a patient's appearance without surgery."
No Downtime
Jacono uses fillers and injectables to replace lost volume. "It's not a matter of injecting a filler into a groove or wrinkle; it's a matter of resupporting the tissues that are sagging," he says.
Significantly, fillers can be combined with botulinum toxin Type A to create a brow lift, to lift the corners of the mouth in the area of the jowl, or to lift the cheek region.
"The key is that the Botox is not used in the traditional way—injecting it into an area where there are dynamic lines that wrinkle and furrow on the skin," Jacono says. "Rather, it is used to paralyze opposing muscles. For example, injecting Botox into the muscles that pull the corners of the mouth downward eliminates resistance against the muscles there that pull upward. In the absence of such resistance, the corners of the mouth are naturally, nonsurgically lifted. Then, the filler is introduced to provide tissue support, re-volumization."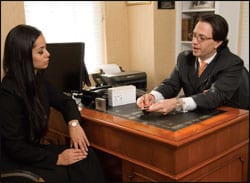 Jacono discusses the formulation of his homeopathic healing product for use after aesthetic procedures with office manager Georgette Deandressi.
Besides efficacy, minimized downtime is a big reason for the popularity of liquid facelifts. "Patients want to be able to resume their daily lives as quickly after a procedure as possible, which is a reflection of the fact that they lead busy lives," Jacono explains. "They don't want to—and, frankly, many of them can't afford to—spend up to
2 weeks in recovery from surgery. Because a liquid facelift is performed with 30-gauge needles, the patient is usually able to apply makeup and return to work the next day."
Although fillers and injectables make a viable alternative to conventional surgery, they are a short-term solution. Jacono cautions the results of these procedures must be repeated once or twice per year.
"A liquid facelift is less expensive than a surgical facelift, and that makes the procedure accessible to more people, but because of the need for annual or semiannual retreatment, the financial advantage doesn't hold up over time," he explains. "Eventually, if the patient keeps choosing retreatment, he or she will have paid out an amount of money equaling or exceeding the cost of a facelift surgery."
Jacono suggests that fillers and injectables should be seen as an intermediate solution. "They represent a bridge, if you will, for those patients who need to have an aging face problem addressed but are not yet truly appropriate candidates for surgery," he says.
"For example, many of my patients are too young for a surgical facelift, but because their careers place them in the public eye, they are under enormous pressure to appear fresh-faced. For them, a liquid facelift is a good choice. Also, offering liquid facelifts can be a way to cement long-term relationships with these younger patients—patients who I normally wouldn't see until they are in their 50s now are in my office on a fairly regular basis beginning in their 30s."
Life After Practice
Despite a heavy workload, Jacono devotes time to organizations that help victims of domestic violence. "My desire to help battered women started when I was a resident at New York Eye and Ear Infirmary," the Long Island native recalls. "I performed a rhinoplasty on a woman who had told everyone she'd been involved in a car accident. After the surgery, she looked great and was very happy. But then, 2 months later, she was back with her nose in the same state of disrepair as before. She was crying, and I asked her what had happened. It was then that she confided that she was in an abusive relationship."
Jacono felt a mix of anger at the victimizer, sorrow for the victim, and a determination to make sure this kind of tragedy would not be repeated for her or for anyone else.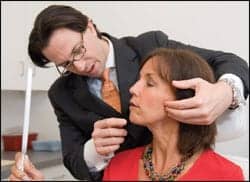 Jacono reviews the benefits of an endoscopic midface lift versus a short incision facelift with a patient.
"I discovered that the American Academy of Facial Plastic Surgery had a program called Face to Face to provide battered and disfigured women with no-cost reconstructive services," he says. "But what I especially liked about this program was that the beneficiaries could not receive surgery until after they had broken off the relationship with the abusive partner, received psychological counseling, and completed a process of emotional healing."
Since then, Jacono's involvement with Face to Face has grown considerably. "I'm now at the point where I play a role in fund-raising," he says. Recently chosen to serve as the program's national chairman, Jacono is especially proud of his work in putting together an annual gala benefit that usually raises about $100,000 for Face to Face and another group, New York's Nassau County Coalition Against Domestic Violence, in which he is a board member.
Jacono harbors no illusions about his ability to purge the world of domestic violence. "People do bad things to other people, and that's not going to change," he says. "But I feel that I have a responsibility as a human being to do what I can to help those who are the unfortunate victims of bad actions by other people. And I have to say that my work with these victims has made me realize the importance of kindness—how precious it is and how much more of it we need."
In addition, Jacono lends his talents to Beyond Our Borders, a nonprofit organization that sends children from third-world countries to the United States for donated surgery to repair disfigurement caused by cancer, trauma, and birth defects.
"As doctors, we've been given an amazing gift," Jacono says. "It's easy to forget about that and become too absorbed with the routine business concerns of practice. I think it's important to use that gift not only to help people in our everyday ordinary ways, but also to do so in ways that are above and beyond."
If anything, Jacono's biggest complaint is that there are not enough hours in the day for him to accomplish everything he would like. No matter what, he makes time for his wife, Eva, son Andrew, 10, daughter Arianna, 8, and son Gavin, 2.
What the Future Holds
Recently, Jacono became the American Academy of Facial Plastic Surgery's newest fellowship preceptor. For him, that honor completes the circle: He was a fellow, participating in the program offered by the Lindsay House Center for Cosmetic and Reconstructive Surgery and the University of Rochester in Rochester, NY.
"I really valued my fellowship experience," he says. "I gained knowledge and skills that have served me very well in the years since then. I'm hoping now to pass those competencies and much more to the next generation of plastic surgeons."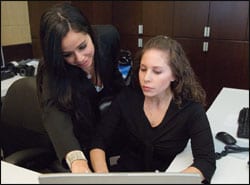 Office manager Georgette Deandressi and administrative assistant Nicole Pastorelli in Jacono's Manhattan office.
The conferring of preceptor status enhances the academic character of Jacono's practice. In addition to his work as an assistant clinical professor in facial plastic and reconstructive surgery at New York Eye and Ear Infirmary, Jacono is a prolific author—topics include minimal-incision eyelid surgery, endoscopic minimally invasive brow lifting, endoscopic midface- and full-facelifting surgery, rhinoplasty and revision rhinoplasty, and orbital reconstruction.
Moreover, his book Face the Facts: The Truth About Plastic Surgery Procedures That Do and Don't Work (BookSurge LLC, 2006) helped him land appearances on numerous television shows, including Good Morning America, Inside Edition, The Morning Show with Mike and Juliet, various CNN and CNBC programs, and New York's CW-11 morning newscast.
"Because I'm so busy with my practice, it has grown increasingly difficult for me to author more than two papers a year," he notes. "The addition of a fellow to my practice will, I'm certain, enable me to develop more ideas and procedures and then apply them to scientific scrutiny. That's what I'm most eager to do, because I'm always thinking about better ways to approach surgery. I think that new ways, when tested and proven, are essential for a healthy, successful, growing practice."
Speed Healing
Entrepreneurial-minded Andrew A. Jacono, MD, FACS, plans soon to introduce a natural product for expedited postoperative healing.
"It's a combination of eight different homeopathic medications and nutritional supplements packaged in single-dose units," says the Great Neck, NY-based solo practitioner. "We feel the time is right for this product—it's entirely in keeping with the trend in plastic surgery to deliver great results with minimal downtime."
The product's formulation draws on data from medical literature concerning the healing and recovery of burn victims, diabetics with chronic wounds, and others. "It has good science behind it," he says. "This is not like the countless other products you can find on the shelves of cosmetics stores; products that smell good and feel good but that don't really have any documented effect on healing."
As a mass-marketed product, Jacono's preparation will be sold under the "J-Pak Systems" brand (it has been available to his patients for some time). Jacono claims his product has made a difference for his patients.
Jacono, who received his MD from Albert Einstein College of Medicine in New York City, is board certified by the American Board of Facial Plastic and Reconstructive Surgery and is among a small group of practitioners who are also board certified in head-and-neck surgery.
His reputation as a plastic surgeon was built on a willingness to accept challenging cases. "A key to success is not just having advanced technologic capabilities and knowing how to most skillfully utilize them," he explains. "Equally so, it's having the ability to listen to patients and not try to shoehorn them into a one-size-fits-all approach to the services being offered. My desire is to make sure I'm meeting my patients' goals rather than the goals of my practice."
That philosophy led Jacono to develop the J-Pak Systems product, he adds.
In a similar vein and for similar reasons, Jacono has devised a better way of performing collagen injections of the lips (which he writes about in an article pending publication in Archives of Facial Plastic Surgery).
"The old technique was to inject the lip as if it were a sausage skin," he says. "You injected and kept injecting until it was entirely filled. This, unfortunately, gave the lip an unnatural appearance.
"Through our research, we've found that the lip consists of more than a dozen subanatomic zones and that as a result it is possible to shape and volumize the lips in very specific ways, depending on which of the subanatomic zones are injected," he says. "Not everybody needs the same subanatomic zones injected, so it becomes a matter first of thoroughly analyzing the lips and from that developing an injection strategy that creates the appearance the patient wants."
Success with this requires an excellent understanding of facial anatomy in general and lip anatomy in particular, Jacono adds.
—RS
Rich Smith is a contributing writer for Plastic Surgery Products. For additional information, please contact plasticsurgery@allied360.com.