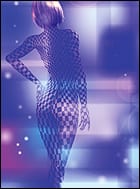 Body contouring is one type of procedure that is often cited as being most like an art form. Of all the procedures in which to specialize, it is the most challenging and rewarding, allowing the plastic surgeon to literally resculpt the body as an artist would reshape a hunk of clay into a masterpiece.
No matter what the chosen technique for body contouring, surgeons who practice this art agree that the tool set available to them has improved, technologically, in recent years. PSP presents a range of new technologies from a few of the companies on the vanguard of advancing the art of body contouring.
---
Axis Three
470 Atlantic Ave, Fourth Floor
Boston, MA 02210
(617) 273-8496
www.axisthree.com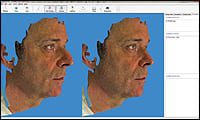 The Axis Three 3D Simulation Platform user interface.
Axis Three, a pioneer in the area of advanced surgical simulation tools, is leading the field with the only 3D simulation software based on physics-driven tissue typing for use in aesthetic surgery. Using the Axis Three 3D Simulation Platform, plastic surgeons can visually communicate and collaborate with patients on the outcomes of cosmetic surgical procedures by using the patient's own 3D image.
The system currently targets breast and face procedures (including the chin, nose, cheek, and jaw). Practitioners use Axis Three to show patients undergoing breast procedures an anatomically accurate visualization of their surgical outcome prior to surgery. The system's unique image-capture technology and simulation software shows both the physician and the patient the likely outcome of, say, breast-augmentation surgery during the consultation phase. This visual-based consultation aid allows both parties to "see" what is possible postsurgery, and brings a new level of communication and collaboration to the aesthetic process.
Axis Three's turnkey process lets the physician, with a single click of their mouse or tablet pen, to generate anatomically precise models, captured using Color Coded Triangulation (CCT™), a patented Siemens and Axis Three technology. Within a few minutes, the physician or patient coordinator can share a photorealistic 3D image that also includes accurate volumetric and linear measurements. The surgeon or patient coordinator can select specific implants from implant manufacturer catalogs based on profile, volume, and width. The implant is automatically positioned in the breast to simulate the outcome of breast augmentation in 3D.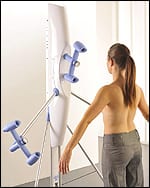 The firm's Tissue Behavior Simulation (TBS) technology allows surgeons to account for the patient's individual body attributes, such as tissue elasticity and type, in order to provide more accurate visualizations of results prior to surgery. Patients can view their own image from every angle. Onscreen changes result from "trying on" implant sizes and shapes. If necessary, different-sized implants can be used to modify each breast in order to achieve a full and balanced contour. As a result, the surgeon and patient have greater confidence about their decision to go ahead with a procedure.
"The Axis Three 3D Simulation Platform has certainly been an excellent adjunct to my practice. While discussions and two-dimensional photos are helpful, being able to sit in front of the computer with the surgeon takes it to a new level," says Steven Schuster, MD, FACS, a board-certified plastic surgeon in Boca Raton, Fla. "It allows the patient to see in multiple views what they may never have seen before. It also allows me to place various-size implants in a patient and compare them side by side. It gives the patient a realistic view of how they could look, and points out the asymmetries and irregularities that may be camouflaged, but not corrected.
"With a 3D view of the nose, I am able to turn the nose in infinite positions and actually show the patient how changing the dorsum in the lateral view affects the front view. I can't imagine going into a consultation for the breast, nose, or chin without the benefit of the Axis Three system," Schuster adds.
Axis Three can show the patient up to six different simulations simultaneously on one screen, which allows surgeons to illustrate subtle differences in volume or position, and implant rotation; or compensate for the contour of the rib cage by rotating the implant or forcing the fill either laterally or medially to increase the cleavage or correct the nipple position. The system also comes with a number of tools to complement the consultation process, including a pen tool to allow drawing on the image, and a report generator.
Axis Three can be used in a similar manner for rhinoplasty, chin, cheek, jaw, and browlift procedures. In addition to the aforementioned high-resolution views and precise control, the system provides comprehensive data capture of the entire face in one 3D image, and the ability to quantitatively measure facial symmetry and to conduct longitudinal studies.

The Axis Three community of surgeons who use the system provides the company with input and data that informs the development process. The Axis Three research and development team responds to physician input with features that cover new procedures, software updates, and enhancements to the system. For example, future products, now in development, will address additional face and full-body procedures.
Axis Three also offers surgeons extensive training, support, and marketing materials to educate patients and drive surgeons' consultation bookings and conversion rates.
---
Canfield Imaging Systems
253 Passaic Ave
Fairfield, NJ 07004
(800) 815-4330
www.canfieldsci.com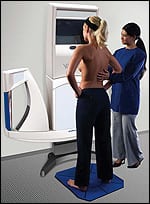 The VECTRA X3 single system captures 3D face, breast, and body images.
Body contouring procedures are among the most popular plastic surgery services provided today, presenting great opportunities for practices worldwide. And while mainstream surgical procedures, such as liposuction and implants, continue to dominate the field, a number of new and noninvasive techniques are emerging as possible alternatives.
Recognizing the need for more powerful consultation tools, Canfield Imaging Systems has expanded its VECTRA 3D product line with the introduction of Body Sculptor software. In combination with the well-established Breast Sculptor and Face Sculptor modules, Canfield now offers a complete consultation solution for the aesthetic plastic surgery practice.
Because Body Sculptor uses 3D photographs of the patient's own anatomy, a great deal of the uncertainty about their current condition and the outcome of possible surgical procedures is removed. This provides prospective patients with the confidence to commit to the procedures, shortening the decision process and increasing conversion rates. And because the patient's expectations have been clearly established, they are far more likely to be satisfied with the results. This consultation dynamic is also a natural for discussion of complementary procedures, such as the popular "Mommy Makeover."
VECTRA's 3D photographs can be rotated to provide multiple views of the patient, with preoperative pictures and simulated outcomes displayed side by side or overlaid. Breast augmentation candidates no longer need to make a decision based on someone else's photographs or by stuffing bras, resulting in a more comfortable, and productive, consultation session. And with the simple installation of a flat panel display in the operating room, the simulated images can be used as a guide during surgery.
In addition to the clear medical value, there is a significant "Wow!" factor in VECTRA 3D-powered consultations. Jason Pozner, MD, medical director of Sanctuary Plastic Surgery in Boca Raton, Fla, explains, "Patients like it. It's not gimmicky, it looks cool, and the process is easy. You don't have to take a lot of photos, so it's a real time-saver. Just one shot and it's over. We actually don't take that many 2D pictures anymore."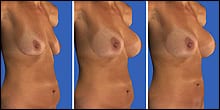 Preop 3D image; simulated breast augmentation; add a tummy tuck for a "Mommy Makeover."
Body Sculptor is included, along with Breast Sculptor and Face Sculptor, with the VECTRA X3 face and body 3D imaging system. Combining a clean, elegant design, 36-megapixel image capture and unequaled functionality, this system sets the standard for 3D image capture. Innovative engineering allows VECTRA to capture either face or body images without any mechanical adjustment or recalibration. This greatly speeds and simplifies workflow in practices that offer a diverse range of services. This same smart simplicity also shortens operator training time considerably.
With a depth of only 10 inches, the VECTRA X3 fits neatly against the wall, taking up hardly any floor space. All of the mechanical and electronic components are neatly concealed inside its smooth, white enclosure for a stylish, patient-friendly appearance. A dedicated computer manages all software applications including image capture, the 3D Mirror database, and the programmable, motorized height control.
Canfield offers a complete line of VECTRA 3D systems, including the modular "M" series. The VECTRA M3 is a compact and cost-effective solution for practices offering aesthetic procedures for the face, neck, and décolletage. The included Face Sculptor software enables 3D-powered consultations and aesthetic simulations of both surgical and nonsurgical procedures such as rhinoplasty, facial augmentations, lifts, injectables, contouring, resurfacing, and more. Small enough to fit in a corner, the 36-megapixel VECTRA M3 delivers extraordinary performance in an advanced 3D imaging solution.
THE VECTRA M1
Canfield's newest system, the VECTRA M1 Facial Solution, delivers high quality and ease of use in a compact, tabletop design. Included is a fully integrated software package that provides high-resolution visualization of facial form, texture, vascularity, and pigmentation. This ability to visualize facial characteristics both on and beneath the skin's surface creates a particularly powerful consultation environment for dermatological conditions. Completing the solution, Canfield's renowned Face Sculptor software module enables simulation of most nonsurgical facial procedures, including injectables, laser treatments, resurfacing, facial contouring, and more.
All VECTRA systems deliver on Canfield's core values for 3D clinical photography: practice differentiation, increased referrals, higher rates of consultation conversions, and improved patient satisfaction.
---
Cynosure Inc
5 Carlisle Rd
Westford, MA 01886
(800) 886-2966
www.cynosure.com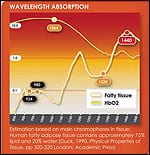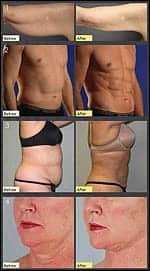 Results using the Smartlipo TriPlex system.
Cynosure Inc's Smartlipo TriPlex is the first multiplex triple-wavelength laser lipolysis workstation, and it has been designed to treat a variety of body-contouring needs. Physicians can dial in the right energy level and wavelength without overtreating or undertreating. For the patient, this means an overall improved laser lipolysis experience and proven tissue coagulation, which results in skin tightening, reduced treatment time, and less downtime.
Smartlipo TriPlex's high-definition liposuction offers 3D sculpting of the abdominal and chest muscles, the lower back, and the gluteus to enhance their appearance. The procedure, which is designed as an advanced sculpting technique rather than a standard liposuction technique, is indicated for people who have good muscle tone, exercise regularly, have good-quality skin, and have been unable to achieve their desired muscle definition.
With Smartlipo TriPlex, a laser beam of three wavelengths is produced, consisting of 1,064 nm, 1,320 nm, and 1,440 nm. When combined with the 1,440-nm wavelength, the 1,064-nm wavelength speeds the disruption of the fatty tissue. When the 1,064-nm and 1,320-nm wavelengths are combined, the tissue coagulates, which in turn tightens the tissue.
The company's MultiPlex technology combines the three wavelengths in one laser workstation. Two wavelengths fire sequentially, which liquefies a patient's fat and tightens the skin with collagen stimulation. According to the company, the SmartLipo TriPlex offers 20 times greater fat absorption than single-wavelength lasers.
Gordon Sasaki, MD, a clinical professor of plastic surgery at Loma Linda University Medical School in Pasadena, Calif, recently conducted the first study using Smartlipo TriPlex with three wavelengths, which demonstrates the histological effects of deep fatty tissue and superficial tissue-tightening treatments.
"The addition of 1,440 nm to the Smartlipo product line has boosted the absorption of the main target [fatty tissue] to dramatically improve the safety and efficacy of laser lipolysis," he says. "For the first time in the laser industry, a laser has been designed to specifically address two important clinical outcomes in body contouring: laser lipolysis and septal/dermal tightening. The three wavelengths in Smartlipo TriPlex denature collagen to encourage more tissue tightening as well as provide for a more efficient method to debulk fatty tissue."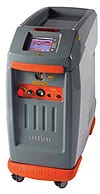 SMART DELIVERY
The Smartlipo TriPlex unit is equipped with ThermaGuide, the unique "intelligent" delivery system that offers practitioners much increased precision during the laser lipolysis procedure. A special cannula, through which the laser probe is inserted, reads the temperature of the targeted area, displaying the information in real time on the computer screen. The ThermaGuide also now offers the use of a 1-mm probe in addition to the smaller 600-micron probe. The result is easier tissue passage and the delivery of more heat energy due to its larger cross-sectional surface area. This helps heat each fat area faster.
"Smartlipo TriPlex with ThermaGuide not only affords the surgeon a quicker procedure, but the ability to achieve precise clinical end points using integrated surface and deep tissue temperature control," Sasaki says.
The Smartlipo TriPlex rivals traditional or ultrasonic liposuction in terms of ease of use, speed of use, and improved fat reduction. Heating up the subcutaneous fat layer before suctioning provides good fat removal, less pain to the patient, and the possibility of some skin retraction.

The ThermaView thermal camera system measures skin surface temperature and provides a visual "map" of temperatures within the treatment area, providing the homogeneous delivery of thermal energy. This "smart" technology lets laser energy be delivered to a targeted temperature setting, helping the physician to ensure the safe and effective treatment of the skin's superficial layer.
"The additional photomechanical effects of the 1,440-nm wavelength have really put Smartlipo in an entirely new class. I can now treat larger areas and continue to achieve excellent tissue tightening through coagulation with 1,064 nm and 1,320 nm," says Barry DiBernardo, MD, FACS, a plastic surgeon in Montclair, NJ.
---
Cytori Therapeutics Inc
3020 Callan Rd
San Diego, CA 92121
(877) 470-8000
www.cytori.com

The PureGraft™ 250/PURE System is the first and only fat grafting technology indicated for use in aesthetic body contouring. PureGraft enables physicians to prepare a fat graft in under 15 minutes. In contrast to traditional methods of graft preparation, PureGraft removes tumescent fluid, free lipid, and debris—all within a closed system.
OPTIMAL FAT GRAFT PREPARATION
PureGraft selectively processes the graft, removing contaminants and impurities that result from liposuction to produce a pure and concentrated output. With advanced filtering technology, the system is designed to prepare large volume grafts (50 to 250 mL) in under 15 minutes. Graft preparation takes place within a sterile, closed system, utilizing a single-use consumable to reduce the risk of graft contamination.
The right balance in graft hydration is essential for maximizing graft quality, ease of delivery, and for managing patient expectations. PureGraft enables the physician to control graft hydration levels.
STREAMLINE PROCEDURE WORKFLOW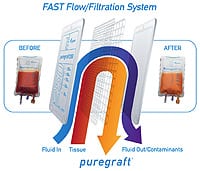 As a comprehensive fat grafting technology, PureGraft makes convenient the process of tissue harvest, process, and delivery by including all required instrumentation in a single system. PureGraft simplifies fat grafting procedures by rapidly producing consistent grafts without centrifugation.
Operation of the PureGraft System requires no additional OR personnel, maximizing efficiency and easily integrating into procedure workflow in one-third of the time of other processing techniques. PureGraft is operated completely within the sterile field, streamlining the procedure and further reducing procedure times and OR costs.
HOW IT WORKS
PureGraft draws on Cytori's revolutionary lipodialysis technology, "dialyzing" the fat graft and removing impurities to produce a clean and concentrated graft in under 15 minutes.
The system uses a bilaminar flow-filtration technology, ensuring a consistent graft. Tissue is injected into the System and is selectively filtered through the first membrane, removing loose blood cells, free lipids, water, and other debris. The second membrane directs the flow of the debris and allows for the draining of the contaminants into the Waste Bag.

Tissue is typically washed twice with 150 mL of processing solution to further purify the graft. In addition to removing contaminants, washing enables physicians to precisely control the hydration of the graft by varying the number of wash cycles and length of drain times. The concentrated graft tissue can be extracted from the PureGraft System for use in aesthetic body contouring.
Contact Cytori Technologies customer support at (858) 875-5245 or via e-mail at .
---

Lutronic Inc
51 Everett Dr, Unit A-50
Princeton Junction, NJ 08550
(888) 588-7644
www.lutronic.com
The AccuSculpt™ procedure is an exciting new body-contouring treatment developed to meet the needs of patients seeking significant results with minimal downtime. It is ideal for areas such as the hips, thighs, knees, bra line, arms, and chest.
The AccuSculpt Laser Lipolysis System, from Lutronic Inc, is the first pulsed laser for lipolysis to feature the revolutionary 1,444-nm wavelength for a new level of safety, speed, and efficiency in fat deposit emulsification and body contouring. Lutronic is a developer and manufacturer of medical laser systems for dermatological and aesthetic surgery applications.
The most accurate and effective wavelength for fat removal, the patented 1,444-nm technology, combined with the short pulse duration of 90 µs, delivers high peak power into the tissue. This makes the AccuSculpt the most powerful body sculpting tool on the market today. "AccuSculpt is a refined tool to manipulate the skin and the underlying fat to achieve an artistic result," says John Stratis, MD, a plastic surgeon in Mechanicsburg, Pa.
The patented technology's unique properties make it eight times more effective at emulsifying fat than other lasers on the market. This provides aesthetic physicians with an incredible tool that produces safe, effective, and permanent results previously unavailable. Additionally, physicians who have adopted the AccuSculpt technology have experienced a surge in practice revenue due to several new treatment options that AccuSculpt allows.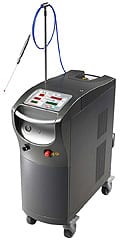 A PHYSICIAN'S PERSPECTIVE
"The most significant results I have obtained in body-contouring patients has been in the arm area," says Steven J. Smith, MD, FACS. "Patients who have mild to moderate fat excess with some skin laxity who would be marginal candidates for traditional liposuction have had noticeable skin tightening with the AccuSculpt Laser technique.
"Also, AccuSculpt Laser Liposuction has been very useful in fibrous areas such as the upper back or in secondary liposuction cases. In areas that have striae formation, I have seen skin-tightening effects, especially in the flanks. At this point, the laser liposuction technique does take more time to perform. However, with experience, I have been able to decrease the operative times and continue to improve the efficiency of treatment."
Smith has noticed less bruising and swelling in the areas of AccuSculpt Laser Liposuction when compared to areas of "tumescent" or "superwet" liposuction. "There also appears to be slightly less pain and tenderness with the laser technique," he adds.
Lutronic is the first company to research and develop the optimized 1,400-nm wavelength for Laser Assisted Lipolysis (LAL), which also consists of the new AccuLift™ facial-contouring procedure. This special 1,444-nm wavelength is said to allow for improved accuracy, precision, control, and minimally invasive deep tissue heating.
For areas of the face, the AccuLift facial contouring procedure applies the AccuSculpt system with a very small cannula.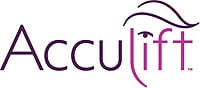 "I have found the AccuLift procedure to be useful in patients who have specific jowl, nasolabial fold, and neck deformities with excessive subcutaneous tissue and mild to moderate laxity of the supporting structures," Smith says. "It is not a substitute for a facelift. However, it can give very nice, predicable results with minimal downtime and less expense to the patient."
The patients Smith has treated have shown noticeable improvement, and they are pleased with the results. "Also, it has been an excellent adjunct for the secondary facelift patient, who has recurrent ptosis in the jowl region or minor contour irregularities. These areas of concern can be treated without additional invasive surgery. When combined with other less invasive techniques such as injectables and fractional laser resurfacing, the results can be quite dramatic."

The AccuSculpt procedure can also be performed in patients who may be poor surgical risks for an invasive operation, but who can tolerate local anesthesia with or without mild sedation," Smith continues. "I have had two patients with inherited clotting disorders who were on Coumadin therapy. Both patients had successful treatment of the nasolabial folds, jowls, submentum, and lateral necks without discontinuing their Coumadin therapy."
---
Sound Surgical Technologies LLC
357 S McCaslin Blvd, Suite 100
Louisville, CO
(888) 471-4777
www.vaser.com
Sound Surgical Technologies LLC's VASER Lipo System is a minimally invasive body contouring technology that uses mechanical and acoustic forces to emulsify fat within a targeted area, while preserving other important tissue structures.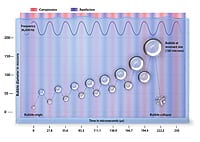 Figure 1. Growth of microbubbles in infusion fluid via compression and rarefaction
Fat deposits are then removed from the body using an atraumatic aspiration cannula called VentX. VentX maximizes procedure speed and efficiency while reducing trauma to the surrounding tissue.
The use of VASER ultrasound for body contouring is beneficial for tissue specificity, reduced blood loss and patient discomfort, smooth skin retraction, and preservation of fat cell viability.
Since individual fat cells remain intact during the VASER ultrasound liposuction process, fat collected may be harvested for autologous fat transfer.
Recent clinical studies show no difference in the viability of fat cells treated with VASER ultrasonic energy compared to those treated with traditional suction-assisted liposuction methods.
Fat aspirated during traditional liposuction procedures are often harvested in large cell packets which are approximately 50 cells in diameter.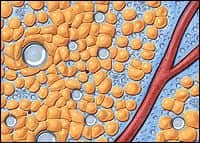 Figure 2. Fat cells being dislodged via stable cavitation
These large cell clusters are associated with high rates of cell disruption from shear forces during reinjection, and necrosis at the core after reimplantation due to inadequate blood supply. The fat aspirated during the VASER Lipo process is refined to small lipocyte packets comprised of two to three fat cells, which supports growth and vascularization upon reinjection.
During body contouring with VASER Lipo, a tumescent fluid is infused throughout the targeted fatty tissue area.
The fluid naturally contains small gas bubbles, and as the fluid infiltrates the area, micro bubbles become dispersed throughout the tissue matrix.
Due to the relatively loose packing of the fatty tissue, the tumescent fluid surrounds the fat cells, allowing the gas bubbles to infiltrate between individual cells.
Tight junctions between cells within blood vessel walls and connective tissues prevent gas bubbles from interspersing among and affecting these tissues.
The VASER Lipo System delivers ultrasound pressure waves, or alternating regions of higher and lower pressure, at 36 kHz via a titanium probe.
These waves produce a push/pull force on the dispersed gas micro bubbles, which expand and increase their surface area, allowing additional gas dissolved in the fluid to enter by diffusion.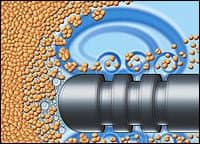 Figure 3. Acoustic streaming
The pressure wave next pushes on the bubble, compressing it and causing some of the gas in the bubble to diffuse back out.
Since the bubble is smaller when compressed by the pressure wave, less gas diffuses out during compression than diffuses in when the bubble is under tension.
Thus, with the passage of every ultrasound wave, there is an overall net increase in the volume of the gas bubble until they implode; pulling on and further loosening the fat tissue matrix (this process is called stable cavitation). The progression then starts over.
Since adipose cells contain no gas, VASER ultrasound energy does not cavitate adipose cells. Also, the bubble-mediated cavitation action only acts to dislodge the adipose cells, leaving the other tissues such as nerves and blood vessels unaffected.
This is the source of the natural tissue selectivity of VASER ultrasound technology. As the fat cells are displaced, they are mixed with the tumescent fluid by a process called acoustic streaming.
This streaming results in a complete emulsion of the fat cells, which are then easily removed via the VentX aspiration cannulas.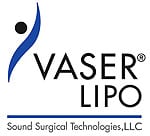 In a recent scientific comparative study, researchers set out to evaluate postoperative differences between VASER Lipo and traditional liposuction methods.
Results showed that the VASER Lipo treatment demonstrated 53% improvement in skin retraction per cc of aspirate removed and an average reduction in blood loss of 26% compared to traditional liposuction.
Twenty female patients between the ages of 20 and 48 received contralateral treatment with suction-assisted liposuction and lipoplasty using VASER in one or more anatomical regions—for a total of 33 regions.
Patients were randomly allocated to undergo suction-assisted lipo on one side of the body and VASER on the contralateral side. Aspirate was kept separate and analyzed for blood content. Skin retraction was measured using changes in UV tattoos placed prior to surgery.
This is the first study to demonstrate statistically significant and clinically relevant improvements in a new lipoplasty technology relative to traditional liposuction.
This prospective study used a contralateral (side-by-side) study design to evaluate postoperative differences between the two techniques over a 6-month time period.
Other recent studies have shown as much as 7.5 times less blood loss with VASER Lipo compared to traditional liposuction methods.