The US Food and Drug Administration green-lighted Cosentyx (secukinumab) for adults with moderate-to-severe plaque psoriasis.
Cosentyx's active ingredient is secukinumab, an antibody that binds to the inflammation-causing protein interleukin (IL)-17A. By binding to IL-17A, secukinumab prevents it from binding to its target, blocking its ability to trigger the inflammatory response that plays a role in plaque psoriasis.
Given via subcutaneous injection, Cosentyx is intended for patients who are candidates for systemic therapy, phototherapy, or a combination of both. Cosentyx's safety and effectiveness were established in four clinical trials with a total of 2,403 participants with plaque psoriasis. Participants were randomly assigned to receive Cosentyx or a placebo. The results showed that Cosentyx achieved greater clinical response than placebo, with skin that was clear or almost clear, as assessed by scoring of the extent, nature, and severity of psoriatic changes of the skin.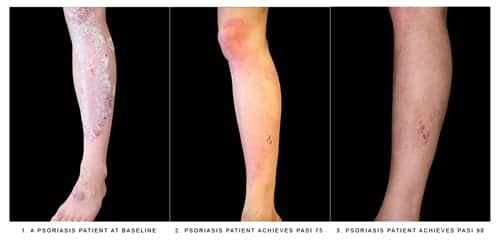 Cosentyx is being approved with a medication guide to inform patients that it may increase risk for infection. Serious allergic reactions have been reported with the use of Cosentyx. Caution should be exercised when considering the use of Cosentyx in patients with a chronic infection or a history of recurrent infection, and in patients with active Crohn's disease. The most common side effects include diarrhea and upper respiratory infections. Novartis Cosentyx received European Commission approval for first-line treatment of moderate-to-severe psoriasis patients earlier this week.
Cosentyx is marketed by East Hanover, NJ-based Novartis Pharmaceuticals Corporation.