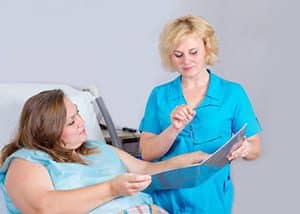 An obese patient who gets a tummy tuck may be hit with $7,400 more in bills than their thinner counterparts, a new study shows. Breast reduction, liposuction, and blepaharoplasty are also more costly for the obese.
And the differential is largely due to a higher rate of complications and more hospital visits. More than one-third of adults in the US are overweight or obese, according to the federal Centers for Disease Control and Prevention.
The study, which appears in the May issue of Plastic and Reconstructive Surgery, included nearly 48,000 adult patients undergoing liposuction, abdominoplasty, breast reduction, or blepharoplasty. About 4% of the patients were classified as obese based on their body mass index. The obese patients had higher rates of comorbid conditions, including diabetes, high blood pressure, cardiovascular disease, and mental health problems.
Within 30 days after surgery, 7.3% of obese patients made an emergency department visit or were admitted to the hospital, compared to 3.9% of non-obese patients. In sum, overweight and obese patients were 35% more likely to have an emergency department visit or hospital admission within 30 days of surgery.
Obesity was also associated with a higher risk of serious adverse events within 30 days after plastic surgery: 3.2% versus 0.9%, respectively. After adjustment, relative risk for serious adverse events was 72% higher for the obese patients, the study showed.
These increased risks led to higher hospital charges for obese patients, with average cost differences of about $3,900 after liposuction, $7,100 after abdominoplasty, and $7,400 after breast reduction. Obese blepharoplasty patients incurred $182 more in bills than their thinner counterparts. The rate of hospital visits was highest for obese patients undergoing abdominoplasty who had three or more comorbid conditions.
"While weight loss and optimization of medical comorbidity is important for surgical outcomes, it may also be important for a patient's financial outcomes," the study authors write. "Whether weight loss or medical optimization would reduce healthcare costs in the postoperative period warrants further investigation."
There are some caveats in interpreting the new findings, cautions study author Michelle R. Sieffert, MD, MBA, a plastic surgery resident at Wright State University in Dayton, Ohio. "We can't parse out which patients were postbariatric surgery body contouring or straight cosmetic, and we don't have codes to differentiate abdominoplasty form panniculectomy," she explains.
Still, "educating the patients about these risks and costs are important, especially since they are a self-paying group," she says. "Patient selection is a big thing for all, and some potential patients may not be surgical candidates due to their high-risk status," she says.
Although it is more often said than done, patients should be as close as possible to their ideal body weight before an elective surgery, she says. "We should give them the tools to be as healthy as possible."