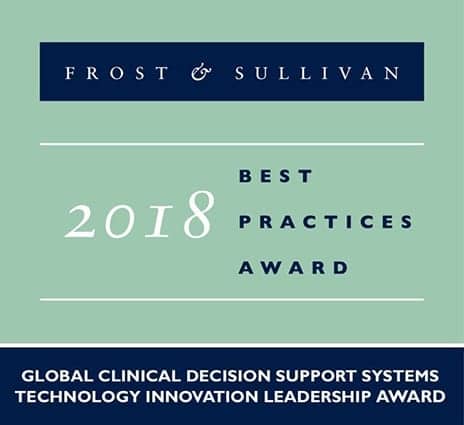 Based on its recent analysis of the global market for clinical decision support systems (CDSS), Frost & Sullivan recognizes New York-based VisualDx with the 2019 Global Technology Innovation Leadership Award for its web-based visualization platform.
VisualDx's image database leverages the power of visualization to help physicians worldwide easily differentiate between lesions and morphologies. The solution is designed to enable clinicians to compare their patients' symptoms visually to improve diagnostic accuracy and make improved clinical decisions for enhanced outcomes and patient safety.
VisualDx's platform can potentially disrupt the market by bridging the dermatology knowledge gap among non-dermatologists and reduce diagnostic errors across medicine, the company suggests in a media release.
"VisualDx has the largest skin lesion image database in the world, with a library of more than 41,000 medical images and photos, which allows healthcare professionals to find images similar to their patient's skin lesions for creating a unique differential diagnosis," says Dr Suresh Kuppuswamy, Industry Principal at Frost & Sullivan, in the release.
"The platform's diagnosis search function assures clinical results tailored to the patient's region for easier endemic disease detection. In addition to the information provided by traditional CDSS, VisualDx offers a concise point-of-care text synopsis, such as clinical pearls and treatment options, for enhanced diagnostic accuracy and recommendations for the next treatment steps."
VisualDx empowers patients to participate in the diagnostic decision process, to trust the diagnosis, and to follow the recommended treatment. The database includes handouts with information regarding expected side effects, symptoms, and treatment alternatives for common diseases, a useful feature for both dermatologists and non-dermatologists because it strengthens doctor-patient relationships.
Furthermore, VisualDx developed an artificial intelligence (AI)-enabled add-on feature, DermExpert, which employs deep learning to analyze the scan of the lesion or rash and identify the morphology. The clinician can then confirm the classification and stream it into the guided work-up process for an accurate differential diagnosis with recommended actions.
VisualDx created the Aysa app to answer patients' queries regarding skin lesions when medical help is momentarily unavailable or inaccessible. Similar to DermExpert, Aysa uses AI and machine learning for image recognition. Patients take a picture of the skin rash or lesion, and Aysa guides them through a patient-centric work-up procedure that provides them with information and images to aid their decision to seek emergency help or to use over-the-counter medications, the release continues.
"More than 2,300 hospitals across the United States, the United Kingdom, the United Arab Emirates, Denmark, Zimbabwe, and China utilize VisualDx's CDSS. The company recently expanded its clinical focus to cover internal disease diagnoses for abdominal pain and headaches, as well as conditions requiring medical scans," Kuppuswamy notes.
"VisualDx's future target markets include dermatology, pediatrics, family medicine, emergency medicine, internal medicine, obstetrics and gynecology, and surgical specialties. As the healthcare landscape shifts to value-driven care, VisualDx will leverage its first-mover advantage and strong brand recognition to capture a bigger share of the market."
[Source(s): Frost & Sullivan, PR Newswire]