Viora Inc, Jersey City, NJ, recently launched its FDA-cleared multifrequency and vacuum therapy bipolar radio frequency (RF) device, the Reaction, at the American Academy of Dermatologists (AAD) annual meeting and exhibition in Miami in March 2010.
The Reaction device is intended for treating cellulite, as well as body contouring and skin tightening. The unit offers a unique multiple-frequency approach to RF treatments, based on the firm's Channeling Optimized RF Energy (CORE) technology.
Viora CEO Josef Luzon explains the reason for developing the CORE technology. "Most of the systems out there are working with one frequency," he says. "Working with one frequency has limitations. We came up with a technology that works with three frequencies in four different modes." This allows for better control of the depth of penetration, he adds.
This technology lets physician work in three distinct RF frequencies suitable for deep, middle, and superficial treatments—0.8 MHz, 1.7 MHz, and 2.45 MHz. In addition, the device offers a fourth mode that can dial in the other three frequencies at the same time.
As an indication of the unit's practical application, for example, the 0.8 MHz frequency penetrates up to 18.6 mm for body contouring (with vacuum) and to 7.2 mm for skin-tightening applications, according to the company.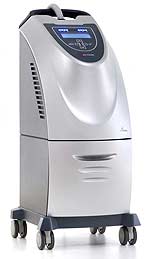 Reaction 4000wi
In tests, patients who underwent a skin-tightening treatment course demonstrated an 81% improvement in wrinkles and skin laxity. A similar study evaluated the performance of CORE technology for cellulite reduction. Patients showed a 55% improvement in the appearance of cellulite. The Reaction was FDA-cleared in July 2009.
In addition to the four frequencies and four levels of vacuum—up to 130 joules (j/cm3)—the Reaction offers three lightweight applicators for different treatment types (and body areas, including the face), and will treat all varieties of skin types. Viora claims no downtime for patients.
REACTION TO THE REACTION
"The nice thing about this system is that I can use it for the multiple different treatments," says Matthew Schulman, MD, in private practice in New York City. "I use it for cellulite reduction, for fat reduction, and for skin tightening. Before I had this technology, I usually needed to use two, sometime three separate systems to order to be able to accomplish these same things.
"We know that if you are trying to tighten the skin, you want to direct the energy toward the dermis, where the elastin and collagen is," Schulman continues. "If I'm trying to treat cellulite, I want to go deeper. I want to make that energy go beneath the skin to where the subcutaneous fat is. And if I'm trying to physically reduce the amount of fat and to give what is termed a circumferential reduction—butt, hips, thighs—I can [go] even deeper in order to target the actual fat cells."
Does his use of the Reaction make obsolete any other techniques? "Well, I'm still a surgeon," he says. "This certainly does not replace liposuction. Cellulite is not a problem with having too much fat. It is a structural problem within the deep layers of the subcutaneous tissue. I tell my patients their fat is compartmentalized like bubble paper. Removing that fat via liposuction can actually make the fat look worse."

On The Web!
See also the PSP Body Contouring Podcast Series at www.plasticsurgery practice.com/podcast.
He uses the Reaction with patients with cellulite "because they are not good liposuction candidates," he notes. "It is also good for use after liposuction. I routinely use [it] about 6 weeks after I do liposuction, and I find that it improves the result of my surgical liposuction. It gives them a little bit smoother result. It also helps to tighten the skin a little bit more than if we didn't use it."
Schulman continues to recommend invasive procedures to his patients—for example, to fix the aging neck and face. However, he says that, for whatever reason, some patients do not want surgery, cannot afford surgery, are afraid of anesthesia, or cannot take the time off from work, and that he can offer them "a nonsurgical way of tightening the skin of the face and the neck. But I tell them from the start that it certainly won't give them the results of a facelift, but it can give them considerable improvement."
---
Jeffrey Frentzen is the editor of  PSP. He can be reached at plasticsurgery@allied360.com.