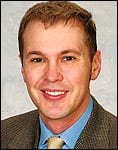 Kevin R. Haddle, MD, DDS
Kevin R. Haddle, MD, DDS, is a board-certified oral and maxillofacial surgeon who practices at Maxillofacial and Facial Aesthetic Surgery Ltd in Geneva, Ill. His practice encompasses maxillofacial and facial aesthetic surgery, orthognatic surgery, implant surgery, trauma surgery, reconstructive surgery, and skin care.
He completed his medical degree and residency training at Louisiana State University, New Orleans, in 2002. He subsequently completed a fellowship in facial aesthetic surgery through the American Academy of Cosmetic Surgery.
Haddle has been using Chromolite™ by Genesis Biosystems for 1.5 years. He conducts live demonstrations in his practice, and he invites physicians to come in and learn about the product.
What types of treatments have you done using Chromolite by Genesis Biosystems?
Hair removal: This is done best on patients with Fitzpatrick skin types I and II and dark hair. I treat facial hair every 4 weeks; five to eight treatments are needed to achieve permanent hair reduction. Body hair is treated every 5 weeks and requires eight to 10 sessions for permanent hair reduction.
Photodynamic therapy and IPL: I use this combination on patients with symptomatic rosacea, active acne, and actinic keratosis. I pretreat them with 5-aminolevulinic acid for 1 hour in a dark room or have them come to the office so I can apply the agent and have them return the next day. I then treat them with Chromolite.
Photorejuvenation: I perform a combination treatment. I begin with microdermabrasion, followed by an alpha-hydroxy acid peel (concentration is patient dependent) and a Chromolite treatment. A series of five to eight treatments is necessary every 2 to 4 weeks for a refreshed look.
Superficial dyschromias: Superficial pigmentation of the skin from photodamage is treated well with Chromolite. It is important to determine the depth of the pigment using a Wood's lamp. I have found that deeper pigments are not well treated with IPL technology.
Please describe Genesis Biosystems' proprietary Smartlite™ treatment technology.
This device emits a dual band of yellow and red light, which is effective for treating pigmented lesions, photodamage, and small-caliber vessels; and for skin rejuvenation and permanent hair reduction. The red light targets the melanin within the hair follicle and the yellow light targets the blood, allowing a noninvasive, safe treatment for a variety of skin conditions.
How does Chromolite 200,000-pulse technology affect treatment time?
Having the ability to deliver 200,000 pulses makes this an affordable treatment for the patient as well as for the physician. Other systems require replacement of the entire handpiece, which costs thousands of dollars, but replacing the bulb is just a fraction of the cost.
What side effects have you encountered using the system?
If the patient has tanned or uses self-tanners, he or she can become hyperpigmented or even develop blisters. Slight pain with treatment is also common—patients describe it as being hit with a rubber band. I control discomfort by using the Chromolite rollers soaked in ice water and the Zimmer cooler. Erythema of the treated area for 12 to 30 hours is also a common side effect.