Newer, and even safer, laser-based technologies are rapidly replacing traditional ablative treatments for photodamage, scarring, and pigmentary malformations. Nonablative fractional resurfacing (NFR™) treatment allows aesthetic practitioners to use laser energy to create a pattern of microscopic thermal wounds in the skin. These wounds stimulate the growth of new collagen to create younger-looking skin; they are separated by areas of healthy tissue that help speed up the healing process. Because the outermost layer of skin is undamaged, the risk of infection is minimized.
With conventional resurfacing techniques, practitioners use carbon dioxide (CO2) or erbium (Er:YAG) laser devices to remove epidermal tissue en masse from the treatment area. The healing process depends on hair follicles and sebaceous glands to re-epithelialize the skin. During this downtime the skin is by no means aesthetically pleasing, and patients must endure much discomfort as well as protect the wounded area against infection and further damage from solar radiation. Until recently, however, the results have justified this sacrifice.
The goal in the modern era of aesthetic medicine is to find treatments that are as effective as previous offerings but require less risk and downtime for the patient. NFR is one such treatment. According to Zakia Rahman, MD, clinical instructor of dermatology at Stanford University, and Roy G. Geronemus, MD, medical director of the Laser & Skin Surgery Center of New York in New York City, NFR provides not only a safe, effective resurfacing alternative to patients but also a growth opportunity for aesthetic practitioners.
"Aggressive surgical procedures normally performed by plastic surgeons do not deal with qualitative changes of the skin," Geronemus says. "NFR is a safe, effective complement to aesthetic surgery that has high patient satisfaction with minimal risk and downtime." Rahman and Geronemus have performed NFR on hundreds of patients and took part in clinical trials of a second-generation NFR device that was launched in August 2006.
Microthermal Zones
"NFR involves obtaining minimally ablative changes in the skin's surface that are not visible to the naked eye, in a pattern along the lines of pixels in a digital image," Geronemus says. "In essence, ablation is not even an accurate term because there's no debris or wounding of surface skin."
NFR treatment of the face results in approximately 1 million microscopic laser beams being fired into the skin. Each beam is 70 to 100 micrometers (µm) in diameter and penetrates to depths of 400 to 1400 µm, depending on the energy level selected.
Applied in a specific pattern, these treated areas, called microthermal zones (MTZs), are surrounded by healthy tissue. This allows the transient amplifying cells in the surrounding tissue to begin the healing process and create new collagen.
"NFR works by sparing tissue, rather than wounding it," Rahman says. "The skin surface remains unbroken. It is simple and easy for both patient and practitioner.
"Successful treatment with NFR requires regulating two things: depth and treatment level," she continues. "Depth is determined by the energy setting, ranging from 4 millijoules [mJ] to 70 mJ. For more superficial indications, such as a melasma, you don't need to go deep. But for indications such as scarring, you can go to 70 mJ, which approaches depths of 1.5 µm beneath the skin surface.
| | |
| --- | --- |
| | |
| Roy G. Geronemus, MD, is a dermatologist and director of the Laser & Skin Surgery Center of New York in New York City. He is a clinical professor of dermatology at the New York University Medical Center and the director of the Skin/ Laser Division in the Department of Plastic Surgery at the New York Eye and Ear Infirmary. | Zakia Rahman, MD, is a board-certified dermatologist and medical director of the Fraxel Laser Clinic in Mountain View, Calif. She is a clinical instructor of dermatology at Stanford University and assistant chief of dermatology at the Palo Alto Veterans Hospital, Livermore (Calif) Division. |
"Spot size also affects the total energy delivered. The user interface visually displays both the energy and the associated depth. Treatment level determines how much of the skin you're treating at a given time—the number and density of MTZs.
"Currently, there are 10 treatment levels plus three higher, restricted levels for more advanced users. As you increase the level, you are covering more tissue and sparing less tissue, which is more aggressive."
The NFR Patient
NFR is appropriate for a wide variety of patients with photodamage, mild to moderate wrinkling, excessive pigmentation or melasma, large pore size, acne scars, or surgical scars. "Even mild laxity, particularly in the periorbital region, can be treated successfully with NFR," Geronemus says. The face is the most likely target for NFR, but other areas such as the neck, chest, hands, and arms may also be treated.
According to Rahman, there is no age restriction. "Patients from age 20 to 70 looking for improvement of these indications are ideal candidates for treatment," she says. She adds that whereas most patients are looking for minimal downtime and are ideal for NFR, those who can afford to take 2 to 3 weeks off may desire the greater efficacy of ablative treatments despite the added downtime and associated risk.
Before & After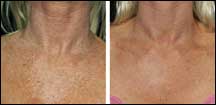 This 46-year-old patient had four NFR treatments to the neck at 15 to 20 mJ and treatment level (TL) 6 to 7 and three treatments to the chest at 6 to 9 mJ, TL 4 to 6. She is shown before and 1 month after the last treatment. Courtesy of Zakia Rahman, MD.
Treatment with NFR
The procedure begins with the application of a topical anesthetic that is left on for 45 to 60 minutes, depending on the compound used. General anesthesia is unnecessary, but some form of analgesia may be useful, according to Geronemus. NFR is performed immediately after any residual anesthetic is removed with a wet cloth or gauze.
The user interface touch screen is easy to navigate and understand, providing control over treatment parameters including pulse energy (4 to 70 mJ), spot size, and MTZ density. The visual display also provides valuable information and feedback during treatment, including remaining safety tip life, percentage of target area treated, the speed limit of the handpiece for effective delivery of MTZs, the estimated total energy (in kilojoules) to be delivered, and the approximate amount of energy already delivered during treatment.
When treatment parameters have been determined, the user passes the roller tip of the handpiece over the treatment area, in a horizontal or vertical direction, eight to 12 times, depending on the condition being treated. Because treatment is not performed within the orbital rim, eye shields are not required.
Postprocedural side effects are usually limited to mild erythema and edema, which looks like a mild sunburn, according to Rahman. "The higher the treatment level, the more redness and swelling the patient will experience," she says, "except that, unlike sunburn, this is beneficial to the skin."
"Generally, there is no wounding of the skin, which is the beauty of the procedure," Geronemus adds. "It's safe to use, and we don't see long-term problems with hyperpigmentation, hypopigmentation, or scarring. We do advise patients to stay out of the sun immediately posttreatment, but even if they live in a sunny climate, it's rarely an issue."
Before & After

This 57-year-old patient had three NFR treatments at 40 mJ to the cheeks (TL 6) and perioral–periorbital region (TL 9) for melasma. Courtesy of Vic Narurkar, MD.
Positive Results, Patient Satisfaction
The results of this treatment are surprising, according to the physicians. Geronemus says, "Generally, we see dramatic changes in skin tone and quality after a course of treatment," which for NFR typically includes three treatments spaced approximately 3 weeks apart.
"We see improvement of fine lines, crepiness of the skin, and dyschromia. We see lifting of the upper eyelids and an increase in the eyelid aperture.
"Of course, one of the great things about this procedure is that you can treat beyond the face. Earlier resurfacing techniques were difficult, with high risk of scarring and change of pigmentation in nonfacial areas. NFR has become our treatment of choice for acne scars, broad rolling scars, atrophic scars, and even pitted scars."
Rahman agrees. "I tell my patients to expect at least a 50% improvement, and most patients are enthusiastic about the results," she adds. "I see the most success with patients presenting with wrinkles, pigmentation problems, photodamage, and acne scars. Because the device treats up to 70 mJ, you should theoretically have more successful outcomes with acne scarring than previously, but that's still under investigation."
Before & After
This 30-year-old patient had two 40-mJ (TL 11) NFR treatments for acne scars. He is shown before and 2 weeks after the second treatment. Courtesy of Zakia Rahman, MD.
Continuous Improvement
NFR began with the unveiling of the first device in the product line in autumn 2004. This predecessor of the new device was less advanced, but achieved NFR using energies up to 40 mJ. The new NFR system was recently approved by the FDA to treat at up to 70 mJ, which increases potential treatment depth to about 1,400 µm and enhances the therapeutic versatility of NFR.
Treatment with the original NFR device also required the application of a blue tracking dye to the treatment area, which allows the tracking scanner in the handpiece to better recognize subtle changes in skin density resulting from treatment, and to prevent overlapping of MTZs. For the newer version, improvements in the optical scanner and software have eliminated the need for tracking dye, simplifying the procedure. "The elimination of the dye also reduces the total treatment time by a good 15 minutes," Rahman points out.
Other advances in the treatment handpiece have reduced treatment time and enhanced ease of use. "The ergonomic roller tip is a huge advance," Geronemus says. "The roller allows for a faster, gentler, more uniform application of MTZs." Combined with the new scanner and software, this increases both treatment speed and consistency in the ultimate treatment outcome.
"Other technologies use a stamping technique," Rahman adds. "This precludes truly fractional treatment because it's too operator-dependent. The laser, the scanner, and the software combine to effectively lay down MTZs evenly and without overlap, which is essential in sparing surrounding tissue for quick healing and recovery."
Before & After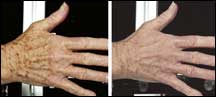 This 65-year-old patient had four NFR treatments at 8 to 9 mJ (TL 7) for pigmented lesions on her hands. She is shown before and 1 month after the last treatment. Courtesy of Zakia Rahman, MD.
The physicians have also found that with the greater energies and spot sizes available with the new version, patients see results in fewer treatments: three as opposed to the five or six previously recommended. "This is a new finding," Geronemus reports.
NFR for the Plastic Surgeon
The physicians believe that NFR is a valuable adjunct to many aesthetic procedures. "NFR doesn't replace surgery," Geronemus explains, "but surgery does not address skin quality, scarring, dyspigmentation, or wrinkling. And there are significant downsides to alternative treatments for acne or surgical scarring, such as postoperative morbidity, additional scarring, and changes in pigmentation or skin quality. With the ability to go up to 70 mJ, which allows greater treatment depths, the new NFR device allows for the effective treatment of deeper scars and lines."
Rahman agrees. "A lot of plastic surgeons can lift deeper structures with a facelift, but even in those patients, you don't have resurfacing," she says. "Patients want the youthful look that goes along with tighter skin. So this is ideal for plastic surgeons. In addition to a facelift, they also need to be able to resurface the skin, which you can't do with surgery. This is especially true for the new system, which can treat more aggressively."
The number of procedures that may be combined with NFR is also growing. "We are testing NFR to see if it affects the longevity of results when used with dermal fillers," Rahman says. "Heat should not be an issue because fillers are sterilized at high temperatures beforehand anyway, but the inflammatory cascade upregulated after NFR may affect it; we don't know. Fillers can always be used weeks afterward in that case."
Moreover, because lasers—more specifically, resurfacing lasers—are already in common use in plastic surgery practices, the new system is easy to learn and would not be difficult to integrate into the existing menu of procedures. "Plastic surgeons already have the patient population, and I think they could learn NFR very quickly," Rahman says.
"The technique is not difficult, the device is easy to operate, and its use could be delegated to an associate," she continues. "This gives plastic surgeons the opportunity to complement aggressive surgical treatments with less aggressive skin resurfacing, before or after surgery. This translates into a growth opportunity, and may bring even more patients into the practice."
Catherine Maley, MBA, is president and senior marketing strategist of Cosmetic Image Marketing in San Francisco. Her firm specializes in helping aesthetic practices grow using public relations, advertising, and strategic marketing. She can be reached at (866) 563-3332 or via her Web site, www.cosmeticimagemarketing.com.