As a follow-up to scar-removal treatments or an alternative to skin resurfacing techniques, many aesthetic surgeons send their patients to practitioners who specialize in dry needling—also known as skin needling, dry tattooing, cosmetic dry needling, needle abrasion, facial Mesotherapy, and multitrepannic collagen actuation, among others.
By any name, dry needling is a nonsurgical procedure that will help rejuvenate and revitalize a patient's entire face by getting the body's own cells to regenerate and minimize wrinkles and scars.
The procedure is more popular in other countries, particularly in Asia, than in the United States. Most plastic and cosmetic surgeons do not perform dry needling themselves but will farm out the procedure to a third party—usually an aesthetician or similar professional who also does permanent makeup.
The dry needling process can be used to relax constricted scars, plump up wrinkles, and repigment "white scars" to better match the surrounding skin tones. Performed correctly, the procedure can plump lip tissue and alleviate small wrinkles around the lip area.
Needling does not remove or damage the epidermis entirely like other resurfacing methods, and it preserves healthy skin and blood vessels in-between lines, wrinkles, or scars.
Performed properly, dry needling can also help keep balance within a person's energy pathways in order to restore and maintain health, according to Diny Park, FAAM, CMI, FIMA, a Los Angeles-based practitioner who takes in regular patient referrals from Beverly Hills plastic surgeons. As a treatment alternative to injectable fillers and Botox, the results of dry needling and skin camouflage can be much longer-lasting and more affordable for patients.
Park is a veteran of performing this noninvasive procedure that makes scars and wrinkles practically disappear—or at least appear to. In addition to dry needling, Park's clinic specializes in scar camouflage for scars and stretch marks, microdermabrasion, skin care, and permanent makeup (lips, eyebrows, eyeliner, beauty marks, etc). "I have been a technician for over 20 years and use only the finest pigments," she says.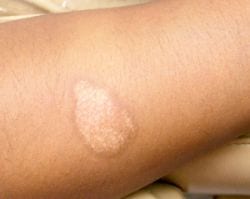 On this female patient, an unsightly scar remains after surgery on her arm.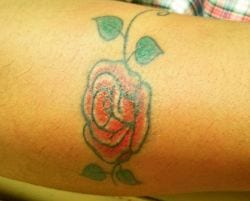 Scar camouflaging can recreate a normal appearance as artistically and scientifically as possible.
To start performing the dry needling process, Park applies a topical anesthetic to the treatment area. She inserts a sterile needle 1 to 2 millimeters into the skin (epidermis and top layer of the dermis) at a 45° angle, which creates shallow puncture wounds. As she guides the needle to make multiple insertions within the borders of a line, wrinkle, or scar, pinpoint bleeding is minimal and stops quickly. The body's healing processes kick in with its own collagen production.
Surgeons should be made aware of this procedure, she says. "Seek out the best practitioner, and refer your patients who may qualify for this kind of aesthetic work. Surgery is not always necessary," she adds.
As with many artists in her field, Park uses dry needling and permanent makeup to corrects mistakes made by other technicians and physicians after skin resurfacing, scar reduction, or other procedures.
For example, eyebrows that are too thin and light or uneven are hard to make up, she notes. "[With] thin lashes, the eyes look dull. Eyeliner can be difficult to do and very time-consuming to apply daily. Facial lines give a tired, run-down, and older look," she explains. The goal, she adds, is to permanently lighten the client's facial lines for a more refreshing and youthful appearance.
The dry needling technique has several advantages. "Minimal trauma and downtime of a few days," she says. "There are no fillers, injectables, or allergic reactions. There is less risk of thinning the skin. The results are similar to those from other skin-resurfacing methods. It is a nonsurgical procedure that will help rejuvenate and revitalize your whole face. The dry needing has no chemical side effects. The needle pricks penetrate through the germinativum into the dermis and stimulates melanin production."
After dry needling, scars seem improved, and if they are hypopigmented they may return to a more natural color, Park says, adding that sometimes there is minor bruising right after needling.
Needling can also be combined with scar camouflage/needle tattooing, microdermabrasion, or other treatments (including Botox, laser-based treatments, and traditional surgical procedures).
DRY NEEDLING VERSUS PERMANENT MAKEUP
With dry needling, Park notes, you penetrate the scar with a special needle without pigment, which then stimulates melanin production.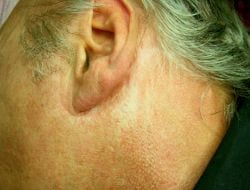 A 60-year-old patient wanted to cover up an unsightly scar behind the ear.
"This is good for hypopigmentation or the lack or loss of natural skin color," she says. "Scar camouflage for a hypopigmented scar is done by implanting a custom pigment color that best matches the patient's skin directly into the white scar, so that the scar is no longer noticeable or obvious. Hyperpigmentation is the darkening of an area of skin caused by increased melanin. Having identified the right tone, the camouflage for hyperpigmentation scars is applied on both the lesion and the surrounding area."
Scar camouflage is the most challenging type of procedure she does. "Because people have a difference of skin color, it's very hard to create exactly the same color" to use on the skin, she says. "Some procedures demand special or additional precautions. For example, work on the lips. If a client has ever had a fever blister or cold sore, it is recommended they obtain a prescribed anti-inflammatory medication from their doctor. Also, anyone who has a heart problem must stop taking blood thinner or aspirin medication at least 1 day before the procedure."
For camouflaging, the right choice of pigment or mixing the correct combination of pigments can be complicated, involving an overall evaluation of the client's skin—including tone, melanin content, vascularity, thickness, health, age, presence of scar tissue, and disease processes.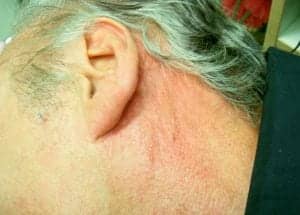 The same patient is shown after the application of camouflage to hide the scar.
Patients who visit Park on referral from Beverly Hills cosmetic surgeons see a different environment compared with the physician's office on Rodeo Drive. An atmosphere of relaxed friendliness permeates her clinic, but she takes patient safety very seriously—her clinic strictly follows OSHA guidelines for disease control.
"My equipment and sanitation are state-of the-art," she says. "My business caters to all ethnicities, and I am well-trained in the color chart for any color of skin for men or women. Due to my experience, I can achieve a natural or dramatic look, depending on the client's preference. Many of my clients come from other states and even from other countries. There are many celebrities among my clients. My clientele base covers all ages. Most of them are referred through plastic surgeons and by word-of-mouth."
Some surgeons may have been reluctant to send patients to her, at first. "That was before they learned about my techniques," she says. "I think once surgeons see my work they are very intrigued and impressed, so they continue to refer their patients to me for scar flattening, pigmentation, or scar camouflage. With confidence and trust."
---
Shannon Triplett Leade is a contributing writer for PSP. She can be reached at [email protected].