By Wendy Lewis
Amid a sea of pharmaceuticals, medical devices, surgical supplies, and textbooks, dermatologists had their choice of new and innovative topical skincare to test and try. Historically, winter AAD has been the premier time to launch new products on a global scale, and 2013 was no exception. The exhibit halls featured new entries for dispensing physicians as well as for physicians who prefer to recommend drugstore brands to their patients.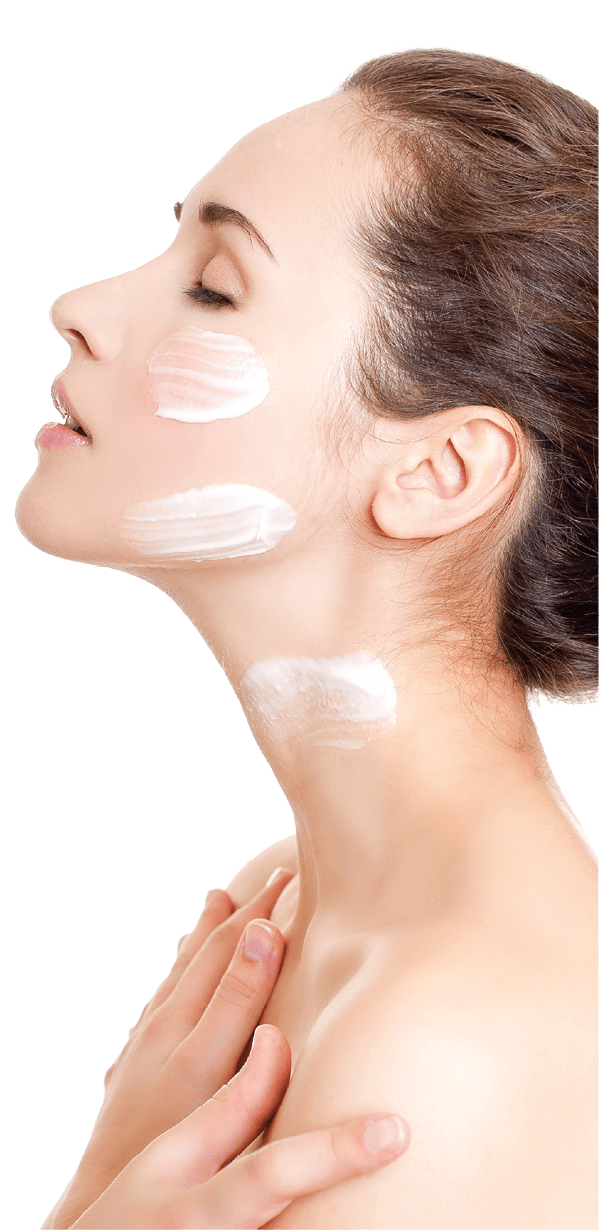 Skincare is an important service offering in a cosmetic practice. Speaking at a press breakfast, Miami dermatologist Jill Waibel, MD, said, "Procedures are going to fix problems, but products will keep you looking beautiful." She conducted a study with SkinCeuticals CE Ferulic and fractional lasers that demonstrated how vitamin C helps with collagen synthesis and promotes healing. She studied the Laser Assisted Delivery System using fractional lasers to penetrate the microzones created by the laser. The serum goes down within seconds of the laser treatment, and it must done within 2 minutes of treatment. "By using a laser with CE Ferulic, we found that patients can get back to work on Day 5 rather than Day 7 or 8," she said.
SUNCARE
Neutrogena® introduced the new Beach Defense™ Sunscreen ($1.99 to $10.99) line that boasts broad-spectrum protection designed to protect skin from sun and impurities in water by repelling salt and other elements that can damage skin. The spray and lotion are sweat- and water-resistant, oil-free, and come in SPF 30 and SPF 70. There is also a handy 1-ounce travel size. Sister brand AVEENO® introduced its own suncare line that helps to reverse skin dehydration caused by sun, chlorine, sweat, and salt water while offering broad-spectrum coverage exceeding FDA standards. The new AVEENO® PROTECT+ HYDRATE™ ($6.49 to $10.49) collection has been shown to reduce water loss by providing 50% more hydration than the leading competitive sunscreen, keeping skin soft, smooth, and healthy-looking. ENVIROGUARD™ technology provides photo-stable, broad-spectrum coverage, while ACTIVE NATURALS® Oat works to replenish the skin barrier compromised by dehydration.
Valeant Pharmaceuticals' CeraVe® introduced a new suncare line ($9.99 to $16.99) consisting of eight products for the face and body with various applications offering both broad-spectrum SPF 30 and SPF 50 protection. CeraVe® Sunscreen SPF 50 for Face is a purely physical sunscreen with zinc oxide in a micronized form. The new Invisible Zinc technology delivers a unique dry, clear finish on the skin. Among the collection there is also a CeraVe® SPF 50 Sunscreen for Body featuring Invisible Zinc Technology™, CeraVe® Wet Skin Spray SPF 50 that can be applied to wet or dry skin, plus a CeraVe® SPF 50 Sunscreen Stick. All of the products dry to a clear finish, which is a key consumer demand in the sun protection category.
Launching later in 2013, ZO® Medical OCLIPSE-C SPF 50™ ($80) is a natural mineral sunscreen formula with a daily multidefense system and broad-spectrum UVA/UVB protection for even the most sensitive skin types and is ideal for postprocedure protection. Enriched with fractionated melanin and potent antioxidants, this unique and elegant formula shields skin from high-energy blue/violet light and environmental aggressors that have been shown to induce premature aging.
ACNE RELIEVERS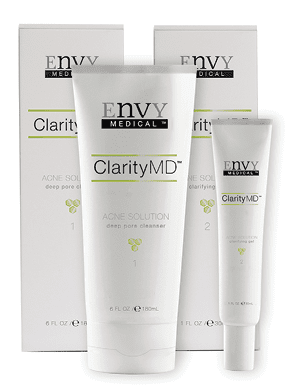 Envy Medical entered the anti-aging category with its launch of the ClarityMD™ Acne System. The newClarityMD™ Acne System ($49.95) consists of the Deep Pore Cleanser and Clarifying Gel in a two-step system that is clinically proven to significantly heal acne within days without dryness, irritation, redness, or peeling. The new patent-pending PCX™ Technology features solubilized Bakuchiol and Bisabolol that work synergistically with Salicylic Acid to attack acne at its source while helping to regulate oil production and reduce inflammation. In a clinical study, the ClarityMD™ Acne System was tested on 25 volunteers that used the Deep Pore Cleanser and Clarifying Gel twice daily over 6 weeks. After 7 days, volunteers enjoyed an average 59% reduction in inflammatory acne lesions and a 14% reduction in noninflammatory acne lesions. After 6 weeks, 99% of inflammatory and 56% of noninflammatory acne lesions had been cleared.
From ZO® Medical, two new products joined its range of acne and oily skin solutions. ZO Medical AKNETROL™ ($35) contains 10% Benzoyl Peroxide to decrease sebum production, antibacterial tea tree oil to calm redness, and glycerin to restore moisture. ZO® Medical VITASCRUB™ ($80) is a multifunction foaming scrub that sweeps away dead skin cells, oil, dirt, and impurities using a unique tribeta-hydroxy acid system combined with a multimicrodermabrasion crystal network.
La Roche Posay launched EFFACLAR MAT – Daily Mattifying + Pore-Refining Moisturizer ($31.99).The treatment targets sebum to fight shiny skin and enlarged pores, and goes to the source to help prevent glands from secreting excess sebum. Sebulyse, a sebum-targeting active ingredient more powerful than zinc, enables EFFACLAR MAT to effectively minimize sebum from the start. In vivo tests have shown that Sebulyse significantly diminishes the appearance of pore size (21%) and shine (32%).
 

Envy Medical added a new line extension to its expanding Lumixyl® Topical Brightening System portfolio—Lumixyl® Topical Brightening Pads ($59). The pads pack the same strength of the Topical Brightening Crème, Lumixyl®'s star product. The Lumixyl® peptide has been infused into gently exfoliating woven pads along with hydrating hyaluronic acid and soothing aloe, making it a good solution for anyone who has issues with dry skin while using acne medications, retinoids, or postlaser treatment. The Lumixyl® line of products are clinically proven to brighten skin and visibly improve the appearance of mild to moderate hyperpigmentation in 8 weeks due to the use of decapeptide-12, a revolutionary peptide technology developed by Stanford University researchers. According to Rebecca Fitzgerald, MD, a Los Angeles-based dermatologist, "The Lumixyl peptide technology has been an effective tool for treating hyperpigmentation in my practice. The Topical Brightening Pads will be a very welcome addition in providing a more healthy, radiant skin tone for our patients."

 
BRIGHTEN UP
On the Rx front, one of the most notable launches was the return of Tri-Luma® (Galderma) after a long hiatus. Tri-Luma® (Fluocinolone Acetonide 0.01%, Hydroquinone 4%, Tretinoin 0.05%) is described as the only FDA-approved triple combination topical product for the short-term treatment of moderate to severe melasma.
Tri-Luma® has a lot of competition now in the form on nonhydroquinone alternatives. According to Cheryl Burgess, MD, a dermatologist in Washington, DC, "The ZO Medical Brightenex Correcting Crème contains numerous brightening ingredients such as glutathione, glucosamine, retinol, and ascorbic acid to treat wide range discoloration and uneven skin tone, and has shown promising effects on melasma in all skin types."


A new entry from Photomedex Neova® in the skin-brightening category is SERIOUS CLARITY 4X ($49), an advanced serum in an airless pump with four brighteners that target dark spots and discolorations. The key ingredients are Sepiwhite™ MSH, which inhibits skin cells from producing melanin pigments, Manganese Tripeptide-1 Complex, another melanin inhibitor, Licorice Root Extract, an anti-inflammatory agent that slows hyperpigmentation and soothes the skin, plus Tetrahexyldecyl Ascorbate, an ascorbic acid-based brightener.

Lytera® ($125) from SkinMedica® is another new skin-brightening product available to physicians. According to Valerie Callender, MD, a dermatologist in Glendale, Md, "It is a hydroquinone- and arbutin-free topical cream that contains potent ingredients that affect multiple pathways of melanin production, including retinol, linoleic acid, glabridin, niacinamide, and others. It should be applied twice daily for best results."
There was also compelling new data about the efficacy of elure™ Advanced Skin Brightening System from Syneron ($135 for lotion or cream). In a double-blind randomized study conducted by High Point, NC-based dermatologist Zoe Draelos, MD, of 60 females age 18 to 65 with Fitzpatrick Skin Types I-IV, elure™ was shown to improve roughness, dark spots, discoloration, and overall appearance at week eight compared to no treatment, and it was statistically more effective than 4% hydroquinone in overall reduction of discoloration.
THE PEEL BRIGADE
Introduced by Zein Obagi, MD, the new in-office ZO® Medical 3-Step Stimulation Peel™ ($480 for six individual peels) treats acne, melasma, sun damage, fine lines, uneven texture, large pores, and dullness by exfoliating the outermost layers of skin and stimulating cellular function in deeper skin layers. The new ZO® Medical INVISAPEEL™ ($70) uses a unique process to renew the epidermis without any apparent exfoliation, leaving skin noticeably smoother, firmer, and brighter. Specialized enzymes enhance and accelerate the repair of most epidermal problems (discoloration, flaky skin, and roughness).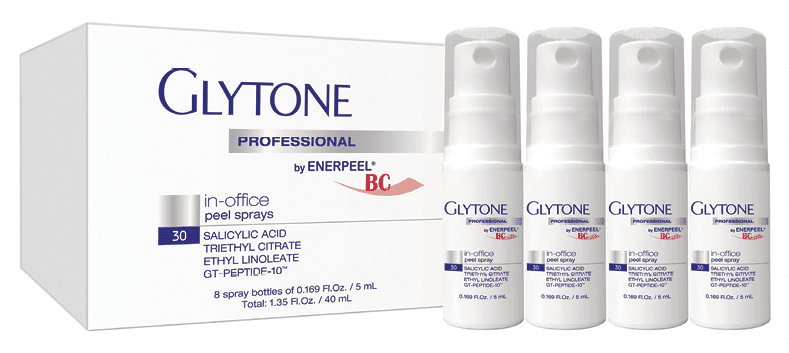 Glytone introduced the new Glytone by ENERPEEL® BC Peel System (30% Salicylic Acid, Ethyl Linoleate, Triethylcitrate, GT-Peptide-10™, $199 for eight peels) developed for oily, blemish-prone skin on the back and chest. Dispensed through a convenient spray bottle, peel solution application is precise and even with use of an ergonomic roller. Glytone by ENERPEEL® peels boast a low pH, strong acidity, and even acid absorption to deliver better exfoliation with less surface trauma to minimize the symptoms of oily, blemish-prone skin on the back and chest. The kit includes everything the practitioner needs to perform eight peel treatments.
EYES AND LIPS


Some interesting targeted skincare products were also launched at the AAD. For example, ZO® Medical launched the new LIPREBUILD™ ($50) that is bio-engineered to restore severely dry, cracked, and wrinkled lips using a clinically proven moisture recycling technology. It contains vitamins A, D, and E, and plant stem cell antioxidants, plus a patented peptide complex to increase microcirculation to plump, while restoring lips to a natural rosy color. The new ZO® Medical HYDRAFIRM™ ($140) is an eye-brightening repair cream that promises to improve collagen production with active vitamin A and biomimetic proteins. Enzymatic vasodilators, caffeine, and coenzyme A correct puffiness and reduce the appearance of dark circles.
NEOVA® introduced CU3® Intensive Lip Repair ($22), touted as
an advanced lip treatment that restores and repairs the lips from environmental irritants. The fast-absorbing serum features the proprietary Copper Peptide Complex®, also called Bis (Tripeptide-1) Copper Acetate, and helps build an essential barrier around the lips while protecting fragile skin to prevent moisture loss and protect against chapping and other lip irritations. The company also introduced Illuminating Eye Therapy 4.0 ($58), a serum designed to combat dark circles and illuminate the eye that uses Pinoxide to speed up circulation and reduce the appearance of dark circles. DNA repair technology and Copper Peptide Complex® provide long-term benefits for wrinkles, puffiness, and fine lines.


 

Exclusively for physicians, Avène launched a firming eye cream for fine lines and wrinkles. Avène Rétrinal EYES ($44) corrects and repairs the visible signs of aging while improving dark circles and puffiness. The formula includes Retinaldehyde to increase cell turnover and reduce wrinkles, and Hyaluronic Acid Fragments (HAF) to plump the skin with moisture and enhance microcirculation.
THE HEALERS
With resurfacing procedures on the rise, and downtime being top of mind for consumers and physicians, the race is on to develop the perfect postprocedure healing formulations that can cut down on redness in record time. Every dermatologist has his or her favorites.
According to Ellen Marmur, MD, a New York City dermatologist, "My new favorite Avène products are the Cicalfate Restorative Skin Cream ($26) for use after Fraxel Dual and Clear + Brilliant. Their High Protection Mineral Cream SPF 50 ($21) is a huge hit with my patients with sensitive skin who just can't tolerate many other name-brand sunscreens."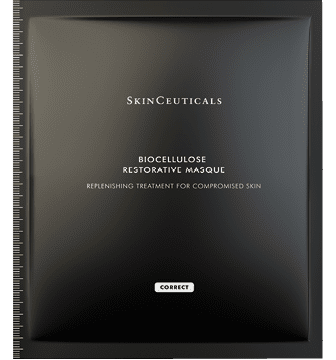 The new SkinCeuticals Biocellulose Restorative Masque ($142 for a pack of six) was developed for sensitive or compromised postprocedure skin. This single-use, sterilized masque comes in an airtight foil packet and creates a protective barrier that occludes skin and helps facilitate the recovery process. Hydrophilic, cellulose fibers distribute heat-reducing water to the disrupted barrier, alleviating discomfort and providing immediate relief for redness-prone, irritated, and sensitive skin. The masque is comforting and is well suited for a myriad of skin conditions, even jet-lagged skin.
Ideal for patients who have a passion for green products and are coping with reactive skin, AVEENO® Skin Relief Collection introduced a Skin Relief Healing Ointment ($7.99) powered by ACTIVE NATURALS® Triple Oat Complex for long-lasting, powerful moisture that helps relieve the itching, flaking, and discomfort associated with severe dry skin. The soothing Triple Oat Complex uses colloidal oatmeal for relief, oat essence to soothe, and oat oil to moisturize. The ointment works by creating a barrier on the skin while locking in moisture for 24 hours to protect cracked, chapped, dry skin.
HANDS AND BODY BEAUTIFUL
"Patients have become more concerned about the health and appearance of the skin of their neck, chest, hands, and body, in addition to their face. It is important to carry a range of products that meet all of these needs in your practice," says Lisa Donofrio, MD, a dermatologist in New York City.
PrecisionMD™ highlighted the new Celfix DNA™ Youth Recovery Body Lotion ($150), touted as the only topical body product with Celzyme Technology that combines three different enzymes to reduce and delay the signs of aging. Delivered in a moisturizing lotion that hydrates and soothes the skin with ceramides and natural lipids that maintain the skin barrier, it is ideal for pre and post suncare and improves overall tone and clarity of the skin.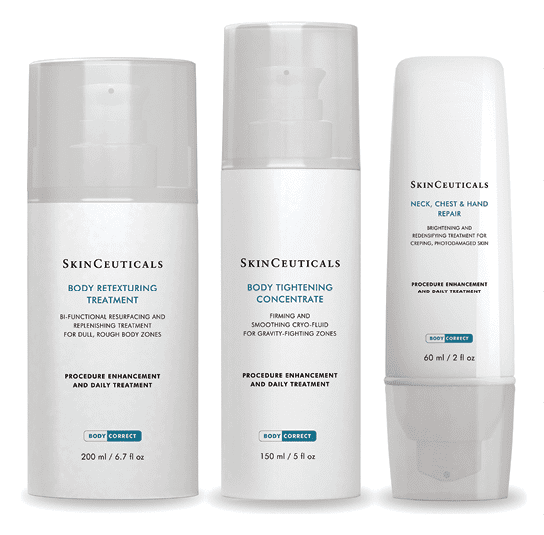 Good news for those with sagging thighs, arms, and knees hails from SkinCeuticals, which launched a body duo. SkinCeuticals Body Tightening Concentrate ($75) is intended for "gravity-fighting body zones." The cooling fluid stimulates collagen and GAG synthesis to smooth skin surface and increase hyaluronic acid production. Key ingredients include Tripeptide, Yeast Extract, Hydrolyzed Rice Protein, and Lipo Hydroxy Acid (LHA). SkinCeuticals Body Retexturing Treatment ($60) targets dull, rough skin to exfoliate and hydrate. Hydroxyethyl Urea and Aminosulfonic acid compound works simultaneously to normalize cell turnover and restore barrier, Hyaluronic Acid enhances hydration, and Niacinamide boosts the skin's anti-inflammatory response.
CeraVe® also launched two new targeted body solutions—Therapeutic Hand Cream ($10.99) and CeraVe® Renewing SA Cream ($21.99). Water-resistant CeraVe® Therapeutic Hand Cream helps repair, restore, and protect hands from irritants and allergens. It contains Dimethicone, Ceramides, Niacinamide, and Hyaluronic Acid to help prevent and protect chafed, chapped, cracked dry skin. CeraVe® Renewing SA Cream, big sister to CeraVe®SA Renewing Lotion, exfoliates and smoothes extremely dry, rough, bumpy skin, such as the rough patches on upper arms and legs. Salicylic Acid (SA) and Ammonium Lactate exfoliate dead cells, which allow moisturizing ingredients to penetrate deeper.
Resources on The Web:
www.neutrogena.com

www.cerave.com

www.zoskinhealth.com

www.claritymdacne.com

www.laroche-posay.us

www.lumixyl.com

www.photomedex.com

www.skinmedica.com

www.glytone.com

www.aveneusa.com

www.precisionmd.com

www.skinceuticals.com

www.olay.com

www.cosmion.us

www.elureskin.com
SUPER CREAM
According to Olay®, Cellular BioEnergetics research has shown age-related decreases in skin's energy levels make aging skin fatigued—aged in appearance and less responsive to anti-aging ingredients. This research also indicates that hydrating skin may help to boost natural bioenergy production in aged skin. To that end, Olay® introduced a new beefed-up version of its signature Regenerist® Micro-Sculpting Cream ($29.99) that has been reformulated with an Advanced Amino Peptide Complex and Skin Energizing Technology to help accelerate the skin's response to anti-aging ingredients. Olay®'s Skin Energizing Technology contains a complex of ingredients that energizes surface skin turnover and includes two new anti-aging ingredients—Olivem and Lys'lastine. Olivem is a derivative of olive oil, which has been modified to increase the penetration of anti-aging ingredients into the skin's stratum corneum. Regenerist® Micro-Sculpting Cream also contains Lys'lastine, a natural extract of dill seeds.
NOVEL DELIVERY SYSTEMS
Along with new ingredients, intriguing combinations, and expanding indications, clever delivery systems that aid in skin penetration are the new buzzwords in cosmeceuticals.
NeoStrata®'s SKIN ACTIVE Line Lift features Aminofil™ ($98), a brand-new amino acid-derived molecule related to tyrosine. According to Heidi Waldorf, MD, a New York City dermatologist, "It has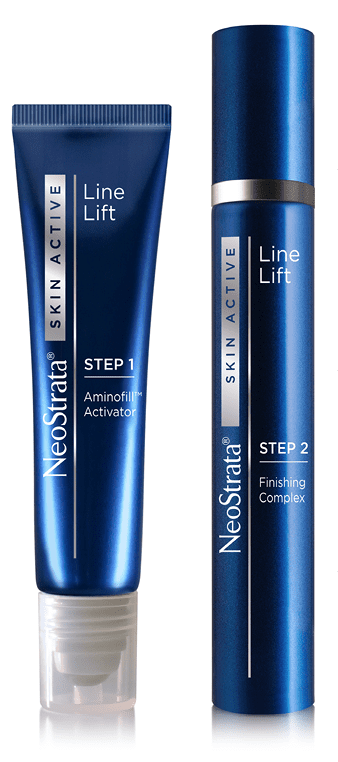 been shown in vitro to stimulate production of GAGs and pro collagen. What is particularly impressive are double-blind vehicle-controlled studies showing statistically significant improvement in rhytides around the eyes, glabella, and nasolabial folds. The latter two areas are structural, so improvement with cosmeceuticals is near impossible. Additional studies are under way looking at perioral rhytides, but my patients who are not in the study are already seeing improvement there. The product comes as a two-step kit with a soothing stainless steel roller to apply the product with Aminofil and a pump to then apply the second layer that acts as an occlusive to help the first absorb. It also contains additional anti-aging ingredients and serves as a primer."
Cosmion™ (a name derived from cosmetic ion) introduced a new system targeting the appearance of uneven pigmentation such as melasma, postinflammatory hyperpigmentation, and pigment associated with photoaging, using the principles of Iontophoresis, a process of moving electrically charged ions across the skin barrier. The mask and eye patches are powered by a small battery, creating a constant ionic charge, and the negatively charged current generated works with its specially formulated Cosmion™ Iontophoretic Rejuvenating Serum to drive higher levels of the molecules into the skin. The Cosmion™ Iontophoretic Rejuvenating Facial Mask or Eyelid Patch ($135 to $285) set should be used for six 30-to-60-minute treatments twice weekly within a 1-month period for best results.
ON THE HORIZON
From celebrity haircare brand Living Proof®, Strateris™ is a unique skin-reshaping film technology that is tuneable, with multiple potential applications in skincare as well as cosmetic and medical dermatology. The properties of this occlusive yet breathable film technology include superior barrier protection, smoothing lax skin, durability, and enhanced hydration. This technology was developed by Living Proof® biotech scientists in conjunction with advisors. "Strateris is an undereye contouring cream made of a biomatrix that invisibly contracts, pulling the skin under the eyes tighter," Donofrio says. Invented by Rox Anderson, MD, a dermatologist at Harvard Medical School in Boston, "This is the new wave of cosmeceuticals with a purpose," Donofrio adds. Look for more on this innovative technology in the derm space by 2014.


Wendy Lewis is president of Wendy Lewis & Co Ltd, Global Aesthetics Consultancy, founder/editor in chief of beautyinthebag.com, and a contributing editor to Plastic Surgery Practice. She can be reached at

[email protected]

.