By Jeffrey S. Dover, MD, FRCPC
More than 35% of Americans ages 18 to 25 report getting a tattoo, and many of them will live to regret this decision. For years, tattoos were removed by barbaric measures. We used excision, dermabrasion, salabrasion, and CO2 lasers to cut, sand, and burn them away. In the late 1980s and early 1990s, the first sophisticated lasers were introduced to treat tattoos. Q-switched or ultrashort-pulse lasers were used to fragment the individual particles of the tattoo and to decrease their visibility through skin.
These nanosecond lasers were truly revolutionary. For the first time, we were able to clear tattoos almost entirely in a scarless fashion. For the past 20 or so years, these Q-switched lasers have dominated the field of laser tattoo removal with good reason. They remove tattoos without scarring in most instances, but many treatments are needed to achieve this result. While early studies showed clearing of professional tattoos in six or seven treatments, in the real world clearing professional tattoos took 12, 18, sometimes 25 or more treatments. What took $100 and a few minutes to hours to put on could take thousands of dollars and months to years to remove. The hope was that even shorter laser pulse durations could better fragment tattoo particles and achieve faster clearing in fewer treatments.
MEET PICOSURE
That time has finally arrived. Cynosure rolled out its new PicoSure laser during the recent American Academy of Dermatology meeting in Miami.
Pico lasers are picosecond devices that emit pulses 1×10 -12 seconds, 1,000 times shorter than the nanosecond (1×10 -9 seconds). These are trillionths-of-the-second rather than the much longer billionths-of-the-second nanosecond lasers. The PicoSure laser has a 500-picosecond pulse duration, which is about 100 times shorter than the traditional 50-nanosecond lasers now in use. Picosecond devices impact the tattoo particles with much greater power in a much shorter period of time. This difference is why the new PicoSure is truly a revolutionary device.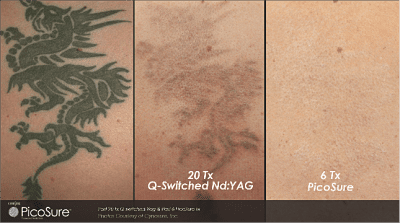 FEWER TREATMENTS, BETTER RESULTS
Studies published by our group, including Kenneth Arndt, MD, and Nazanin Saedi, MD, from SkinCare Physicians in Chestnut Hill, Mass, and by Roy G. Geronemus, MD, and colleagues in the Archives of Dermatology, show conclusively that the new PicoSure laser will clear tattoos in fewer treatments and in a shorter period of time with no increase in side effects. PicoSure is very effective on blue and green-colored ink—which is notoriously more resistant to clearing. In Geronemus' study of 22 people, there was more than 80% overall tattoo clearance seen in two treatments. On average, 94% clearance was achieved for the difficult-to-treat colors, blue and green. In our study of multicolor and black tattoos, the average number of treatments needed to achieve >75% clearance was 4.25, half the number of treatments needed historically.
The PicoSure laser produces results that have not been achieved in the past, shortening the total time it takes to clear tattoos and decreasing the total number of treatments by as much as 50%.
Dermatologist Warns: Think Before You Ink
Tattoo-removal technology isn't the only thing that is changing. Tattoo inks are also a lot different today than in the past, and as a result they may increase the risk of allergic reactions and serious infections. In the past, metal salts, lead, cobalt, and carbon were used in inks, but many modern tattoo inks (especially intense reds and yellows) contain organic azo dyes with plastic-based pigments that also have industrial uses. There are many unknowns about how these inks interact with the skin and within the body, and if they are responsible for an increasing number of complications, according to Michi Shinohara, MD, a board-certified dermatologist and clinical assistant professor of dermatology at the University of Washington in Seattle. "Since tattoos are not regulated in any way, there are many unknowns that could pose potential problems for consumers in terms of the inks and tools used," Shinohara says. –Denise Mann
Jeffrey S. Dover, MD, FRCPC, is a Boston-based dermatologist and co-director of SkinCare Physicians in Chestnut Hill, Mass. He can be reached at [email protected].