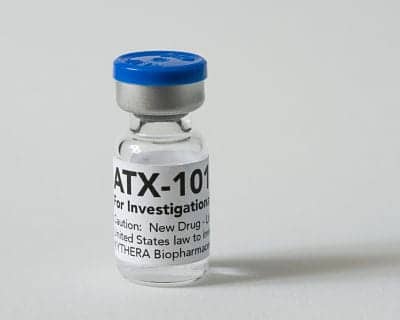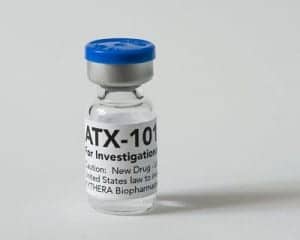 (SAN FRANCISCO) –Kythera's investigational submental contouring injectable ATX-101 may be a useful adjunct to plastic surgeons' armamentarium for treating the dreaded double chin, according to a pooled analysis of two positive ATX-101 Phase III trials (REFINE-1 and REFINE-2) presented at the Annual Meeting of the American Society for Aesthetic Plastic Surgery (ASAPS) in San Francisco.
ATX-101 is a purified synthetic version of Deoxycholic acid that aids in the breakdown of dietary fat. When injected into subcutaneous fat, ATX-101 contours the area under the chin by destroying fat cells while leaving surrounding tissue largely unaffected. The fat is naturally excreted from the body.
According to the pooled analyses, 68.2% of study participants treated with ATX-101 (2 mg/cm2) demonstrated a simultaneous improvement of at least one grade from baseline on clinician and patient reported rating scales vs. 20.5% in the placebo arm.
After two treatments, 52.2% achieved at least a one grade change from baseline in the clinician submental fat ratings, and 71.5% after four treatments.
Approximately 80% of subjects treated with ATX-101 demonstrated at least a one-grade improvement in the clinician submental fat ratings regardless of age, gender, race, BMI, Fitzpatrick Skin Type, and baseline severity, the study showed.
Those treated with ATX-101 reported significant improvement in the visual and emotional impact of chin fat, including appearing thinner and more youthful, compared with those treated with placebo.
Close to 81% of ATX-101 treatment-emergent adverse events were mild, and 1.4% of ATX-101 subjects discontinued the studies due to adverse events. The most common adverse events included temporary injection site events of pain, swelling, bruising, and numbness. The incidence and severity of pain and swelling declined after the first treatment session.
Plastic Surgery Practice editorial advisor W. Grant Stevens, MD, a plastic surgeon in Marina del Rey, Calif, has been following ATX-101 as it moves through the pipeline. "I'm very excited about nonsurgical fat reduction," he tells PSP. "This technology won't replace liposuction, but it will expand the market." Many individuals want to lose fat, but don't want or can't tolerate surgery and its associated downtime. If approved, ATX-101 will expand the audience of people who will opt to recountour their neck fat."