Anne Taylor, MD, was made to be a teacher.
By Denise Mann
Many cosmetic doctors spend the first half of their careers dreaming of opening a successful private practice. Not Columbus, Ohio-based plastic surgeon Anne Taylor, MD.
She did it all backwards, yet she couldn't be more on track.
Taylor had her own successful private practice in Columbus for more than
10 years when she decided to close up shop and become a teacher.
It wasn't that she didn't love being in business for herself. Her practice and the flexibility that came with it allowed Taylor to start a family, but a personal tragedy caused her to re-evaluate some of her choices and ultimately hit the "reboot" button.
Sister Act
Taylor's older sister, Lisa, a business professor, died of colon cancer in 2007 at age 47 after a 5-year fight. It was thoughtful conversations with her sister, some that took place at the bedside, that made Taylor realize she craved more professional fulfillment. "I wanted to make a bigger impact on the specialty and felt that teaching would be the way to do it."
Serendipitously, there was an opening for a plastic surgeon at Ohio State University Medical Center in Columbus at around this same time.
It took a leap of faith to make the move, but faith is something that she has in spades. "I have a strong faith. I trust God is in control, and I will see how the pieces fit someday! I prayed for a long time for God to help me use my life in the best way I could, so I felt sure about my move to academics," she says.
Turns out, the move was also prescient. The financial crisis of 2008 took place soon after Taylor re-entered academics. The stock market all but crashed, and many practices went belly up, but she was safe and snug in a growing plastic
surgery department.
And now, some 5 years later, Taylor has become an integral part of the faculty as the director of its aesthetic fellowship programs. "Teaching is everything I hoped it would be," she says.
The department boasts about 15 plastic surgeons, including microsurgeons, cosmetic surgeons, and hand surgeons. "It is huge to have cosmetic surgery at the same level as microsurgery and hand surgery, and it brings more visibility to the specialty," she says.
That's the plan, according to Taylor's boss, Department Chair Michael J. Miller, MD. "Aesthetic surgery is an essential part of the discipline of plastic surgery," he says. "The difference between an aesthetic procedure and a reconstructive procedure is defined by where a patient begins on the spectrum of appearance and function before surgery, and not by the specific procedure."
Surgery performed to alter the appearance of a disfigured person is called "reconstructive," while the same procedure performed on a person with normal appearance is considered "cosmetic," he explains. "It is essential for all plastic surgeons to understand and follow aesthetic principles regardless of whether performing a reconstructive or a cosmetic operation."
Miller's advice to fledgling departments is straightforward: Establish clinical services that add value to the academic medical center. "This means forming close collaborative relationships with other clinical departments in order to provide multidisciplinary surgical care," he says. "Once the department has perceived value, the institution will be more willing to support the program."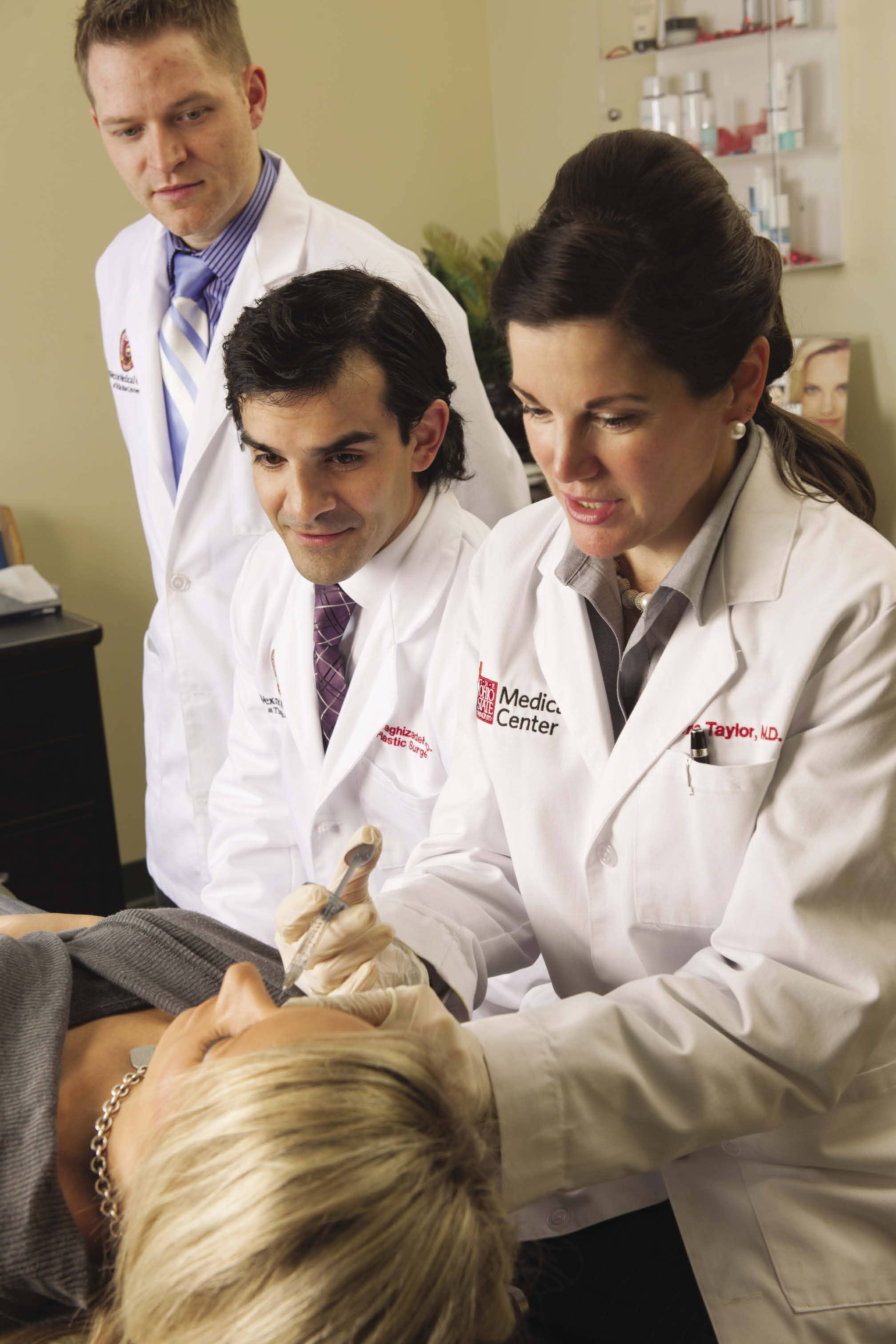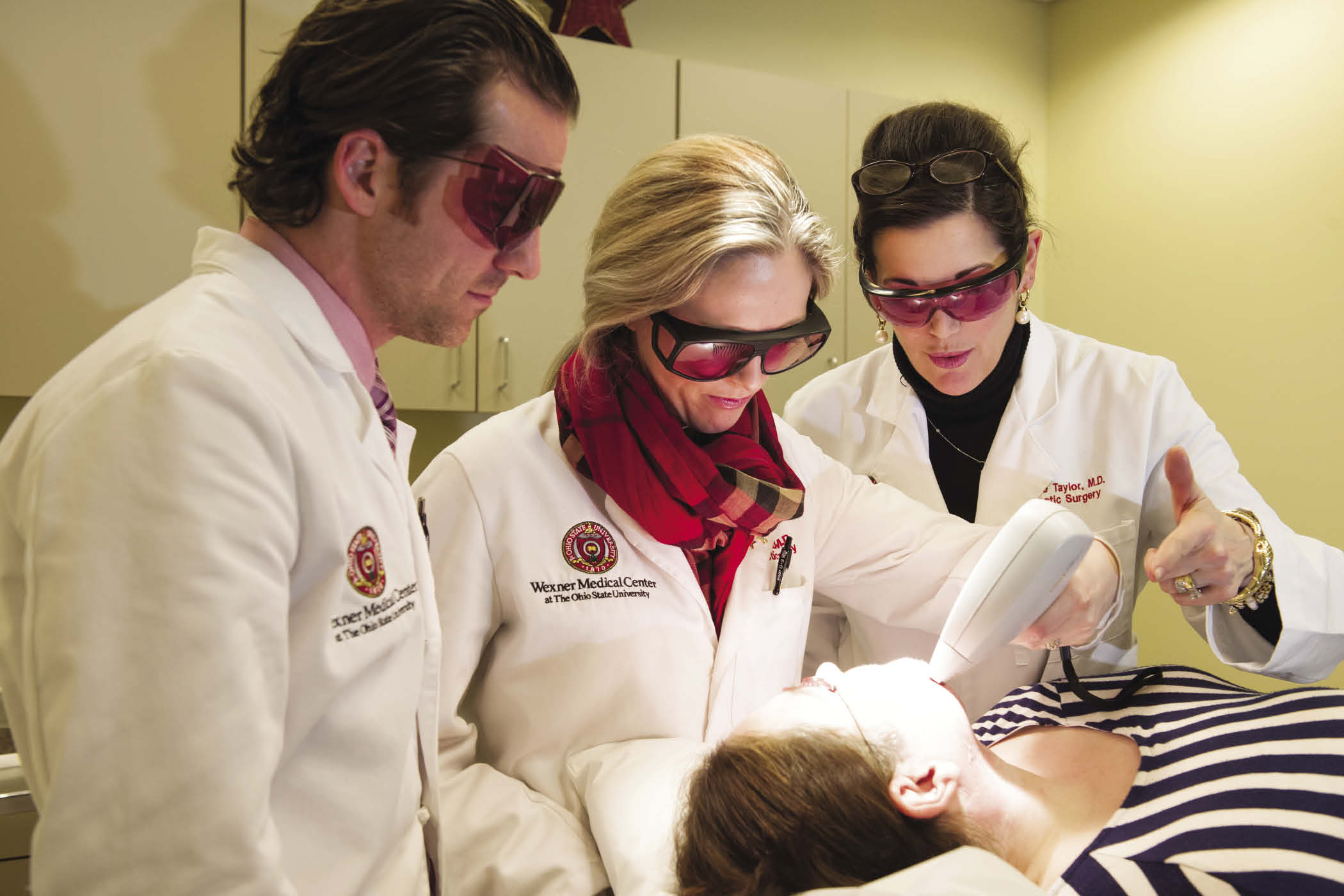 Teaching residents allows Taylor to give back.
As far as the residents go, "I want our residents to leave the program first as outstanding physicians who are able to provide exemplary patient-centered care," he says. "I want them equipped for success in their families and communities and as leaders in their profession, whether in an academic setting or private practice."
Hot for Teaching
Taylor agrees. Her days are spent teaching residents the ins-and-outs of cosmetic and reconstructive procedures. Yes, she is literally followed around by a gaggle of young medical students, just as rounds occur on medical TV shows such as Grey's Anatomy. And patients aren't always thrilled when she lets a newbie scrub in. "They do push back," she says.
But Taylor has 100% faith in her students and her current fellow, the second to come through the program, Zach
Barnes, MD.
"I have watched him really blossom and take over in a way that is gratifying," she says.
The mom of four is forever mother hen to her residents. "I want them all to stay here. I get very attached, and it's wonderful watching them progress," she says of the many students she has seen through their residency. Now, Taylor crosses paths with her brethren at society meetings.
She also runs into her mentors at some of the same industry events, including Albany, Ga-based plastic surgeon and former American Society of Plastic Surgeons (ASPS) President Walter L. Erhardt, Jr, MD. The two worked side by side when she was on the chair of ASPS's young plastic surgeons committee.
"She is an astute learner and a team player," he recalls. "I see Anne as a great asset to plastic surgery, for she is a real triple threat: excellent training, a winning personality, and a great enthusiasm and love for the specialty."
She is also one of a small handful of female plastic surgeons in what has traditionally been seen as an all boys' club, but if anything, her gender gave her an edge. "I could relate to the patients as a female even from the beginning," she says. As one of a handful of female plastic surgeons, she is often sought out for breast procedures, including reconstruction and breast reduction.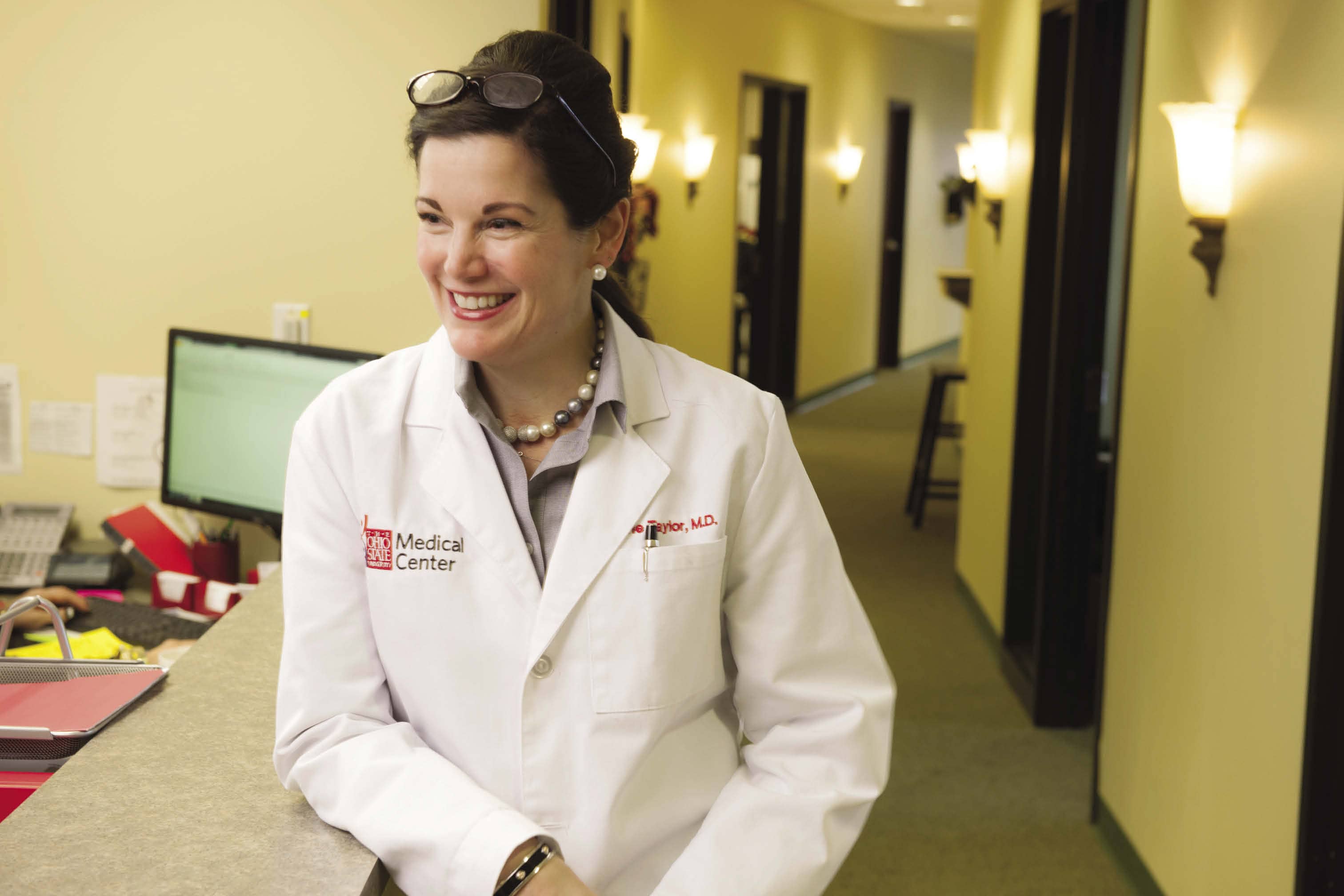 Although her career trajectory was not traditional, Taylor could not be happier with it.
Ladies First
Taylor is a triplet, and the only girl in the trio.
Perhaps this is one of the reasons she has thrived in an all boys' network. It never occurred to her that she couldn't or shouldn't do something because she was a female.
Never.
"At my training institution, we had a female chief of surgery at the time," she says. In fact, Taylor says she really didn't know that female plastic surgeons were anything of a rarity.
"My experience was really very fair," she recalls. "I never felt like I was such an anomaly."
None of this is to say that success at home or in the operating room came easily. "It really comes down to hard work," she says. "You have to be willing to put in the time and not expect special treatment."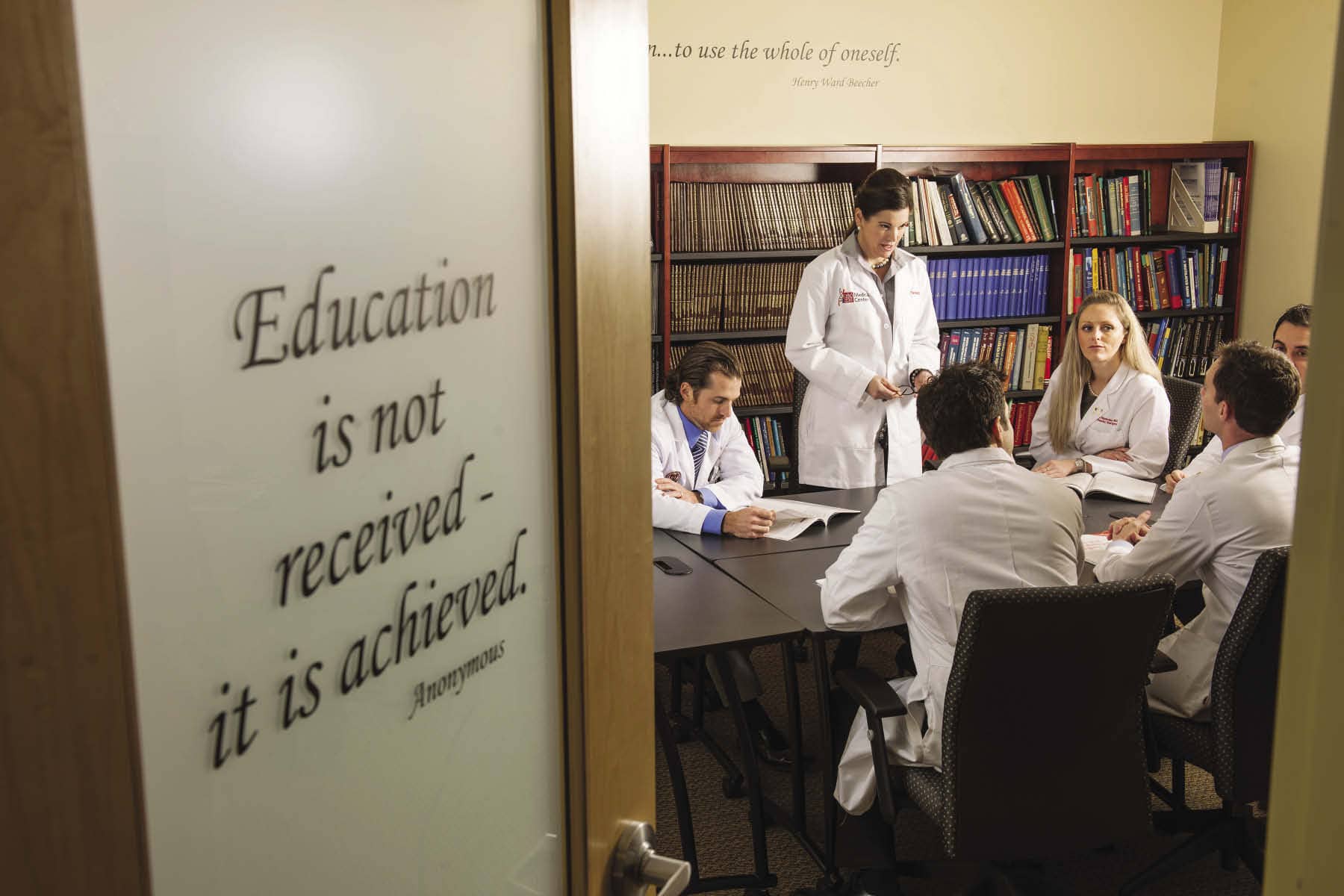 Taylor tends to get attached to her residents.
She often counsels female residents on how to move up the ranks. Her standard advice? "Wear suits, not low-cut blouses or dresses," she says. "We don't want our clothes to speak louder than our words."
All choices do involve some sacrifice. While building her practice, Taylor had to outsource some child-rearing responsibilities. "I had to delegate a lot. I don't take my kids to the pediatrician, and I don't go to the grocery store because I work full-time," she says.
For these tasks, she relies on her "mommy-extender" network of trustworthy baby-sitters. "You won't be baking cookies to take to the first-grade classroom, and you have to decide you are OK with that," she says.
And Taylor is OK—with everything. "I'm healthy. I'm working. I can't have a bad day," she says. "Life is so short and so precious. I am so blessed to do what I love and teach. I get so much more than I am giving."
Denise Mann is the editor of Plastic Surgery Practice. She can be reached at dmann@allied360.com.