By Wendy Lewis
Laser surgery experts of multiple specialties and from all over the world assembled at Boston's Hynes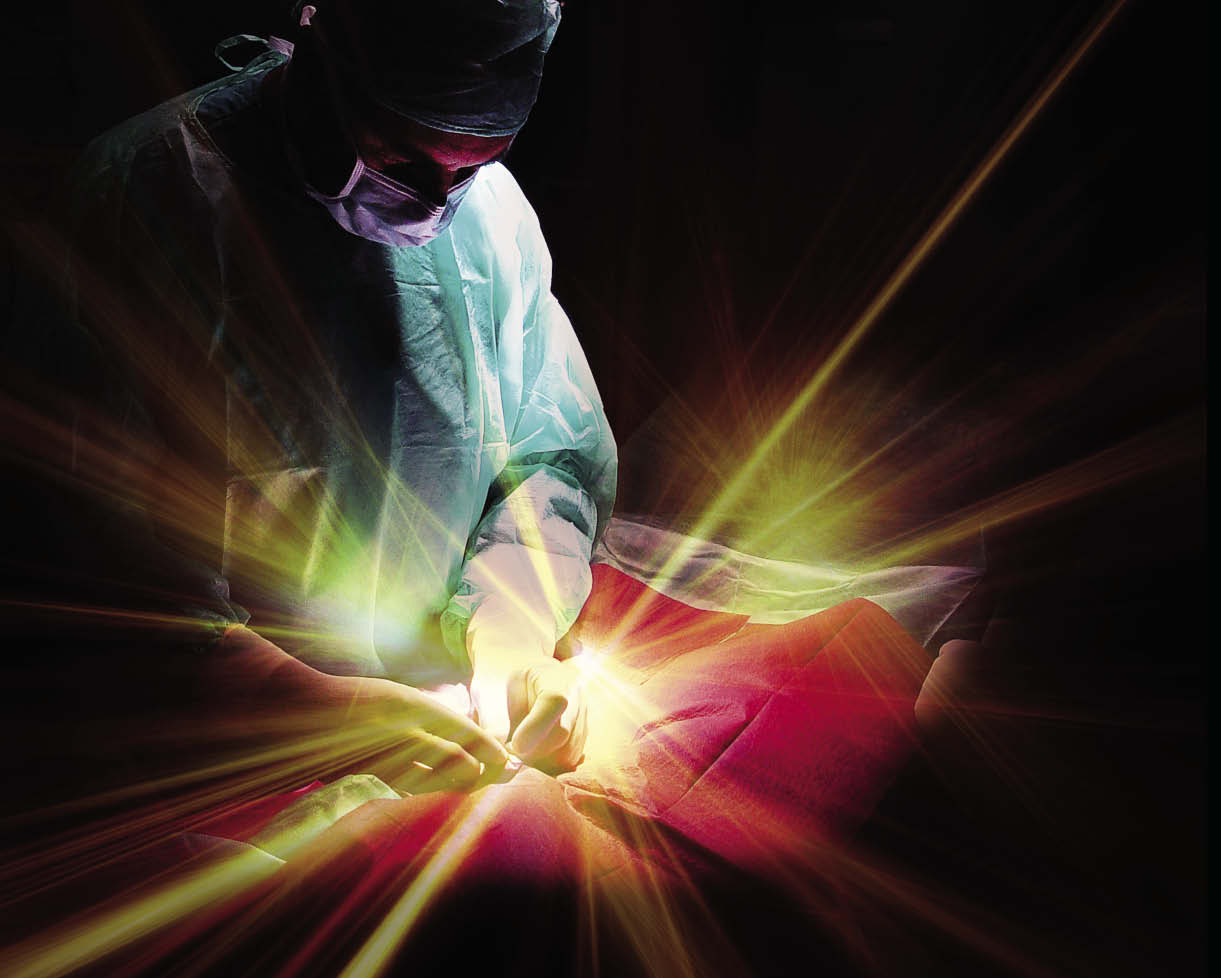 Convention Center to exchange their experience with practical and clinical applications and new and emerging technologies in aesthetic medicine. What separates the American Society for Laser Medicine and Surgery (ASLMS) meeting from other conferences in the field is the fundamental theme of science and research that runs through the program. If you want to stay on the cutting edge of laser technology, this is a must-attend meeting.
Professor Robert S. Langer of the David H. Koch Institute at MIT gave a stimulating keynote address titled, "Biomaterials and Biotechnology: From the Discovery of the First Angiogenesis Inhibitors to the Development of Controlled Drug Delivery Systems and the Foundation of Tissue Engineering." Hot topics at this year's 4-day conference included "cutaneous laser surgery, photobiomodulation, photodynamic therapy, and interstitial laser devices," according to Program Chair Thomas Rohrer, MD, a Boston-based dermatologist.
The meeting kicked off with the annual Tech Connect, a Non-CME Session chaired by New York City-based dermatologist Roy Geronemus, MD, and UC Irvine dermatologist Christopher Zachary, MD, where physicians as well as industry members are invited to participate in a "straight talk session where physicians will be able to discuss brand names." The program featured 15 experts who each spoke for about 6 minutes on hair removal, vascular lesions, body contouring and cellulite, resurfacing and rejuvenation, and facial and neck lifting and tightening. According to New York City-based dermatologist Melanie Grossman, MD, "Tech Connect featured a stellar group of speakers who spoke honestly about their opinions on the best devices to treat a variety of conditions. Every year, this program attracts a good crowd of physicians who are eager for candid insights on what systems to invest in for their practices."
A perennial favorite—"Cutaneous Laser Surgery Sessions"—focused on the use of lasers and light sources for treating vascular and pigmented lesions, skin rejuvenation with fractional lasers, hair removal, scar revision, port wine stains, post fractional laser delivery of topical agents, home devices, onychomycosis, and body contouring.
SCAR WARS
Dermatologists Jill Waibel, MD, of Miami and Nathan Uebelhoer, MD, of La Jolla, Calif, served as co-directors of the Scar Revision lunchtime forum that focused on the optimal timing of treatment and new treatment modalities using various lasers and medications, which is an evolving category.
Lumenis Ltd presented its UltraPulse System's SCAAR FXTM (Synergistic Coagulation and Ablation for Advanced Resurfacing) modality that treats a range of deep skin lesions, including acne and surgical scars. It announced the "HOPE" Campaign that features patient stories describing how treatment with UltraPulse improved their lives. To illustrate the healing potential, a 13-year-old burn victim was on hand at the Lumenis booth with her mom to talk about her compelling personal experience.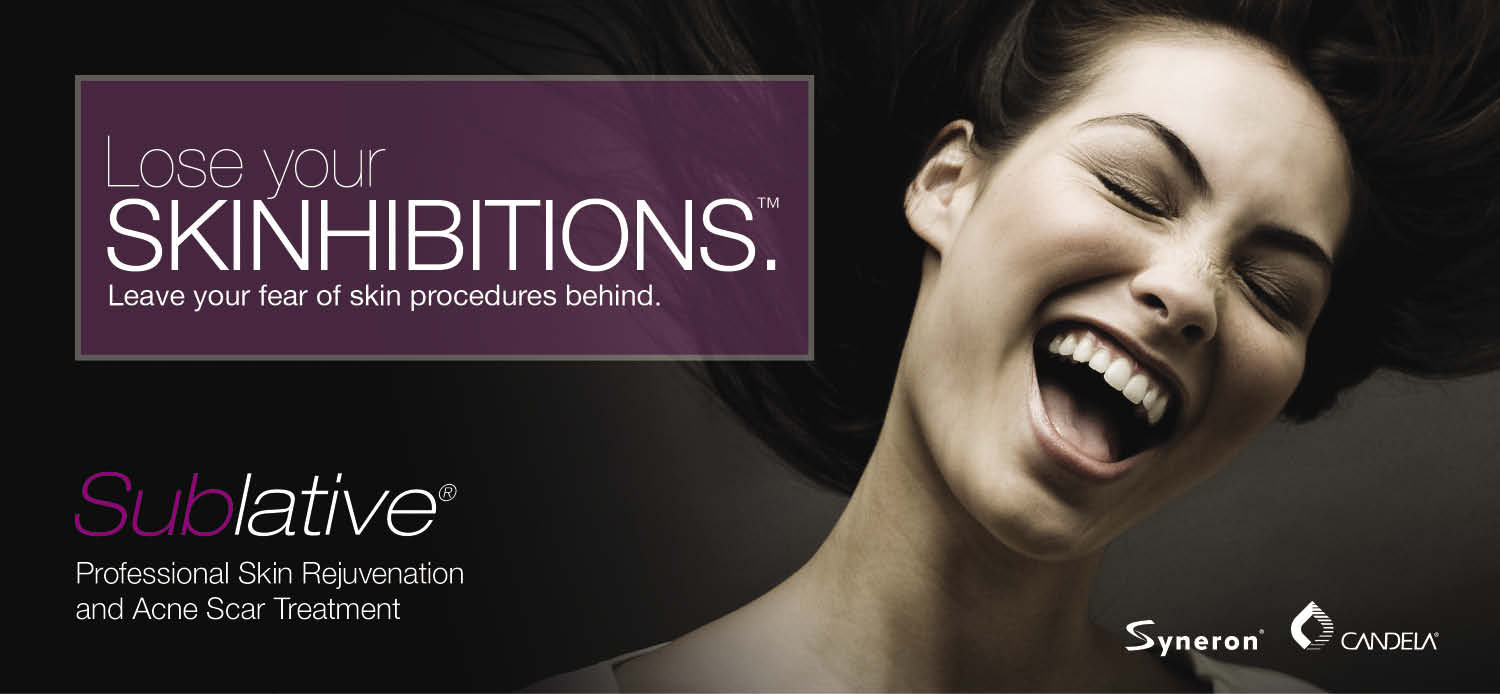 Sublative®
Syneron Medical Ltd launched its Sublative® technology for the removal or modification of the appearance of acne scars, available on all of the Syneron Sublative-compatible systems, which includes elos Plus™, eTwo™, and eMatrix™. Sublative technology is touted as the only bipolar fractional radiofrequency energy device proven to effectively treat acne scars. This fractional bipolar radiofrequency technology delivers excellent results with little to no downtime and is a safe and effective treatment alternative for all skin tones. The addition of an acne scar treatment further expands the uses for Sublative to address a larger segment of the aesthetic market.
Speaking at a reception with Denver-based dermatologist Stephen Eubanks, MD, Amy Taub, MD, a dermatologist in Lincolnshire, Ill, touted the technology. "I use Sublative as my 'go to' laser for acne scars instead of fractional laser treatment. We can do a regional treatment to reduce atrophic scars. Sublative can also treat wrinkles, tightening, crepey neck, around the eyes, and striae, and can be used on the face, chest, and hands. And it is one of the few things we can say really helps with enlarged pores."
In conjunction with the new acne scar treatment, Syneron introduced Skinhibitions™—a new consumer campaign based on market research the
company completed that showed that a majority of women were interested in more efficacious skin procedures, but were inhibited by fear of pain, significant downtime, side effects, and high cost.
FACIAL REJUVENATION
Facial rejuvenation therapies attracted a lot of attention among attendees. Joe Niamtu III, DMD, from Midlothian, Va, presented his perspective in a lecture titled, "15 Years of CO2 Laser and Still the Gold Standard." The premise of his talk was that although fractional laser resurfacing has become extremely popular, it has been overpromoted by media and industry as to actual results. "Less downtime and faster healing is a necessity for many patients, but it may take four or five fractional treatments to produce a result. As much as we want a better technology, traditional CO2 is still the gold standard for skin tightening, wrinkle treatment, acne treatment, and dyschromias."
Alma Lasers had several presentations on the program focusing on the ClearLiftTM nonablative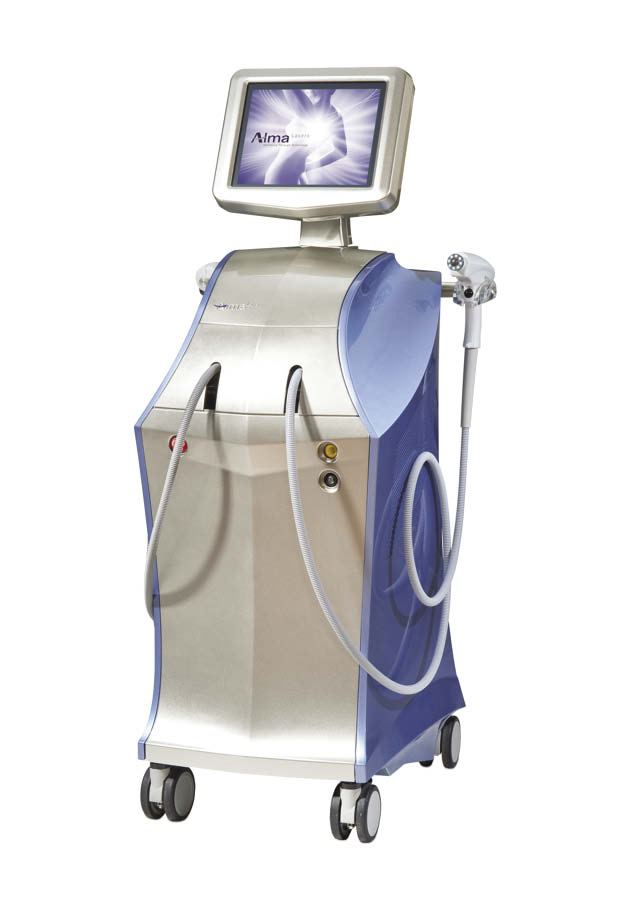 Alma vShape™
Q-switched technology for aging skin with its vShape™ radiofrequency device. The system uses microplasma technology to provide fractionated skin resurfacing with minimized risk and downtime for patients.
Palomar Medical hosted a special evening panel with Hunt Valley, Md-based dermatologist Robert Weiss, MD, and several others, including E. Victor Ross, MD, a San Diego-based dermatologist, and New York and New Jersey-based dermatologist David Goldberg, MD. Of particular interest was the Skintel™ Melanin Reader that is used to take measurements of baseline pigmentation. According to Weiss, "The Palomar system is a leading technology to prevent overtreatment of tanned or pigmented skin with light devices."
Photodynamic therapy to treat cancer and other skin conditions was a popular topic at this year's meeting. "PDT is an important treatment option for skin cancer, pre-cancers, and acne, but new therapeutic developments in the pipeline were also discussed," says Macrene Alexiades-Armenakas, MD, PhD, a New York City-based dermatologist. In fact, a special session from the Pan American Photodynamic Association (papdt.org) ran concurrently with a session presented by the North American Association for Laser Therapy (naalt.org) to discuss new applications for low-level light therapy or photobiomodulation to reduce postprocedure side effects.
On the skin-tightening front, Ulthera® promoted its deep ultrasound technology for the all-important neck area as the only noninvasive procedure FDA-approved to lift skin on the neck, chin, and brow.
TATTOO REMOVAL
Undoubtedly, Cynosure's new PicoSure® Picosecond Laser Workstation took center stage. According to Geronemus, whose laser center in New York City has two of the three PicoSure lasers currently being used, "The PicoSure laser delivers short bursts of energy to the skin in trillionths of a second and more rapidly clears almost all tattoos, especially blue and green colors which have been difficult to remove by other lasers. We are now looking at PicoSure for other indications, including treating scars." ASLMS President Jeffrey Dover, MD, who has the third PicoSure at Skincare Physicians on Chestnut Hill, Mass, had equally high praise for the system: "It is revolutionary. It works twice as fast at clearing tattoos as traditional devices."
BODY SHAPING
Body shaping and cellulite reduction make up a growing category in the aesthetic market for energy-based devices. ASLMS 2013 highlighted the best and brightest in this increasingly crowded segment. "The content for this year's meeting was expanded considerably, with several 'firsts' presented, including data on stacked pulses to improve results and reduce pain with Liposonix®, and a new ultrasound device that is painless to reduce fine lines, which actually won an award as one of the best papers of the meeting," says Michael Kaminer, MD, of Chestnut Hill, Mass.
Alma's Expert's Forum highlighted the Harmony platform featuring ClearLift™, said to be a virtually
painless, nonablative laser skin-resurfacing platform, and vShape™, a multiapplication radiofrequency platform for face, body, and cellulite featuring the PixelRF. The new ImpactTM was also discussed for its ability to offer enhanced delivery of topical cosmeceuticals to promote absorption so that the product reaches the targeted tissue depth in the skin.
Sciton introduced CelluSmooth™, a laser module with proprietary M3 technology for minimally invasive treatment of cutting fibrous septae, emulsifying fat, plus dermal tightening to improve the appearance of lumpy and dimpled skin.
Zeltiq® launched "Enhancing CoolSculpting® Outcomes Through Treatment to Transformation." This initiative was designed to promote global patient assessment to address all potential treatment areas and then recommend the right number of treatments to consistently achieve the desired results. Lori Brightman, MD, a New York City-based dermatologist, says, "Everybody is different, so being able to customize the treatment plan for each patient leads to higher patient satisfaction."
HAIR REMOVAL
Invasix® introduced a new family of devices under the Inmode MD Aesthetic Solutions brand, starting with Diolaze™ for hair removal. The Diolaze's main benefit is the speed of removing hair due to a powerful diode wavelength with a larger spot size delivered simultaneously. The treatment includes a built-in cooling mechanism to render it virtually painless for the patient.
Home use devices were also a topic of discussion, with new and improved variations on the horizon in skin resurfacing. The FDA-cleared Tria® Hair Removal Laser 4X is a redesigned system that claims to offer better results in half the time, and features a pulse counter that has been added to the device to keep track of the amount of pulses per session. Consumers can track the number of pulses per body part so they know when they have effectively treated each area. According to Brian Biesman, MD, an oculoplastic surgeon based in Nashville, Tenn, "Since Tria is a home use company, this laser-assisted hair removal device is brilliantly designed and engineered. We consider it an ideal device for home use as a stand-alone treatment or for maintenance and spot treating after patients have had a course of office-based laser hair removal."
INTERNATIONAL FORUM
Technological advances are arising from Europe as well as Asia, which may soon surpass the US as the leading market worldwide for energy-based devices. Directed by Henry HL Chan, MBBS, PhD, FRCP, from Hong Kong and Christine C. Dierickx, MD, from Brussels, Belgium, the "International Experience in Lasers in Dermatology" session featured new and innovative technologies and unique approaches on all skin types. Topics that received the most attention included pigmentary disorders, vascular lesions, fractional technologies, home devices, skin of color, and laser lipolysis.


Wendy Lewis is president of Wendy Lewis & Co Ltd, Global Aesthetics Consultancy, founder/editor in chief of beautyinthebag.com, and a contributing editor to Plastic Surgery Practice. She can be reached at

[email protected]