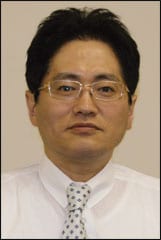 Kotaro Yoshimura, MD
Combining stem cells and liposuctioned fat—the latest permutation of doing fat transfer to the breast for augmentation—is one topic that is talked about in sometimes heated terms in the physicians' meetings, physician's practice, and at the dinner table.
In 2007, we first heard about a new stem cell-assisted treatment for breast augmentation that was developed by the Department of Plastic Surgery at the University of Tokyo. The procedure, dubbed Cell-Assisted Lipotransfer (CAL) by its creator, Kotaro Yoshimura, MD, also involves the use of adipose-derived stem cells that are isolated from liposuction aspirates. In this case, though, the processed cells are added to additional aspirated fat and then injected into the breasts.
Yoshimura is an assistant professor at the Department of Plastic Surgery in the University of Tokyo.
The CAL approach is different from other approaches tried in the United States, such as the LipoStructure procedure pioneered by Sydney Coleman in the United States. Using the CAL procedure, a single treatment can successfully increase breast volume by 120 mL to 160 mL—roughly two cup sizes (5 cm to 7 cm). For patients seeking to augment their breasts by 300 mL, the treatment needs to be performed twice; and for augmentations exceeding 300 mL, a combination of an implant and the stem cell technique is used to achieve the desired results.
Highlights of this procedure include the following:
The patient is under general anesthesia. A saline solution containing a weak local anesthetic and a vasoconstrictor is injected into the areas where fat is to be suctioned. This softens the treated area and constricts the blood vessels.
Via a tiny incision in the skin, a narrow metallic tube is inserted and a liposuction pump is used to suction subcutaneous fat.
Stem cells are obtained from parts of the aspirated fat and mixed with the fat to be reinjected.
The fat mixed with stem cells is transplanted by a special injector for transplantation, small area by small area over a wide area in order to prevent lumpiness.
Mild swelling and pain that occurs on the suctioned area or the injected area goes away in around 1 month.
I spoke with Yoshimura to get an update on the status of CAL in Japan and to find out if his procedure would be imported to the United States anytime soon.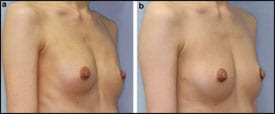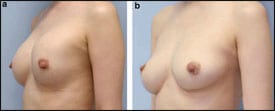 Figure 1. Breast augmentation immediately after implant removal (top) and 12 months postoperative, after implant removal and simultaneous CAL (260 mL in each breast).
PSP: Please report on clinical trials under way in the United States.
Yoshimura: To my knowledge, no clinical trials regarding adipose stem/progenitor cells have been done in plastic surgery in the US.
PSP: How many patients have you treated with the stem cell/fat tissue procedure, and what are the results, overall?
Yoshimura: More than 400 patients have been done by the end of 2009. Overall results are satisfactory and encouraging so far. Although clinical outcomes are very variable among patients and many factors—including operator factors and patients' factors—affect clinical outcomes, quality and naturalness of augmented tissue is excellent. Preserved tissue volume appeared to be much better than conventional methods.
PSP: What are the differentiating age/race/gender/demographics of the patients? What percentage received each procedure according to breast, face, hip, etc?
Yoshimura: The frequent age is between 30 to 50 years old, almost all are Japanese, and all are female other than four males. The procedures break down as 83% breast (55% augmentation, 15% implant replacement, and 13% reconstruction), 15% face, and 2% others. But there have been many breast reconstructions and facial reconstructions. Among the latter are acquired defects, Parry-Romberg disease, Lupus erythematosus, scleroderma, etc.
PSP: What were some outstanding characteristics of the patients treated in the breast? The patients treated in the face and on the hip?
Yoshimura: Natural contour and texture, softness, absence of artificial material, free of complications associated with implants, free of future risks for additional surgery, free of daily stress from implants.
Since 2008, there has been some new literature published about this procedure. See list below.
Suga H, Araki J, Aoi N, Kato H, Higashino T, Yoshimura K. Adipose tissue remodeling in lipedema: adipocyte death and concurrent regeneration. J Cutan Pathol. 2009;36:1293-1298.

Suga H, Eto H, Inoue K, et al. Cellular and molecular features of lipoma tissue: comparison with normal adipose tissue. Br J Dermatol. 2009;161:819-825.

Suga H, Matsumoto D, Shigeura T, et al. Functional implications of CD34 expression in human adipose-derived stem/progenitor cells. Stem Cell Dev. 2009;18: 1201-1209.

Yoshimura K, Asano Y, Aoi N, et al. Progenitor-enriched adipose tissue transplantation as rescue for breast implant complications, Breast J. 2009;DOI: 10.1111/j.1524-4741.00873.x

Yoshimura K, Suga H, Eto H. Adipose-derived stem/progenitor cells: roles in adipose tissue remodeling and potential use for soft tissue augmentation. Regen Med. 2009;4:265-273.