Cellulite is considered one of the holy grails of aesthetic medicine, and various methods have been advanced over the past decade—some with greater success than others. Most of the current effective therapies for cellulite target the actual cellulite deposits, but a growing body of evidence suggests that as many as 30% of cryolipolysis patients treated with the CoolSculpting® System from ZELTIQ Aesthetics, Pleasanton, Calif, can also show improvements in skin texture, laxity, and cellulite.
The first evidence of this phenomenon—cryodermadstringo, or skin tightening from cryolipolysis—was published in a letter to the editor in the Aesthetic Surgery Journal in June 2014. This article reported on two patients who showed an improvement in skin appearance following cryolipolysis. Overall, we have delivered more than 11,000 CoolSculpting treatment cycles to date, and skin laxity has never increased following treatment, even after significant fat volume reduction.
 Evidence Builds
And now a soon-to-be-published study of 40 patients who underwent a single CoolSculpting treatment on their lateral thigh backs up both the initial report and our anecdotal evidence. In this study, there was a mean normalized fat layer reduction of 2.6 mm 16 weeks after cryolipolysis. This was statistically significant compared to controls (p = 7.8E-8). There was no correlation between patient age and improvement, the study showed. While mild to moderate improvements were seen in skin texture, laxity, and cellulite, the largest improvement was seen in skin texture.
The findings are slated to appear in the November 2014 issue of Journal of Dermatologic Surgery. While prospective studies are needed to quantify skin changes after cryolipolysis, the initial results are promising, and these effects may be bolstered by post-cryolipolysis-treatment massage.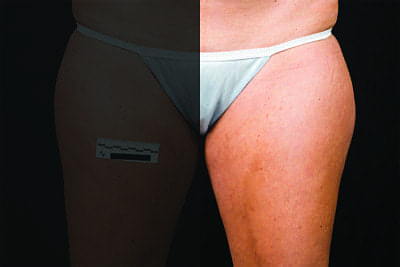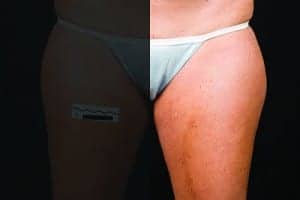 Exactly how cryolipolysis induces skin tightening is not fully understood, but several theories do exist. It may be a result of dermal thickening, resulting in an improved appearance to thin, crepey skin. The change in skin firmness following cryolipolysis may also be the result of stimulated collagen production, new elastin formation, fibrosis, or tissue compaction. Histology analysis from previous studies has shown that the epidermis, dermis, and underlying muscle tissue were not affected in the cryolipolysis treatment sites. These analyses have also demonstrated that with the selective removal of adipocytes, the thickness of interlobular septa increased at 90 days post treatment. (See before image to the right)
Study Details
In the new study, 11 participants underwent independent investigator and self skin assessments. After the procedure, 86% of patients reported visual reduction, 86% were satisfied with their results, and 89% would recommend cryolipolysis to a friend. Preliminary quantitative data on skin changes following cryolipolysis showed a positive correlation between investigator and patient assessments, with the patient's assessments consistently more positive.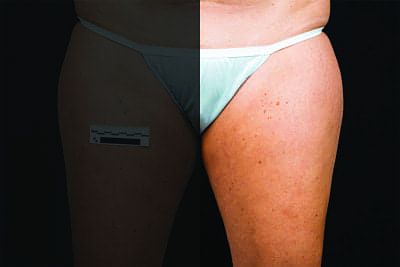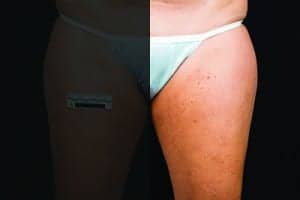 Post-cryolipolysis-treatment massage may enhance cryodermadstringo. In a separate study, ultrasound measurements demonstrated greater fat-layer reduction on the massage versus the non-massage side—up to 68%. In addition, histology shows no evidence of necrosis or fibrosis, the study showed.
Several questions do remain about cryodermastringo. The resultant skin tightening has been observed in patients with skin laxity, regardless of age, and does not appear to be treatment-site specific, but we don't know yet just how predictable the skin-tightening results are and/or how other factors such as skin condition, number of cryolipolysis cycles, and duration after treatment may affect the skin-tightening effect. (See after image on the right)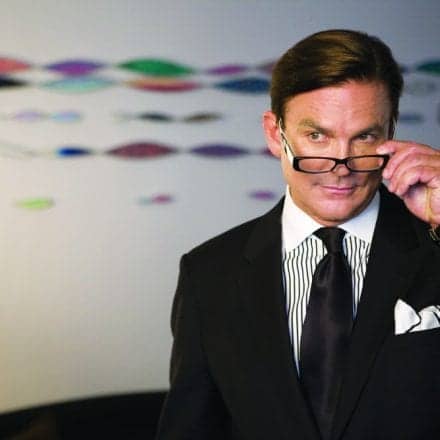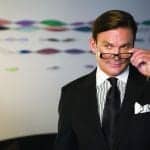 W. Grant Stevens, MD, FACS, is a board-certified plastic surgeon and the founder and medical director of Marina Plastic Surgery in Marina del Rey, California. He is also the chairman of the USC-Marina Aesthetic Surgery Fellowship, the director of the USC Division of Aesthetic Surgery, and a clinical professor of surgery at the USC Keck School of Medicine, Division of Plastic Surgery. Dr Stevens is also chairman of the Strategic Advisory Board; medical luminary, investigator, and speaker for ZELTIQ; and a member of PSP's editorial advisory board. He can be reached at [email protected].