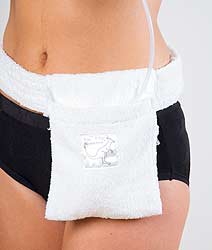 IN THE POCKET
Efforts to encourage more breast cancer patients to consider breast reconstruction after mastectomy are gaining traction, and the Marsupial® Pouch—a plush adjustable belt and pouch that manages surgical drains and drain tubing—can play an important role in the recovery process. Designed by a cancer survivor and textile specialist, the Marsupial can accommodate at least two drains and slides over the belt to be placed where it is most comfortable. It gives patients the freedom of movement in the critical days and weeks following surgery. This pouch can be used in any procedure that involves drains. It will be sold directly to physician practices, surgery centers, hospitals, and online to patients at www.marsupialpouch.com in kits that range from $29.95 to $49.95. Keller Medical Inc has an exclusive licensing and distribution agreement for the pouch.
---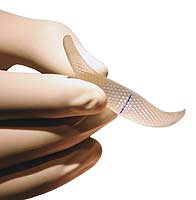 TAKE IT ON THE CHIN
Implantech is taking a solid approach to chin augmentation with the reintroduction of the Conform™ chin implant. This implant boasts a patented grid for flexible, but secure placement. Conform chin implants provide the permanent volume that's required for a well-framed profile and a more youthful appearance. The implants can be easily trimmed by scalpel or scissors to fit each patient, eliminating the guesswork associated with injectable fillers. For more information, call (800) 733-0833 or visit implantech.com.
---
DOWN THE DRAIN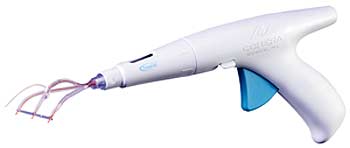 Cohera Medical's TissuGlu may allow plastic surgeons to say goodbye to drains in abdominoplasty and other large-flap surgeries. TissuGlu adheres the tissue flap created during surgery to the underlying tissue to help reduce the space where fluids can accumulate, and eliminate the need for drains. The ability to perform the procedure without drains would lead to a more comfortable recovery and a quicker return to normal activity for patients. Cohera Medical has received CE Marking approval for TissuGlu in Europe, and began selling the product to hospitals and surgeons throughout Germany in September 2011. CE Marking refers to a manufacturer's declaration that the product complies with the essential requirements of the relevant European governing bodies. The company has received Investigational Device Exemption (IDE) approval from the FDA to start a prospective, randomized clinical trial of 150 abdominoplasty patients. There are currently no FDA-approved medical devices for a synthetic adhesive indicated for approximation of tissues in large-flap surgeries. Stay tuned! Learn more at www.coheramedical.com.
---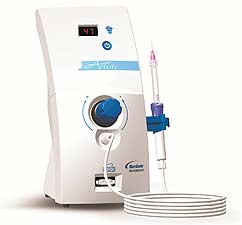 AIR SUPPLY
Nordson Micromedics' Artiste Assisted Injection System is shaping up to be a game changer for many a skilled injector. The automated injection technology replaces thumb pressure with air pressure. This allows for the material to be injected in a more uniform manner with less overall pressure. It's not going to make an unskilled injector a fabulous one, but it will lessen hand fatigue and increase injection control when placed in qualified hands. The device is only available for sale on order of a physician or a properly licensed practitioner. For more information, contact Nordson Micromedics Customer Service at (800) 624-5662.