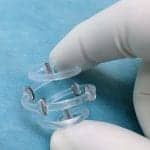 A new 3D surgical marker allows radiation oncologists to deliver more precise radiation therapy to the breast and may help improve cosmetic results following breast cancer surgery.
For the new study, researchers documented physicians' clinical experiences using Focal Therapeutics Inc's BioZorb™ Tissue Marker in 51 cases. Overall, use of the new bioresorbable marker resulted in reduced radiation treatment volumes and smaller radiation doses for boost and accelerated partial breast irradiation. When the surgical site can't be clearly marked in a precise 3D manner, radiation treatment planners may enlarge the volume of the treatment area to make sure the tumor site is not missed. This can result in radiation exposure to normal healthy tissues such as the heart and lungs. In addition, casting too wide of a net can mar cosmetic results for breast cancer patients.
The more pronounced, targeted effect is likely due to the marker's 3D, open spiral shape,  report researchers from the Arizona Breast Cancer Specialists in Scottsdale. The marker incorporates six permanent titanium clips in a fixed 3D array and provides specific landmarks at the site of the excised tumor so the surgeon can secure the tissue to the device and use it for oncoplastic reconstruction, patient positioning, and radiation treatment planning.
The device received 510(k) clearance from the US Food and Drug Administration and is available in a range of sizes.
The new findings were presented at the 2014 annual meeting of the American Society for Therapeutic Radiology and Oncology in San Francisco.