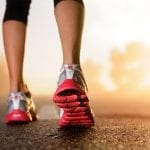 On a crisp October weekend, 45,000 Chicago Marathoners crossed paths with close to 2,300 plastic surgeons and exhibitors who were bent on attending Plastic Surgery: The Meeting.
Their purposes differed as they rushed Chicago's McCormick Convention Center. One group was excited to claim their numbers, and the others were eager to catch a teaching course or a practice-management seminar. But both had time on their minds. The runners were likely eager to beat their best time, and the plastic surgeons wanted the skinny on the latest and greatest ways to turn back time.
To that end, fat grafting was a running theme throughout the meeting. "Fat is it," says new American Society of Plastic Surgeons (ASPS) president, New York City plastic surgeon Scot Bradley Glasberg, MD. "Everybody wants to talk about fat and how to use it, and learn more about the science that supports its use," he says. "The questionable area is mammographic changes, and the literature is telling us that the effects are similar to breast implants," he says.
Another question mark is whether transferring fat (and the stem cells within it) will have any effect on tumor genesis and breast cancer. "The truth is, we don't know," he says, "which is why we recommend that fat grafting to the breast be studied under an Institutional Review Board in a scientific way."
Safety was another running theme throughout the meeting. The biggest news on this front was a new breast implant registry—a joint venture between the ASPS and the US Food and Drug Administration—that will be implemented in 2015. "This is a tremendous patient safety initiative and will provide outcomes data which we have never had that can direct care and benchmark practices," Glasberg says.
Immediate Past ASPS President Robert X. Murphy, Jr, MD, the assistant chief medical officer at Lehigh Valley Health Network in Allentown, Pa, agrees. "With the data that we had before the new registry, we would still have had a PIP scandal or the Connie Chung issue because participation was not optimal, but now there will be universal participation and uniform data," he says. Implants made by France's Poly Implant Prothèse (PIP) were banned in 2010 because they were filled with industrial-grade silicone. In 1991, CBS's Connie Chung warned of serious dangers associated with silicone breast implants.
"The new registry may help get a handle on whether there is a risk of anaplastic large cell lymphoma (ALCL) associated with breast implants and what the cancer looks like in those patients. It is different than traditional ALCL, but the incidence is so few and far between, which is why we need a registry to pool our data," Glasberg says.
In a sense, there were two separate races coursing through Chicagoland—one toward the finish line in the 37th annual Chicago Marathon, and the other edging toward answers and data that will improve patient outcomes and safety.