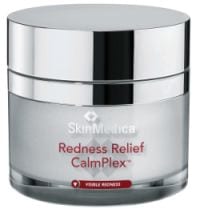 SkinMedica's Redness Relief CalmPlex™
Cosmeceuticals, or cosmeceutiques or active cosmetics as they are called in the EU, are getting back on track and showing a growth spurt around the world. According to Laurent Brones, business development manager of Symatese in Paris, "The cosmeceuticals market will follow the same trends as the injectable products category. The USA represents the largest market worldwide; Asia is second, then Latin America, and lastly, the EU largely due to the fact that in many EU countries physicians cannot dispense products. Average annual growth from 2011 to 2016 is estimated to rise by 11% to reach 887 to 973 billion Euros."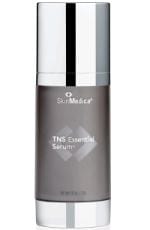 SkinMedica's TNS Essential Serum™
Omaha, Nebraska, dermatologist Joel Schlessinger, MD, founder of Lovelyskin.com, says this mirrors what he is seeing in practice: "With the improvement in the economy, we have seen an increase in our higher-priced items. Many of the higher-priced items showed significant decreases for the majority of the economic downturn as consumers shifted to lower-price-point items. We are also seeing an increase in higher-priced tools, cleansing, and light-based devices. Additionally, we are seeing that people who migrated from cosmeceuticals to store-bought brands are now back in the higher-quality brands and repurchasing more frequently. For example, we have always found that products such as Kinerase®, NeoStrata®, NIA24®, and mineral-based makeup sell well. Generally, we have found that the stronger the product, the more interest there is."
Amy Taub, MD, medical director of Advanced Dermatology in Lincolnshire, Ill, and founder of Skinfo, has a similar experience to report. "The top-selling product at Skinfo is SkinMedica's TNS Essential Serum, which combines a growth factor and an antioxidant. This combination tackles the pesky side of aging while providing a shield against further cell-damaging factors," she says.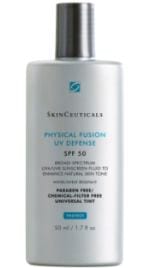 SkinCeuticals Physical Fusion UV Defense
THE ACNE/ROSACEA PATROL
Another must-have category for dispensing physicians is acne care. If you can control a patient's acne breakouts, you will keep that patient for life. Among cosmeceutical buyers, people with acne are often the most loyal.
SkinCeuticals Phloretin CF
As Taub says, "Unfortunately, both young and adult skins share the same continuous frustration with acne. The challenge of clearing up acne while keeping skin hydrated without the common side effects of flaking, redness, and dryness directs clients to purchase moisturizers for acne-prone skin, such as MyBody's Let Me Clarify."
Along with acne and aging comes redness and often rosacea. Offering a few select stock-keeping units should be viewed as an important service for patients. This helps where they need the special expertise of a medical aesthetician or physician, rather than risk choosing something at random in a drugstore or beauty retailer that may make the problem even worse. For example, to meet this largely unmet need, SkinMedica® recently added its Redness Relief CalmPlex, developed to prevent and reduce ultraviolet (UV)-induced skin redness and reduce chronic redness quickly, in as little as 1 week.
Bonnie Marting, DNP, ARNP, director of medical aesthetics at Anushka Cosmedical Centre in Palm Beach, Fla, treats patients with a wide range of sun-induced-aging skin conditions. "Being in South Florida, naturally we see many patients who have severe photo-aging complaints, including coarse lines, discoloration, and redness. Although my 'go to' treatment is Laser Genesis, every patient goes home with a personalized skin care regimen targeted to his or her lifestyle. Among our best sellers are SkinMedica TNS Recovery Complex for post lasers and peels to speed healing; the I/S Clinical range of serums, which are very popular with our medical aestheticians; and REVALÉSKIN® Intense Recovery Treatment that contains licorice extract to reduce redness."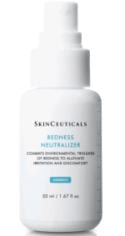 SkinCeuticals Redness Neutralizer
WAGING WAR ON UV RAYS

SkinCeuticals C E Ferulic Serum
According to Lisa M. Donofrio, MD, a dermatologist who practices in New Haven, Conn, New Orleans, and New York City, "SkinCeuticals C E Ferulic™ serum is one of my favorite products because it combines the antioxidant effects of vitamin C and E, which in combination decrease the potential toxicity from ultraviolet light exposure better than either one alone. The serum vehicle also makes skin look instantly more glowing. It is ideal for people who spend a lot of time outside because it enhances the effectiveness of sunscreen when using the serum first. We also dispense SkinCeuticals Phloretin CF™, a wonderful multitasking treatment that protects, diminishes hyperpigmentation, and accelerates cell renewal."
New York plastic surgeon Bryan G. Forley, MD, offers an edited selection of physician-dispensed brands in his practice. "Some of the best-selling products we carry include EltaMD® sunscreens that provide long-lasting, broad-spectrum UVA and UVB protection by utilizing microfine, transparent zinc oxide, leaving no white residue on the skin's surface. I also recommend the use of topical antioxidants, such as SkinCeuticals Phloretin CF, to be used in combination with EltaMD Sun Protection. This is a particularly effective combination, especially after facial procedures."
The ever-expanding sun-protection category offers new broad-spectrum coverage formulations that meet consumer demands for convenience, texture, selection, and tints. NEOVA® is introducing a new trio of potent antioxidant-based formulations for summer 2012: DNA Damage Control Silc Sheer 2.0 SPF 40, DNA Damage Control Everyday SPF 44, and DNA Damage Control Active SPF 43. DNA Damage Control SILC SHEER 2.0 SPF 40 is an oil-free physical sunscreen that has a sheer tint for the face and can be used alone or as a makeup primer.
SPECIALLY TARGETED PRODUCTS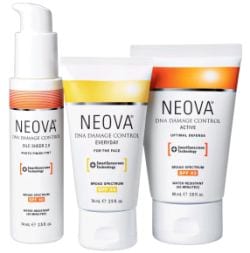 NEOVA's new sunscreen trio launch.
Forley explains that patients also tend to seek out unique products that target specific conditions, such as skin lightening and brightening. "A popular brand for us has been Lumixyl™ peptide technology that works by reducing tyrosinase. Since it is safe for all skin types and does not cause irritation or sensitivity, Lumixyl can also be used in conjunction with Fraxel® resurfacing treatments for additional management of unwanted discoloration."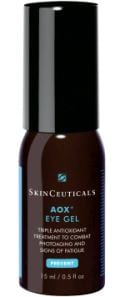 SkinCeuticals AOX+ Eye Gel
As Schlessinger says, "Many new entrants that are free of hydroquinone are gaining traction in this category as well. Elure™ from Syneron is a unique product that affects the tyrosinase pathway and diminishes pigmentation accordingly. We also have a large cadre of consumers who purchase Neocutis Perle, another product that affects the pigmentation pathway and allows for hydroquinone-free improvement."
Eye products need to target an array of conditions that can impact a patient's appearance and cause them to look tired, stressed, and older. In particular, dark circles are an area where physicians are on an eternal quest to offer patients something topical that delivers results. Every doctor and skin care professional has his or her top picks.
NEW AND EXCITING LAUNCH
---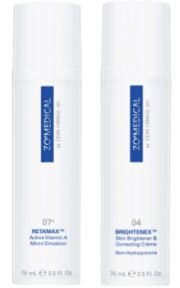 ZO® MEDICAL's new physiciandispensed skin care range
Unveiled by Zein Obagi, MD, at the AAD, held in March in San Diego, ZO® MEDICAL™ consists of an introductory 11 star-quality products featuring breakthrough delivery systems and advanced patented technologies targeting all facets of aging skin, pigmentation, redness, and acne. This innovative range of products and protocols were designed to bridge the gap between therapeutic treatments and daily care. ZO® MEDICAL therapeutic regimens and products complement Obagi's ZO® Skin Health line and are available only through plastic surgeons, dermatologists, and cosmetic physicians.
As a female dermatologist, Donofrio explains that her patients often want to use what she uses herself. "Patients always ask me what I like, and I am honest with them. My favorite eye cream is from Replenix®. It contains vitamin K and peptides to strengthen skin and decrease capillary leakage, which is a leading cause of dark circles, plus green tea to decrease puffiness."
For Forley, the new Lumixyl® Revitaleyes Brightening Eye Cream is a winner. "We have had good success with Revitaleyes, which contains the decapeptide-12 for improving dark circles as well as inflammation. Patients seem to like the convenient tube and nonirritating silky formula," he says.
SkinCeuticals AOX+ Eye Gel is another recent launch in this category. This new formula prevents and corrects photo-damage. It includes the botanical Ruscus aculeatus, derived from a shrub, to increase circulation under the eyes and caffeine to improve fluid retention, thus diminishing puffiness.
GROWTH TRENDS ON THE HORIZON
There are more promising cosmeceutical categories that offer dispensing physicians new opportunities to grow the retail vertical in their practices by attracting new groups of consumers seeking therapeutic products instead of or in addition to skin-rejuvenating products. "Generally speaking, the advent of forms of cosmeceuticals which are geared toward skin diseases offers a new opportunity for consumers to enter this segment of the market," Schlessinger says.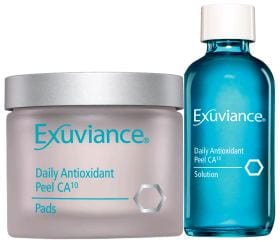 Exuviance Daily Antioxidant Peel CA10 Pads and Solution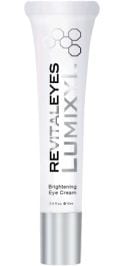 Revitaleyes Lumixyl Brightening Eye Cream
"As companies develop at-home technology, like the Tanda Luxe, to extend treatments being done in a dermatologist's or plastic surgeon's office, skin care becomes essential to maintain and enhance the skin's overall appearance," Taub says. In the future, we can expect more and better launches in this expanding category for targeting hair removal, hair restoration, skin rejuvenation, acne, rosacea, skin tightening, and cellulite reduction. The home-based systems segment of the market will target facial as well as off-face areas for treatment.
Home peel systems and kits seem to have surged in popularity as an affordable alternative to lasers and energy-based devices in many cases, and as a good complement to clinical treatments. NeoStrata launched the Exuviance Daily Antioxidant Peel CA10, an easy one-step, daily at-home peel that gently exfoliates and delivers a dose of protective antioxidants to help neutralize free radicals. Containing a 10% Citric Acid formula, the Daily Peel can be applied every day and no rinsing is required.
Lastly, topical formulations that make claims similar to laser and light treatments are also on the rise. Akin to the explosion of skin-brightening and pigment-correcting products, skin tightening and firming are new buzzwords among anti-aging cosmeceuticals. For example, REVALÉSKIN® Skin Firming Serum is a lightweight contouring serum with fruit and botanical extracts that claims to help increase the skin's resistance to stress and the environment with long-term usage.
---
Wendy Lewis is president of Wendy Lewis and Co Ltd, Global Aesthetics Consultancy www.wendylewisco.com, author of 11 books, and founder/editor in chief of www.beautyinthebag.com. She can be reached at .