Anyone who has ever read the classic novel The Lord of the Flies received a crash course on what can happen when children bully children. Poor Piggy never had a chance. He was a weak link and was picked on and tortured by his so-called peers. But, as we all know, a child does not need to be literally stranded on an island to be victimized.
Every school and summer camp is a "social" island with hierarchies and bullying waiting to happen. Sometimes, it's about grades and athletic prowess. But most often, it is about looks.
TRUE STORIES FROM A PLASTIC SURGEON'S CASE FILES
Consider these examples:
Scott had ears that literally stuck out from his head. According to his mother, leaving the house became an exercise in survival. The repeated jaunts and teasing from his "friends" led to reclusive behavior and failing grades.
Jane was a competitive swimmer burdened physically and psychologically with very large breasts. She lived in the South and had notes tacked to her locker referring to "the class Dolly Parton."
Mike was a pretty solid basketball player, but as a teen he began to demonstrate aggressive behavior toward his school coaches when he refused to strip to shower after workouts. His parents said he also refused to go to summer camp. Only after meeting with his pediatrician did it come to light that Mike had developed male breasts (gynecomastia) and was called a "girly man" by a now former friend.
Mary was the small kid with the big nose. It was hard for her to socialize when she was known as "parrot beak." How was she to shine when in her mind all her classmates saw and talked about was in the middle of her face?
How should problems like these be handled? Can parental soothing or even psychological counseling resolve adolescent angst? Or, in reality, does the fix involve correcting the structural issues creating the anxiety?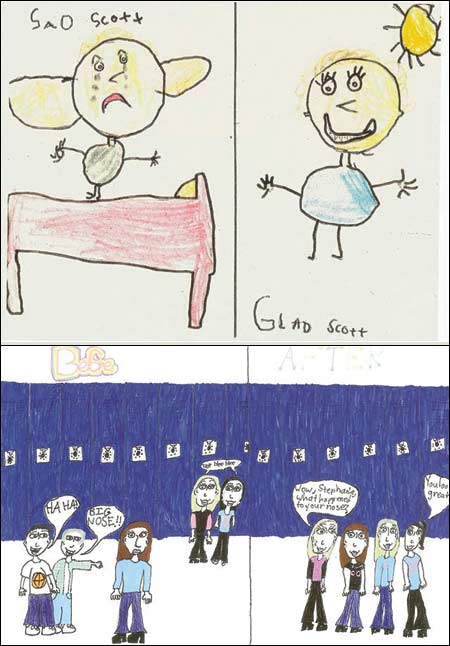 Pediatric patient artwork
The stories above are all true, but they occurred in a world before the Internet, texting, and YouTube, where cruelty was served one-on-one often in the schoolyard.
What would their suffering be like if their inner demons went "viral"? How would they respond? Deepening depression? Suicide? Outward aggression causing harm to their tormentors?
If you watch the news, you know that the answer is all of the above. With advances in communication techniques, there is no reprieve from bullies or bullying.
Plastic surgeons are quality-of-life surgeons who become part of the guardians of self-esteem. As members of a team that includes a mental health professional, parents, educators, and the children themselves, plastic surgeons can oftentimes turn back the tide of bullying by correcting structural items responsible for significant psychosocial angst. This is very different from surgical interventions for purely cosmetic purposes. Many times, surgery alone is resolute. Other times, counseling needs to be done in concert with surgery to help children adjust to their new looks and build the skill sets to deal with bullies who may strike out at them after the surgery.
KNOW THE WARNING SIGNS OF A CHILD UNDER DURESS
The first step is to notice the signs and symptoms of bullying in kids.
The onus is on all involved: parents, teachers, coaches, camp counselors, pediatricians, and anyone who comes into contact with kids.
Signs of children who may be being victimized at school or elsewhere include:
Changes in social behavior;
Loss of friends;
Lack of desire to be with friends and socialize;
Worsening grades in school; and
Aggressive attitudes toward authority figures.
PLASTIC SURGERY MAY BE PART OF THE SOLUTION OR THE PROBLEM
It would be too simplistic and certainly naïve to blame all teen angst on their looks. There is, however, a subset of teens who have direct correlations to behavior and body image, and can be improved through careful assessment and developing a thoughtful, well-timed surgical plan to correct physical imbalances.
It is very important to empower adolescents in this area of body image and self-esteem. It is critical to be able to pick up on the nonverbal clues of distress and gently and nonjudgmentally open up a discussion.
If a child is being bullied, the suffering is reminiscent of Piggy in The Lord of the Flies. Fortunately, we can try to prevent island isolation by providing psychological support and surgical intervention, when appropriate and possible.
The examples in the beginning paragraphs were all successfully resolved surgically—otoplasty, breast reduction, correction of gynecomastia and rhinoplasty—all mainstream and mainstay methods of balancing the body and creating a balance between mind and body.
---
Frederick N. Lukash, MD, is a board-certified cosmetic and reconstructive plastic surgeon in practice in Manhattan and Long Island, New York. He is an assistant clinical professor of surgery at the Albert Einstein College of Medicine in New York City and an attending surgeon at the Steven and Alexandra Cohen Children's Medical Center/Long Island Jewish Hospital in New Hyde Park, NY. He is the author of The Safe and Sane Guide to Teenage Plastic Surgery. He can be reached via plasticsurgery@allied360.com.
Victor Fornari, MD, is the director of child & adolescent psychiatry at Zucker Hillside Hospital and professor of psychiatry at Hofstra North Shore Long Island Jewish School of Medicine in Manhasset, NY. He can be reached via plasticsurgery@allied360.com.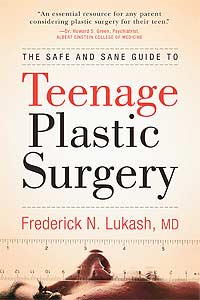 When is Teen Plastic Surgery OK?
Teen plastic surgery is often in the news, and can be a lightning rod for controversy among parents and surgeons. It gets a bad rap when the media focuses on purely cosmetic procedures performed on children and teens for purely cosmetic reasons. Teen plastic surgery does have a role in changing lives for the better and improving functional issues. The key is to know when it is OK and when it isn't likely to do anything but make underlying issues worse.
In The Safe and Sane Guide to Teenage Plastic Surgery, Frederick N. Lukash, MD, asks and answers the hard questions when it comes to teenage plastic surgery, such as will surgery increase a child's self-esteem and help them fit in better? Or is it a dangerously easy solution to deeper issues? The book includes plans, real-life stories, and pictures as well as candid advice on what can, can't, and shouldn't be done. It's a must-read for parents, patients, and plastic surgeons alike.
—The Editors