As a 10-year-old boy, Z. Paul Lorenc, MD, FACS, knew he was going to grow up to be a surgeon. "It wasn't even a question of being a physician," he says. "I always knew I would be a surgeon. It was just a question of what kind of a surgeon. I think what happens is your surroundings have an incredible effect on you, and obviously it did in my case."
Lorenc (pronounced "Lawrence") was raised in Poland, where his father was a general surgeon. When Lorenc was 12 years old, he and his family had to escape from their homeland because his parents and the Polish government didn't get along, as he puts it.
He watched his father work, "And even at a young age to understand how cool it is to do that and to save lives formed much of what attracted me to the surgeon's life," he says. Lorenc also observed the kind of respect that his father would earn from his patients.
Surrounded by those influences, Lorenc thought it was the right thing to do and set his mind to it. It was idealistic and pure. "Even in high school and college, there was no choice," he explains. "It [was] just one of those things that you know you're destined to do. There was no other choice. I didn't think about finance. I didn't think about loans." He just wanted to become a surgeon, period.
"I lead the surreal life if you think about it," he says, thinking back to his humble roots and the kind of energy and drive it took to come to America from Eastern Europe in the 1960s.
In 1967, the young Lorenc left Poland with his family and headed across the border from Yugoslavia to Austria with only two suitcases. "Picture a family of six running across the forest in '67, and then picture me now walking up Park Avenue with all the surrounding stuff—kids in schools, living the way we live, and having the practice that I have. Sometimes I have to pinch myself because it's so surreal. At the same time, I understand how privileged I am in America, in a place that allows me to live this life."
One can imagine the drive that must have been required to establish oneself in a new country as well as the effort necessary, many years later, to run a multifaceted Park Avenue practice. A lot of early mornings go into such a venture. Nevertheless, he doesn't solely give himself the credit, but instead he passes it on to Lady Liberty, saying his story is "the American dream, and I was able to achieve what I've been able to achieve only because of being in America. I don't think this story could have happened anywhere else in the world, so I'm extremely grateful."
Certified by the American Board of Plastic Surgery, a fellow of the American College of Surgeons, and clinical professor of plastic surgery at New York University School of Medicine, Lorenc has maintained a private practice in New York City since 1987.
PRACTICE AT A GLANCE
Name: Z. Paul Lorenc, MD, FACS
Location: New York City
Specialty: Aesthetic plastic surgery
Years in practice: 21
Days worked per week: 5
Days surgery performed per week: 3
Number of employees in practice: 10
Office square footage: 2,200
He is also a member of the American Society of Plastic Surgeons (ASPS) and the American Society for Aesthetic Plastic Surgery (ASAPS). In the latter organization, he serves on the Public Education Committee of the Communications Commission, as well as on the Cosmetic Medicine Commission; he is also a member of the Emerging Task Force and Innovative Procedures Committee.
There are oceans of change between the positions he holds today and his days as a boy watching his dad cut and stitch in post-World War II Poland.
THE DRIVE TO SURGERY
After his family relocated in the United States, his decision of exactly what kind of surgery he would practice came much later.
"I came to NYU in 1981 after finishing up medical school, first to do general surgery, and then I wanted to become a cardiac surgeon," Lorenc recalls. "During one of my electives toward the second year of general surgery, I took an elective of plastic surgery at NYU and absolutely fell in love with it. I remember seeing the fellows in plastic surgery walking around. They were always well dressed, whereas we were dressed in scrubs and looking like we were just trying to survive. Plastic surgery residents and fellows looked like they were actually getting a couple of hours of sleep at night.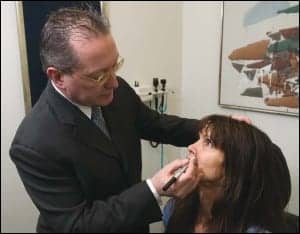 Lorrenc says for the plastic surgeon to match the desire that's in the patient's mind, communication is critical.
"It was very attractive to take that elective for a month. I fell in love with plastic surgery because of its variety and its innovative nature and its aesthetic aspect. Especially at NYU, where there is a very strong instructive program, and just the variety of it turned me on.
"I decided to switch over to plastic surgery, mostly because of its innovative nature. Even now, 20 years in my practice, every case is different and every patient's anatomy is different. Every approach to a rhinoplasty is different. It's not like doing open hearts, which is a very routine, straightforward, repetitive type of procedure."
Ninety percent of patients that Lorenc sees are female, echoing the refrain you will hear from nearly all plastic surgeons everywhere. However, "In my practice, I think it's a little bit different," he says. "I think it's closer to being 15% to 20% males, probably because of the location. Being on the Upper East Side of Manhattan, I get a fair amount of patients from Wall Street, which are still mostly men. It's a little bit skewed versus national statistics."
COMMUNICATION IS KEY
Lorenc's orientation toward male patients is reflected in the number of male-oriented procedures listed on his practice's Web site. "[I do] a lot of calf implants," he continues. "Now, that's mostly in men versus women. It's all about being rational. It's all about aesthetics, it's all about doing the right thing for the patient, and it's all about judgment. Having been in practice for 20 years, there are two things I would say: Nothing replaces experience as far as a predictably good result, and the other thing is that the surgeon's aesthetic judgment—well, judgment overall as far as the health of the patient, the type of anesthesia, the placement of the surgery, and on and on—is more important than ever."
The physician's judgment sets up everything else in a procedure, he says. "For instance, if you do a butt implant on a patient who's not a good candidate, and you put it in the wrong place and use the wrong size of the implant, that all has consequences that are negative," he notes. "The same thing with calf augmentation. I have had patients come in for a secondary revision where the implants were completely misplaced. That was a judgment call by the original surgeon because the actual execution of the procedure is not necessarily that complex, whether it's a breast augmentation, a calf augmentation, or a facelift. The judgment that goes along with doing a procedure is, I think, something that's very difficult for patients to appreciate."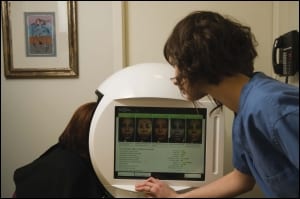 Lorenc's Manhattan-based practice is home to clinical trials for new products and technologies, in particular fillers and injectables.
The most important thing that happens during the initial consultation, Lorenc says, is the physician formulates the plan for that particular patient.
"The whole scenario is set during that initial consultation," he says. "What is the desire of each particular patient? Can the surgeon match the desire that's in the patient's mind? Communication is critical. You can do what is technically the best facelift in the world, as a surgeon, but if it doesn't meet the patient's expectations or what the patient's desires are, the patient won't ever be happy. The surgeon might pat themselves on the back and say, 'Look at this wonderful procedure that I did,' but the patient is looking in the mirror and they're unhappy.
"Those things need to be discussed, of course, in the initial consultation. It's critical, that communication back and forth between the patient and not only the surgeon but also the surgical staff and the support staff in the office. It is the task of understanding where the patient is coming from as far as their expectations. Unless you do that, you will not have a happy patient at the end."
What are the differences in approach that plastic surgeons must take when dealing with male patients versus female patients?
"Most of my male patients are either bankers, attorneys, TV personalities, or business owners," Lorenc says. "Typically, with the male patients, a lot of them are what I refer to as 'masters of the universe.' What I mean by that is that a lot of them are very driven individuals who are running big corporations, big companies. The hardest thing is that when it comes to a surgical procedure, one of the most difficult things for me to do, to achieve with a male patient who is used to monitoring several thousands of people in a corporation, is for them to postoperatively cut the control and be able to recover sort of quietly.
THE MEETING MAN
In a drive for facilitating improvements in plastic and cosmetic surgery that goes beyond his office walls, Z. Paul Lorenc, MD, FACS, truly wants the medical experts of the world to come together and share the latest advancements and research.
To prove it, he has founded and launched the International Scientific Symposium, which held its first meeting in New York City in 2009. The next one will be held in 2011. As soon as the subject of the scientific meeting came up, you can hear the excitement in Lorenc's voice. "We've had a tremendous response," he says. "And I think I'm pretty much there with the faculty being formulated. The title of the 2011 meeting is 'Aesthetic Plastic Surgery/Antiaging Medicine—the Next Generation.' "
The symposium has been tailored to meet the specific needs of the attendees. For example, knowing that many physicians cannot afford to take a full week away from their practice, Lorenc keeps the meeting at 2 1/2 days of very intense learning. The audience can contribute questions to speakers on the podium via texting or e-mail. The symposium is very interactive and innovative, Lorenc says.
During the symposium, 1/2 day is dedicated solely to injectables, including televised demonstrations of invited experts showing attendees how to work with fillers or neurotoxins.
"The attendees like to participate and ask questions while the injection is being done," Lorenc says. "They obtain much more information versus just sitting there and observing. Having done an awful lot of meetings and live surgeries and live injections, this is the best way to get that information out to the plastic surgeons and dermatologists."
The meeting is multidisciplinary as well as international—the 2009 meeting had 22 countries represented.
—SR
"I always tell this story. I have a patient who runs a huge company. I did his facelift in the hospital a few years ago. About an hour-and-a-half after he came out from the recovery room, he is on the phone and I walk into the room, in between cases to check on him. His nurse is standing next to him, his wife is standing next to him on the other side, and he's screaming, literally screaming into the phone because he's still working, still running his company. I had to disconnect his phone because obviously that can lead to an increase in blood pressure, bleeding, postoperative hematoma, and so on."
With some male patients, Lorenc notes how difficult it can be to give up that control postoperatively and let others take care of them and allow themselves to settle back into an uneventful postoperative course. "When I have a sense that that's the scenario, I will sit down with him preoperatively and [say] that unless they are willing to do that, I will not be doing surgery on you," he states. "Of course, most of them get it because it's obviously to their benefit."
This behavior is not limited to men, as Lorenc reports that a segment of his female patient population behaves in the same manner. "If I pick up on that, I will be very blunt with patients," he says. "My tendency in my routine is to be very open with patients, very straightforward with patients, both preop and postop. I think that's the best policy to have."
THE SCIENCE OF FILLERS
Lorenc is known around the world for his expertise with injectables and neurotoxins because of his participating in clinical trials for the FDA. For example, Lorenc was the sole practitioner involved in clinical research for Medicis Aesthetics Inc's Restylane filler, and he was selected to lead the team of experts who presented the resulting data to the FDA Advisory Panel in 2003.
"I write and lecture a lot on the subject, especially on the science of fillers and the physical chemical properties of different fillers," he says. "I have an awful lot of patients that, believe it or not, fly in from out of the country to have an injection done in my office. It sounds difficult to believe, but that's what happens. If a patient perceives you as the best in your particular field, they will seek you out. I think the Internet has played a big, big part in that and is a source of dissemination of information."
Is it difficult to find patients for the clinical trials? No, Lorenc says. "These are clinical trials that are overseen by institutional review boards, by the FDA, by the sponsor of the clinical trial. These are very well-controlled, monitored, safety-first types of clinical trials. So, an interesting thing is, in a practice such as mine, and we are a very busy practice, we have patients who actually volunteer.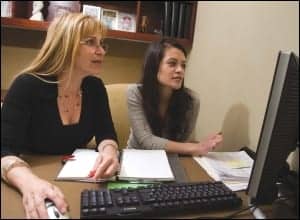 Located on the Upper East Side of Manhattan, Lorenc's practice gets a fair amount of patients from Wall Street.
"I'm about to start another clinical trial on a very cool filler [manufactured by Merz Pharmaceuticals Inc], and we already have patients—I don't even have to put an ad in the newspaper. Patients just sign up for the clinical trial. I think it goes back to judgment and trust because they know that in a practice such as mine, my primary focus is on patients. This is not a clinic set up to only do clinical trials. I think that patients are much more comfortable when they come to a practice such as mine knowing that, yes, they can be involved in a clinical trial versus [going] to a place that does nothing but clinical trials."
Where did Lorenc's interest in injectables originate? "Facial surgery has been the focus of my professional career," he explains. "I'm always looking at a less invasive way to achieve the same effect or possibly even a better effect. Through minimized incisions, you basically can achieve the same effect.
"The whole concept is to be able to rejuvenate, whether it's in the face or the body, in a less invasive way. There's obviously less downtime for the patient, possibly even less extensive anesthesia that they have to undergo. Whether it's a facelift, for instance, or an injection of volume into the face using Sculptra and then on top of that using lasers for skin tightening and resurfacing, I believe the trend is less surgical versus surgical. Even according to our own statistics, the ratio right now is four-to-one minimally invasive versus surgical. I think that trend will continue for obvious reasons. It's mostly because of patients' desires. I think it's patient driven to a great degree."
BALANCING THE PRIVILEGED LIFE
Between his private practice and participation in clinical trials, Lorenc has created a biannual scientific meeting, Aesthetic Plastic Surgery/Antiaging Medicine—the Next Generation, which is to be held in June 2011 in New York City (see "The Meeting Man" at left). If that weren't enough, Lorenc still finds time for his favorite hobbies, which include sailing, motorcycle riding, collecting art, and helping his children with their homework.

On The Web!
See also "Function and Form" by Rich Smith in the September 2007 issue of PSP.
"I live nine blocks away from my office and two blocks away from the hospital. What happens, even if I get home at 8:30, is I don't have a commute. I can be home in 5, 10 minutes, and I still have time to spend with my children," he explains.
Nonetheless, he is concerned about his children. "They live such a privileged life. It's just the way that it turned out. I struggle with that because it's this concept of giving them everything, yet making them understand that they have to have the hunger and the desire to achieve. That's an everyday struggle that my wife and I have. We have to balance it."
Lorenc's appreciation of desire is what took him out of the forests of Poland and into his very full life in New York City. "My passion for what I do is never-ending, and I think that's one of the reasons that I find new facets of being a plastic surgeon. It keeps me going…keeps me rocking."
---
Sarah Russel is a contributing writer for PSP. She can be reached at plasticsurgery@allied360.com.