Payman J. Danielpour, MD, and John Layke, MD, literally loaded up the truck and moved to Beverly Hills
There are many different philosophies for success and how to achieve it. Though they've been working at their Beverly Hills, Calif, practice for only a matter of weeks, newly partnered plastic surgeons Payman J. Danielpour, MD, and John Layke, MD, are hoping simplicity is the best formula for achieving their dreams.
Layke grew up in Milwaukee with a stay-at-home mom, a school administrator dad, and a house full of sisters. No one in his family is a physician, yet he always knew he wanted to be one. Taking his dream a step further, Layke adds, "I always dreamed about starting a practice with a buddy."
Danielpour grew up in the 90210 zip code of Beverly Hills, a world away from the Midwest-raised Layke. His two uncles and maternal grandfather are physicians. After a brief stint as an actor, one of his goals in medical school was to one day return to his roots and practice medicine in Beverly Hills. Layke went to medical school at Nova Southeastern University in Fort Lauderdale, Fla.
Danielpour and Layke met in 2005 while they were interviewing for plastic surgery residency during their fourth year of general surgery residency. They also knew some of the same people—for example, Danielpour was friendly with Layke's roommate in Chicago, and they all got together sometimes on weekends.
This bond was strengthened in 2007, when they were matched with the prestigious Long Island Plastic Surgical Group (LIPSG) plastic surgery residency program in Garden City, NY. They became roommates, junior and then senior residents together, and, more recently, partners.
On paper, Danielpour and Layke seem an unlikely duo until you meet them. They refer to each other as brothers and actually finish each others sentences.
Most residents "operate independently with one attending. It is unusual for two residents to work together, but they scrubbed in on each other's cases, and their planning was often done together," says Roger L. Simpson, MD, MBA, FACS, director of the LIPSG residency program for more than 30 years. "When we would discuss some of their cases, both would chime in with opinions. They seemed to complement each other, and they got along very well."
Some of their colleagues recoiled at the idea of setting up a practice in a high-prestige, enormously expensive market in the current climate. And although Danielpour's future was mapped out, Layke's future wasn't as certain when his plastic surgery training ended in June 2009.
Layke toyed with the idea of going back to Chicago, where he'd done his general surgery residency; perhaps going into private practice with one of his mentors, Loren Schechter, MD. Danielpour, however, had a different plan in mind for his friend.
"I didn't know anything about him," Danielpour says. "I just knew one thing: that he was an honest guy. I knew that no matter what happened I could work with him."
Danielpour soon saw what a skilled surgeon and compassionate physician Layke was, and knew they would be good as partners in private practice together.
The lure of starting up a practice with a friend, the fun he knew they'd have in sunny California, and, as Layke says, "There's something about a palm tree that makes everything OK," solidified his decision. Layke believed that it didn't matter where you practice, just go somewhere you want to live—and Beverly Hills worked for him.
In July 2009, they incorporated their new business and named it after LIPSG: Beverly Hills Plastic Surgery Group (BHPSG).
After securing the bhpsg.com Internet domain name, Layke created a Web site and they educated themselves on various business issues, such as insurance. They sold off what they didn't need and packed their worldly possessions—in other words, whatever fit into Danielpour's Jeep—for the more than 3,000-mile trek across the United States from New York to Los Angeles.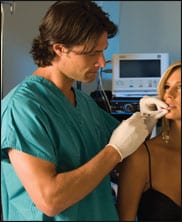 Layke notes his strong comraderie with Danielpour has become a talking point into marketing the new practice.
HIGH HOPES
Danielpour and Layke have started out using office space given to them by Danielpour's uncle, a layout that includes an office-based operating room (OR). They both become enthusiastic when talking about getting their own prestigious Beverly Hills office, though.
According to Schechter, "These are really uncertain economic times, so I would tell anyone: Don't get too far ahead of yourself, don't dig yourself a hole financially whether in terms of your office or your overhead that's going to put you back. Start slowly. You may not know exactly what part of town you want to be in or what type of staffing you want to have."
Simpson observes that Beverly Hills is ideal for these two, also noting that Danielpour's Southern California roots will help them build a stable and comfortable foundation.
"These guys are well-trained," Simpson says. "One shouldn't assume that just because they're going to be in Beverly Hills that they'll want to do only cosmetic surgery. That remains to be seen. Our purpose as teachers in the residency program is to train them in the formal aspects of plastic surgery and allow them to decide what is of interest to them until they find their niche. A lot of them find it in reconstructive, and some start in reconstructive and end in cosmetic—they are not mutually exclusive."
Both Layke and Danielpour are positive and forward-thinking about their practice. Layke talks about being "true to the art and science of plastic surgery. We're not going to throw away our training to just do lipo. We have a lot of training. Our goal is to do everything. We don't want to do pure cosmetic. We both enjoy breast reconstructive cases, and Pay enjoys hand cases. We'd love to pick up the reconstructive cases in Beverly Hills that the more established doctors don't want and eventually be able to do pro bono work."
As Layke explains, "We were trained by a dozen doctors who trained all over the country. Now we can take what they do perfectly and tweak them to make them ours. Maybe I like the way this person places a stitch or that person's postop care. It's all part of our training and what we take with us now into private practice."
"They are very smart and very well-trained," Simpson says of his two former chief residents. "They have the full gamut of plastic surgery—they are able to do anything reconstructive or cosmetic. They both had a great affinity for that. Opening a practice and welcoming anything that will come their way, I think that's a very smart; it's a great way to establish yourself.
"In Beverly Hills, which is much steeped in cosmetic plastic surgeons, providing excellent-quality reconstruction, while still developing a cosmetic practice, is very smart way to open an office. They are starting from scratch, they're working on getting referrals, and they're tapping every source. And hand surgery is something that not many plastic surgeons choose to do anymore, so it's wonderful that they have an interest," he adds.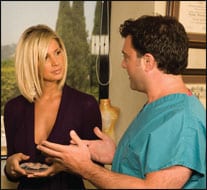 The risks of setting up a new aesthetic practice in the high-prestige, Beverly Hills area were not as great as one might think.
Both men agree that LIPSG physicians have been supportive and that some wanted the two to stay on at the Long Island practice.
Given the lure of California and the challenges of working in Beverly Hills (one of the most densely saturated plastic surgery meccas in the country), their futures may seem daunting at first.
"We're basically unemployed since our residency ended in June," Danielpour says. "Even though it wasn't a big paycheck, while in residency we did get paid. So, naturally you worry about money; everyone in the world worries about money. And now you worry about the economy." It is going to be a struggle, but he's confident they have the drive to succeed.
"They are in a very competitive area, and it is going to take them a certain number of years to grow the practice, but I think that their personalities and their skills, they are all very real," Simpson notes.
The successful formula involves liking each other and getting along, Layke says. "Pay and I are very similar in certain ways and completely opposite in other ways. That really helps out because he'll see things that I don't, and technically he is very good. And I will see things he doesn't, and I will add suggestions. We'll never argue."
NEVER?
Danielpour agrees, "We'll never argue. He'll say I think it looks better this way, and I say you're very right; it's perfect. We are so similar in so many ways, but we are also so incredibly opposite; it's just perfect."
"In the operating room, I had the pleasure of operating with both of them together and separately," Simpson says, recounting how exceptionally efficient they were working together in the OR. "They complemented each other's style. They had a single purpose in mind, and they were efficient."
MARKETING
"Two plastic surgeons for the price of one" is one of the pair's marketing ideas. Another is their newly coined SIMM procedure (see sidebar).
"It's something we've talked about: Two people working on each patient as often as possible, literally," Danielpour says. "It would be two different artistries, two different sets of hands, providing different, faster, more efficient, and better care for the patient. We don't think anyone is really doing that to this level."
While Danielpour is glad to be back home in Los Angeles, Layke is glad to not be a transient anymore. They laugh as they recount how many times they've heard friends and relatives over the past 7 years ask, "When are you going to be a doctor, already?"
Danielpour says that the biggest challenges will be in the first year and to not become discouraged. Layke says he is relieved to be finally setting up shop in the place he wants to live and eventually raise a family.
---
Amy Di Leo is a contributing writer for PSP. She can be reached at [email protected].
SINGLE-INCISION MOMMY MAKEOVER
Just 2 months into practice, and they're already trying something new and coining their new procedure. They christened the combination abdominoplasty/breast augmentation "the SIMM procedure" (single incision mommy makeover). Based on the previously described trans-abdominal breast augmentation (TABA), silicone implants are placed after the abdominoplasty flap is undermined, obviating the need for scars on the breast.
In the appropriately selected patient, the results are very natural-appearing. According to Layke, one patient boasted that she had sunbathed topless in the South of France and "no one could tell" that she had her breasts done."
Danielpour says that none of the physicians they trained with are using this approach. When he and Layke were in the Long Island Plastic Surgery Group's (LIPSG) residents clinic a few patients wanted a "mommy makeover," so they decided to offer it.
"It's a great alternative for the appropriate patient," Danielpour says. "It can't be somebody who wants a mastopexy; it's just for a breast aug with a tummy tuck. The patients have to understand that it's a subglandular approach. We haven't put any of these silicone implants under the muscle yet, even though it can be done. The tummy tuck is good and we do a little flank lipo, and sometimes liposuction of the anterior abdominal flap as well."
Danielpour and Layke agree that the results look great and their patients have been quite satisfied. Some have even said they would come from as far away as New York for their postoperative visits.
Though the physician duo believes this procedure will be popular in their new home in Beverly Hills, Calif, Danielpour and Layke have found caring for breast cancer patients during their plastic surgery residency quite satisfying.
"Practicing the art and caring for a woman with breast cancer is higher than anything I've ever done before in plastic surgery," Danielpour says. "We have done a couple of things together, where I have put in the expander and John has placed the implant and we have done the nipple areolar together. The patient comes back and says thank you because you've made her feel like a woman again and you have tears in your eyes. This is what you want. Nothing can compare to being able to take care of someone at that level."
During their plastic surgery residency, both Danielpour and Layke concentrated on honing their reconstructive skills, as in breast reconstruction. They have authored several papers that have been distributed via international conferences.
Danielpour presented his paper, "Single-Stage Implant Breast Reconstruction Using Inferior De-epithelialized Dermal Flaps," at the Senior Residents Conference in Austin, Tex, in January 2009. In March, Layke presented his paper titled, "Component Separation of the Back: A Simple Modification for the Closure of Complex Spinal Wounds," at a conference in Israel. And a paper by both physicians titled, "Use of Pain Pump in Suppurative Flexor Tenosynovitis; Maintaining Closed Antibiotic Irrigation While Minimizing Opioid Requirements," was accepted into the prestigious Annals of Plastic Surgery in May.
This fall, Danielpour will be presenting his paper titled, "Lateral Approach to the Glomus Tumor," at the American Society of Hand Surgery in San Francisco.
Hand surgery is something Danielpour says he understands and enjoys because it's delicate. That's the way Layke describes rhinoplasty. They both enjoy working on facial fractures and clefts, and hope to be able to travel and do pro bono work in the near future.
—AD