Most physicians are not economic counselors or even MBAs, but they will agree that it is easy to prosper during good economic times. However, are the majority of cosmetic surgeons and cosmetic dermatologists prepared for the inevitable economic downturns and recessions?
No, according to Steven Bloch, MD, a board-certified surgeon based in Highland Park, Ill. He has seen both good and bad times over his 30 years of practice in the competitive Chicago market.
Both of Bloch's Chicagoland-based businesses—his Body by Bloch surgical practice and Skin Deep Medical Spa—have yet to feel the effect of the current economic instability, but when an economic downturn does come, Bloch says his business and marketing strategies have prepared his practice for the worst of times.
STRATEGY #1: FOLLOW THE MONEY, NOT OTHER SURGEONS
In 1978, when Bloch started a private practice in the Chicago area, most of the plastic surgeons in town had centered their offices in downtown Chicago.
"There were very few well-qualified plastic surgeons on the North Shore, which is the affluent area along the lake," Bloch recalls. "So, it occurred to me that if you could open up a quality practice, then you could stop the people from driving downtown."
Soon after, Bloch established his first office in the wealthy Highland Park section of Chicago. Once Highland Park residents became aware of Bloch's work and convenient location, his practice began to flourish.
Bloch followed that same follow-the-money strategy when he opened Skin Deep Medical Spa in the Glenview section, a new real estate development that was formerly an airbase and has grown into a booming, upscale residential and commercial area.
While situating your practice in a convenient area for your clients is one way to build a medical spa practice, Bloch says that location and reputation alone is not enough to justify the financial risks.
STRATEGY #2: NO FREESTANDING MEDICAL SPAS
When opening a medical spa, many physicians choose to make their adjacent surgical practice as a complementary service. Some practices, though, simply do not have the office space needed to expand. Instead, they choose to open their spa in a stand-alone location. This is a mistake, Bloch says.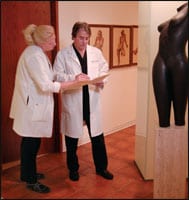 Bloch considers his staff a "family" and would rather provide them with job security than lay off people in order to make up for lost profits.
"I don't believe that freestanding medical spas do that well unless you spend a fortune on marketing in order to make them succeed," he says. "Then it becomes a wash. If you have a medical spa, you need something to 'feed it.' "
Rather than expand or move his practice, Bloch chose to open Skin Deep Medical Spa alongside a high-end hair boutique owned by his friend, Pascal Aveda.
Consequently, Bloch explains, when Aveda's Lifestyle Salon clientele come in for hair extensions or hair coloring, they can later receive mesotherapy, laser hair removal, or other aesthetic skin treatments on the same afternoon and within the same environment.
The salon and the spa are separate entities, but just barely; there isn't even a wall between them. The result is a stream of potential client referrals.
"Every new hair client is literally brought over to the medical spa and offered some kind of complementary treatment," Bloch explains. "We also treat the stylists, because I want the stylist to know what types of treatments are available in our medical spa."
When salon/medical spa clients want more than just skin treatments, Bloch's Highland Park surgical practice gets a referral.
STRATEGY #3: DO YOUR OWN INJECTIONS
PRACTICE PROFILE
---
Name: Steven Bloch, MD Location: Chicago Specialty: Facial, rhinoplasty, and body surgery Years in practice: 29 Number of patients per office day: 40 Number of new patients per year: 800 Days worked per week: 5 Days surgery performed per week: 5 Number of employees in practice: 20 Office square footage: 12,000
Bloch cites an important reason for his practice's steady growth through the years: He, not an assistant, performs injections on patients. Though many aesthetic surgeons hand over those duties to an assistant, Bloch claims that doing so misses a huge opportunity for physicians to establish solid relationships with patients.
"I do my injections because it gives me an opportunity to know my patients over a long period of time. It develops a trust and a confidence that they have with me, so if I tell them that they need a FotoFacial treatment or something else, they believe me—and they should."
Doing his own injections also gives Bloch the time to evaluate patients for other skin treatments at his medial spa, as well as suggest appropriate surgeries.
"Anyone who's having injections, at some point, is going to be having some type of surgery as well," he says. "So, I look at my skin care clinic and my injectable patients as my most valuable asset.
"We're dealing with an affluent clientele, and for the amount of money that one is charging for [injections], I don't think it's an unreasonable thing to expect that the doctor is going to be injecting," he adds.
Special attention and care by a physician is paramount for word-of-mouth advertising, and it's especially helpful when the economy turns.
STRATEGY #4: WHEN THE RECESSION COMES, FORGET ADVERTISING
Bloch spends thousands of dollars on marketing every year. However, when the economic downturn comes and revenues start to fall, his advertising budget gets cut first.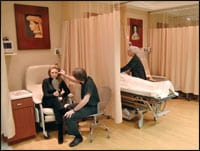 Special attention and care by a physician is paramount for word-of-mouth advertising, and it's especially helpful when the economy turns.
"If you've done an effective marketing campaign up until the economy has taken a hit, you can take the same amount of dollars and stretch it further," he says. "You don't have to have the biggest ad in the magazine. You don't have to have it every single month or every single day or every week. I think that you can easily cut back on that, and the public would not even notice that change. In their mind, you're still out there."
Recently, Bloch removed all of his practice's listings in one of the major telephone directory companies, saving himself $180,000 per year and claiming no negative effects on patient volume.
Some may believe that increasing marketing would be the best way to stave off losing clients during a slump, but Bloch maintains that when the recession mentality hits, no amount of advertising money will lure enough new patients to justify the cost.
"When the economy starts to turn, you could advertise from today until tomorrow, and it's a fast waste of money," he explains. "It's a psychology, and I don't think that you can go against the psychology. People have to be receptive to plastic surgery. They have to be in a good mood in order to be operated on."
Instead, Bloch believes practices will be better off saving that money and spending more time with internal marketing in order to hold on to existing clients.
Web-based marketing is a far less expensive proposition than running print ad rates in the Chicago newspapers, Bloch says. Using e-media, such as a Web site and e-mail, to announce new products and services has been very effective for Bloch's practice.
As for staff cuts, Bloch says that he is fortunate that he has not cut staff during the past 30 years. He considers his staff a "family" and would rather provide them with job security than lay off people in order to make up for lost profits.
STRATEGY #5: PARTICIPATE IN GOOD PUBLICITY ONLY
Not all publicity is good publicity, according to Bloch. That's not to say that he doesn't do interviews or participate in television shows about aesthetic surgery.
Over the years, Bloch has appeared on The Oprah Winfrey Show, The Discovery Channel, CBS, NBC, WGN in Chicago, and Fox News; and has been featured in Vogue and Allure magazines.
However, when producers from the ABC network magazine show, 20/20, called, Bloch turned them down. It wasn't because it was 20/20, but because the show was pushing a negative spin on young teenagers who get breast augmentation. Although he was invited to be one of "the good guy" surgeons, Bloch still declined.
Why turn down a chance to appear on a show seen worldwide by millions of people?
"I think you get painted with the same brush," he says. "Obviously, whatever they were going to do on this show was not going to be a favorable show on plastic surgery. So, whether you come across as the good guy or the bad guy, I'm not sure that the public will remember 3 months from now whether you were the good guy or the bad guy. I turned them down."
In addition, Bloch selectively turns down local media for interviews about new procedures and products. These new innovations and products have value, he says, but overall he would rather conserve his media face time for subjects over which he is passionate.
During a recession, Bloch's publicity advice may be even more significant when surgeons seek the most positive exposure for the least amount of time and money.
"Ultimately, you only have your name and your reputation, and I think one has to defend [them] very aggressively," he notes.
STRATEGY #6: BELIEVE IN YOUR MEDICAL SPA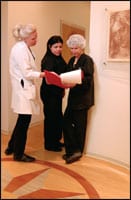 Bloch's Highland Park, Ill-based practice has thrived for 30 years due to smart business practices and friendly, "homey" staff-patient relationships.
"If you're going to open up a medical spa, you'd better be prepared to be intimately involved with it," Bloch says. "You'd better be able to truly understand what is going on there and what the procedures are, and be willing to support it."
The best way to support your spa is to make carefully considered skincare treatment recommendations, he adds. To that end, Bloch remarks that he always tests new treatments on himself prior to placing them on the menu at his spa.
Physicians must know the treatments backward and forward; must have read the literature, from product packaging to the latest published research and studies; and must "know" what the patient feels like when approaching any aesthetic treatment. "I want to know what the healing is going to be, and I want to know what it's going to do," he says.
Bloch's philosophy of truly believing in the value of his spa treatments makes the medical spa an integral part of his whole practice and not just an ancillary revenue stream.
Spa treatments are often the finishing touch on his surgical procedures and should be a part of a client's regular aesthetic maintenance, he says.
STRATEGY #7: BUILD YOUR PRACTICE CAUTIOUSLY
Some surgeons believe that if they build a surgery center, new patients will simply … show up. However, Bloch was in private practice for 20 years before he built his own surgery center. "A lot of young plastic surgeons immediately start out and build themselves an operating room," he warns, "but it might not always be a smart move."
Instead, Bloch believes that his practice's steady growth has been well served by the local and regional medical community, and by letting hospital nurses and other physicians get to know him and his work. When Bloch finally did open up his own surgery center, his patient volume truly justified it.
"To do what I wanted to do and to do it effectively, I needed to have the surgery center because of scheduling," he says. "But by that time, I already had a well-established practice. It isn't that I built it and hoped that they would come. It was quite the opposite."
THIS TOO SHALL PASS
Regardless of what is happening with the economy, Bloch remains an optimist. "When there is a lull, people get tired after a while—of saving and hoarding their money and not spending. And meanwhile, the clock is still ticking. At a certain point, [the lull] runs its course."
As a case in point, Bloch recalls that after the 9-11 attacks, the month of October 2001 was one of the slowest months he had ever had in practice. However, by November business started improving and patients were again looking to fulfill their aesthetic needs.
"The attitude that people adopted was, 'Hey, I could be killed tomorrow, so what is the point of waiting? I might as well just live now and have it done now.' Business came back—with a vengeance."
---
Tor Valenza is a staff writer for PSP. He can be reached at [email protected]