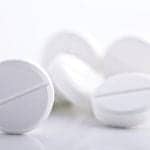 Facial plastic surgery patients can continue taking antiplatelet and/or anticoagulation therapy during the perioperative period with minimal serious complications, new research suggests.
That said, those patients who took warfarin were almost four times as likely to have a bleeding complication and more than seven times as likely to have a postoperative infection. (The increased postoperative infection rate is consistent with the elevated bleeding rate because hematoma and seromas often become secondarily infected.)
The new study appears online in the January 2015 issue of JAMA Facial Plastic Surgery.
Researchers from the University of Michigan Health System in Ann Arbor, Mich, set out to determine whether the use of antiplatelet and anticoagulant therapy increases the risk of perioperative bleeding and other complications. Many surgeons favor discontinuing these therapies, particularly when the procedure involves highly vascularized areas, such as the face and nose.
The study looked at 9,204 surgical procedures from January 1, 2007, through December 31, 2012, at an academic medical center and its affiliated surgical sites. Patients who continued receiving antiplatelet and/or anticoagulation (aspirin, clopidogrel bisulphate, and warfarin sodium) therapy during the perioperative period were compared with a matched case-control group who did not receive antiplatelet and/or anticoagulation therapy during this period.
Aspirin Therapy Deemed Safe
Patients who received aspirin therapy at the time of surgery were not more likely to have a complication compared with control patients, the study showed. Patients who received warfarin had increased perioperative bleeding and postoperative infections compared with control patients, but there was no increased risk of such serious complications as flap necrosis, dehiscence, or return to the operating room with warfarin use.
"The decision as to whether to discontinue antiplatelet or anticoagulant medications involves an assessment of the qualitative and quantitative risk involved with continuation versus discontinuation of these medications," the researchers wrote. "Patients who are taking multiple agents should be weaned to a single agent, if possible, given the likely increased risk of complications in this population," the study authors conclude.