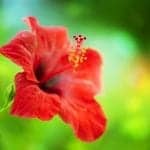 Hibiscus Leaf, often used in teas, may help kill melanoma cells, suggests a study in the Journal of Food Science.
Hibiscus sabdariffa leaf polyphenolic extract (HLP) may induce human melanoma cell death and may serve as a chemotherapeutic agent to eliminate cancer cells without significant harmful effects to normal cells, report researchers led by Chun-Tang Chiu of the Institute of Biochemistry and Biotechnology at Chung Shan Medical University in Taichung, Taiwan. More study is needed to understand exactly how this extract may kill cancer cells and to draw any firm conclusions about its potential role in treating melanoma.
Until then, however, cancer patients may benefit from consuming HLP as a complementary medicine to their treatments, the study authors conclude.