A newly developed skin cancer surgery yields good cosmetic results in one procedure. Instead of creating a cheek flap after MOHS surgery, the new reconstruction technique involves removing some cartilage from behind the ear and skin from the shoulder to create a new nostril where the tumor is growing in patients with skin cancer on their nose.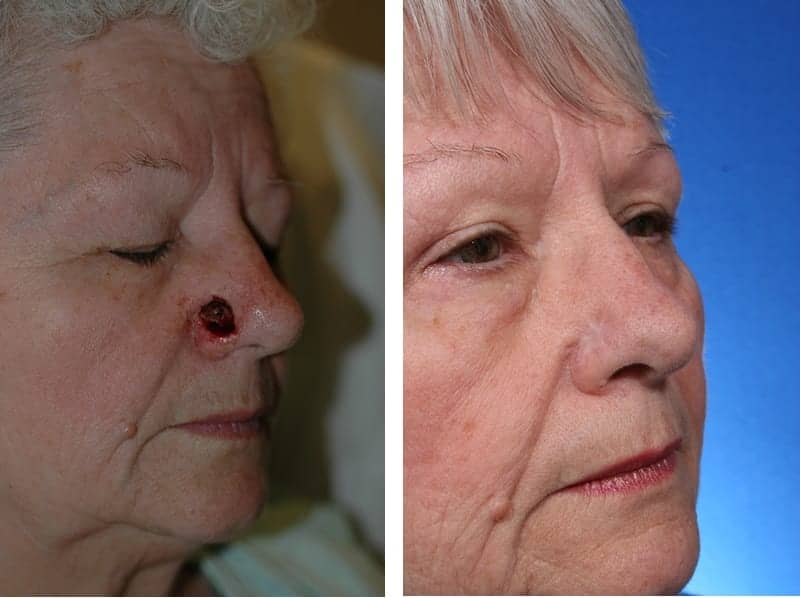 Researchers report the results seen with 20 patients who underwent this one-step surgery in JAMA Facial Plastic Surgery.
"The nose is a fairly complicated area to reconstruct," says study author Jeffrey Moyer, MD, an associate professor of otolaryngology at the University of Michigan Medical School in Ann Arbor.
The new procedure skips the cheek flap – and the need for a second procedure – but still appears to allow for the cartilage to take hold and keep its place without the nostril either collapsing or pulling up, Moyer and colleagues wrote.
On a 1 to 5 scale, the average cosmetic result was judged a 2.3, which is considered to be good to very good, with minimal scarring that was not distracting to the patient's appearance, the study showed.
"This could save people a lot of effort and time. The last thing people want to do is return to the operating room," Moyer says. "It allows us to spare people multiple surgeries or a scar that dominates the cheek."
Yes, the cheek flap technique has a somewhat better cosmetic result than this new procedure, but since many skin cancer patients are older, they often have other medical conditions that make that second procedure unadvisable.
Photo caption: Doctors removed a skin cancer from Carolyn Bohlmann's nostril (left). Bohlmann underwent a new reconstruction procedure that required only one operation. The cosmetic result was judged to be good to very good (right).