New APP City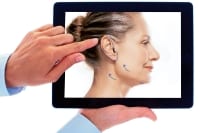 Want to enhance your new patient consultation experience and increase your conversion rate?
There's an app for that!
REVENEZ 1 recently debuted at the American Society of Aesthetic Plastic Surgeons' annual meeting in Vancouver, BC. Created by Candace Crowe Design, the new subscription-only Web-based app is customized to include your before-and-after gallery, staff bios, a sketch tool, positive reviews, and information about popular cosmetic procedures. You can even feature your own videos on it. Subscription costs range from $197/month for a silver membership to $497/month for a platinum membership. For more information, visit www.REVENEZ1.com
---
Chin Up
71%
The percentage increase seen in "chinplants" from 2010 to 2011, according to the American Society of Plastic Surgeons. There were 21,000 chin augmentation procedures performed in 2011.
---
Tune Up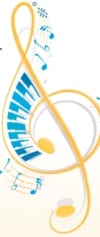 A little plastic surgery music … please.
Whether Bach, the Beatles, Adele, or even something edgier, music can lower anxiety and respiratory rate among patients undergoing minor surgery with a local anesthetic.
Research out of the plastic and reconstructive surgery department at the John Radcliffe Hospital in Oxford, UK, shows that piping some tunes into the surgical suite can decrease anxiety and lower respiration rates among these patients.
Of 96 elective and emergency surgical patients, half of the patients had surgery with music playing. The other 50% of patients had their surgeries performed without any background tunes.
Surgeons measured the respiratory rates, and asked them to rate their feelings of worry both before and after their procedures. The music group reported lower levels of anxiety and had a lower breathing rate, the study showed.
"Undergoing surgery can be a stressful experience for patients, and finding ways of making them more comfortable should be our goal as clinicians," says study author Hazim Sadideen, a plastic surgical registrar.
That's not the only reason to play music. "Calmer patients may cope better with pain and recover quicker."
---
$283,000
This is the average salary for a dermatologist in 2012, according to Medscape/WebMD's annual Physician Compensation Survey of more than 24,000 doctors from 25 medical specialties. Plastic surgeons took home an average $270,000 in 2012. Both specialists were among the top 10 biggest earners in 2012.
---