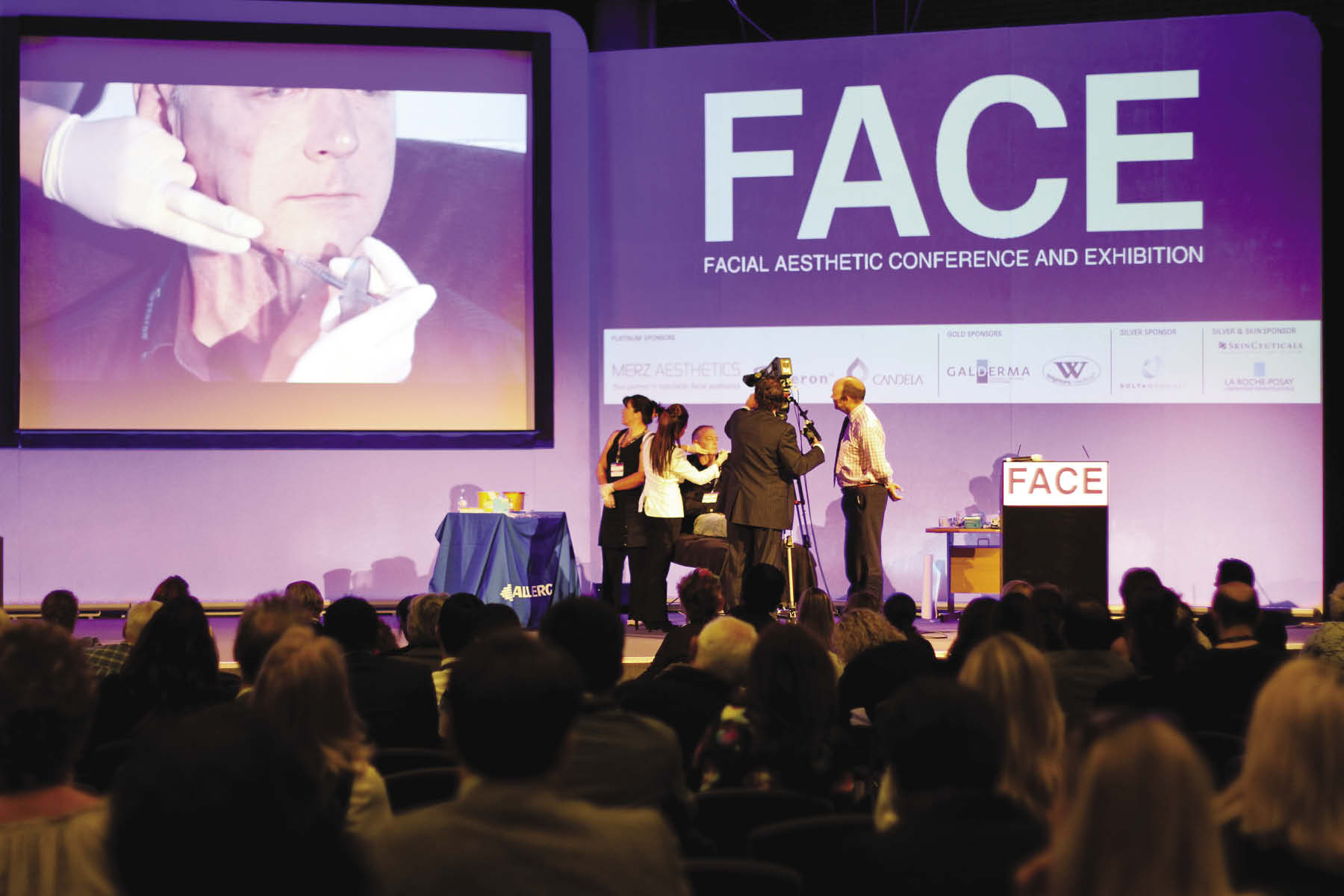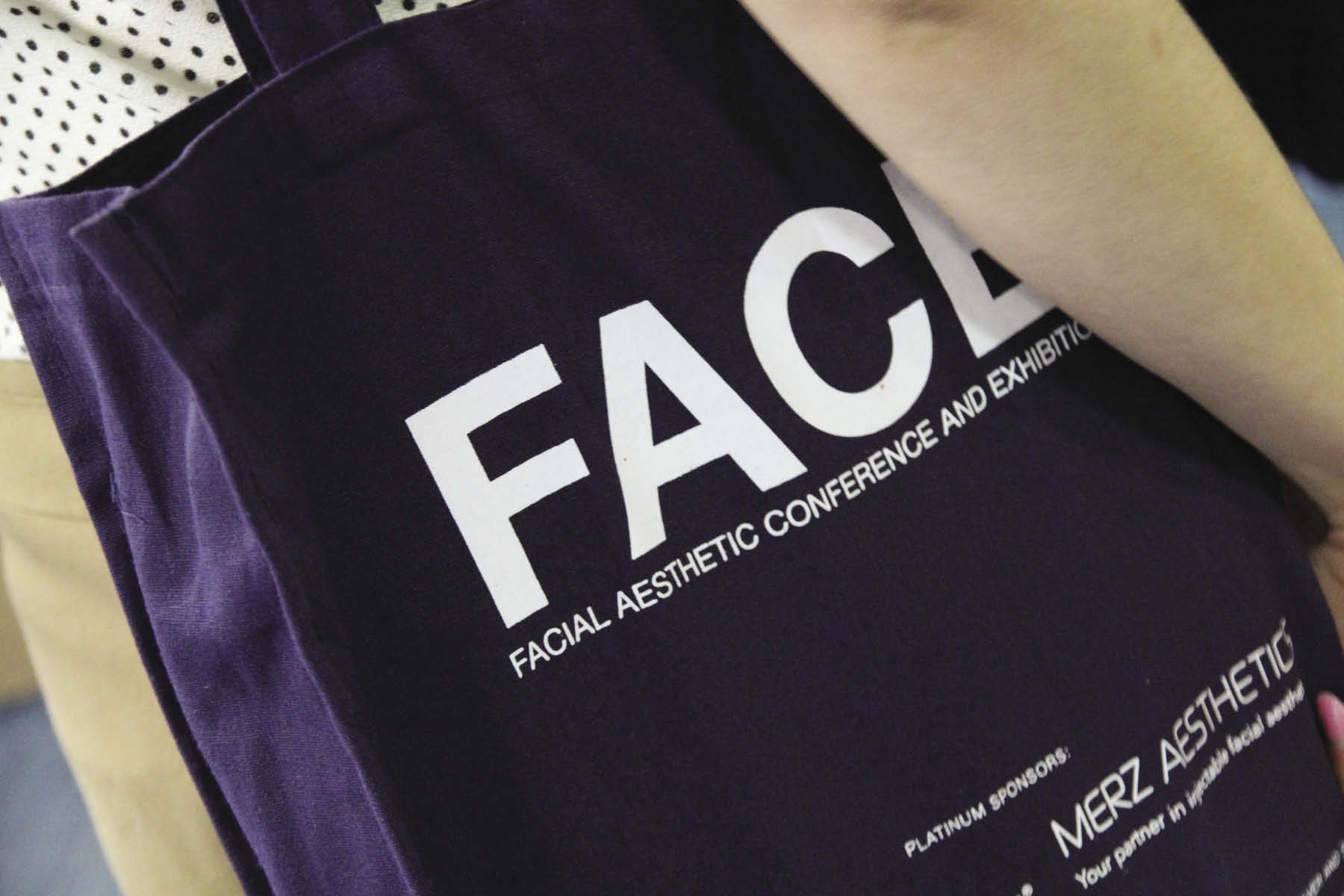 The FACE franchise has been so successful that another meeting called BODY, which is a smaller satellite exhibition, has been added and is slated for November 2-3, 2013, at the Royal Society of Medicine.
By Wendy Lewis
FACE, the acronym for Facial Aesthetics Conference and Exhibition, is arguably the most important conference of its kind in the UK. What makes this conference so special is its location—London—and the people involved. FACE is truly a family affair, founded and managed by the Eghiayans, who are veterans of medical aesthetics for more than 3 decades, with a team of industry insiders. The Summer Ball has become one of the not-to-be-missed events of the season, second only to Wimbledon and Ascot. This year, FACE was held at The Brewery, occupying the buildings of Whitbread's 18th-century beer-making empire in the City of London. In previous years, it has been held at other London landmarks such as Madame Tussauds Wax Museum, the London Natural History Museum, and the London Zoo.
During the last decade, more than 3,000 delegates have attended to listen and learn from some of the world's leading experts in facial rejuvenation. By popular demand for 2013, FACE moved to larger quarters at the QEII Conference Centre, located opposite the Houses of Parliament in Westminster, London. The 3-day conference took place from June 21-23, attracting more than 1,000 delegates from 30 countries. The FACE franchise has been so successful that another meeting called BODY, which is a smaller satellite exhibition, has been added and is slated for November 2-3, 2013, at the Royal Society of Medicine.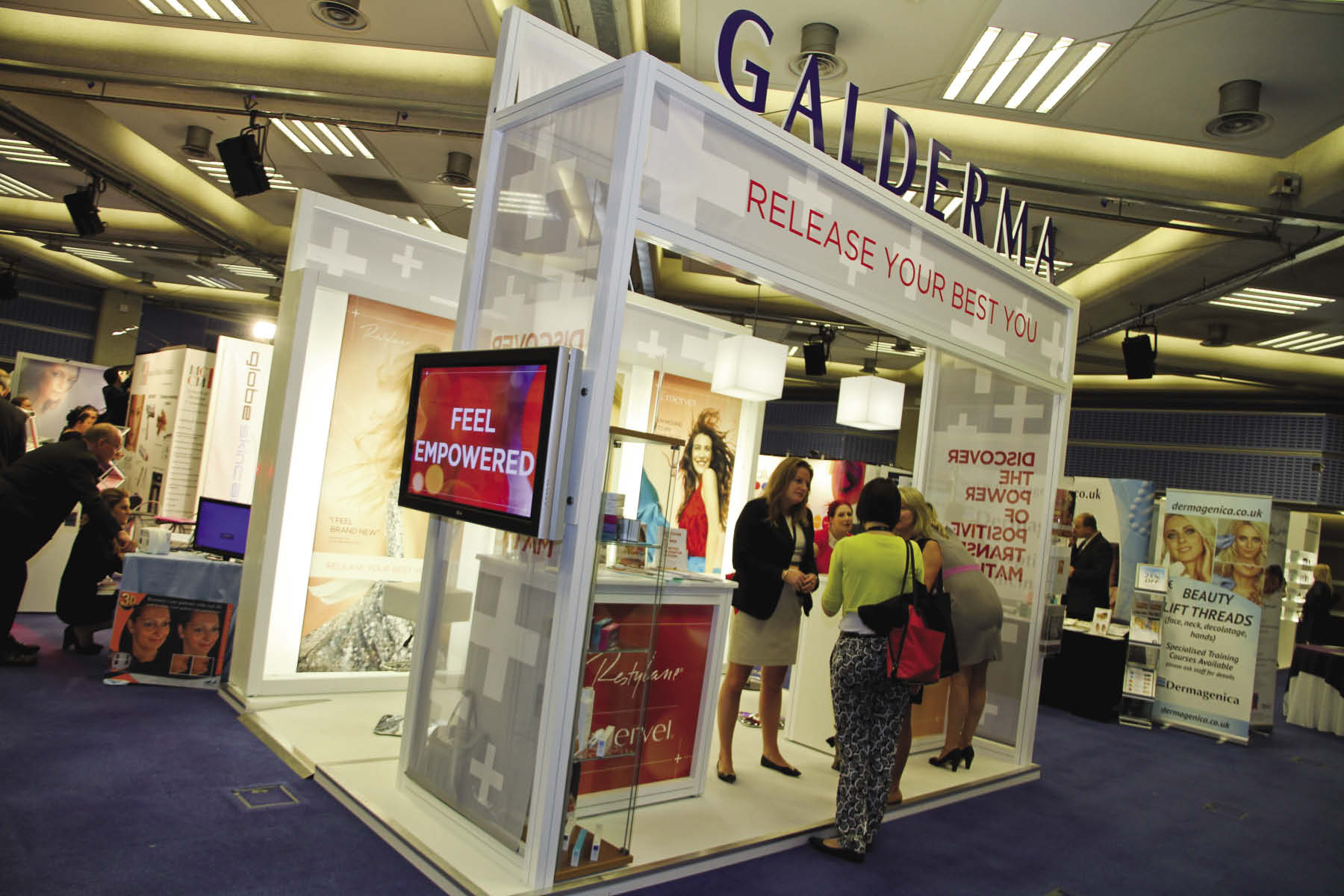 Gold Sponsor Galderma attracted a lot of attention from delegates.
FACE HIGHLIGHTS
The UK medical aesthetics community applauds the expansion. According to Rajiv Grover, Bsc, MBBS, MD, FRCS (Plast), president of the British Association of Aesthetic Plastic Surgeons, "FACE is without a doubt the premier meeting in the UK for nonsurgical aesthetics and has grown significantly over its 11-year history. With its international faculty and four parallel sessions, the meeting covered the major areas of controversy and future development both in clinical practice of rejuvenation and also business management within this sector."
According to Grover, highlights from the meeting included insights into aesthetic facial rejuvenation from Fredric Brandt, MD, a dermatologist in New York City and Coral Springs, Fla, as well as demonstrations from Cary, NC-based dermatologist Timothy C. Flynn, MD, and New York City plastic surgeon Michael A.C. Kane, MD. "The meeting maintains its friendly atmosphere, and most faculty members say they learn from the audience as well as listening to each other's talks," he said.
FILLER FRENZY
Nick Lowe, MD, FRCP, FACP, a dermatologist in London and clinical professor of dermatology at UCLA School of Medicine, Los Angeles, gave a special talk highlighting several important trends. "We have too many dermal fillers in Europe. However, there are some that will be soon be available in the USA which I have found to be safe and valuable for my patients—eg, Voluma®, which is a deep volume filler used for lifting as well as filling the face," he said. On the topic of Botulinum toxins, Lowe had this to say: "I have been studying a small group of Type A-resistant patients whom I have found to be resistant to all three available Type A toxins and respond to Type B toxin. Our current research focuses on improving Type B delivery and response."
This year's program was divided into dedicated tracks that cover the most relevant categories for the attendees. The Injectables track focused on scientific updates and clinical and practical tips. The Equipment track covered a wide range of medical devices for facial rejuvenation and new indications, and included a special 2-day course aimed at aesthetic practitioners and therapists that covered IPL, laser and radiofrequency technologies, and topical skin care. The Business track was devoted entirely to clinic marketing, social media, management, and skin care dispensing. FACE also featured a surgical day that highlighted the latest aesthetic surgical techniques for facial rejuvenation, including volumizing facelifts and nasal tiplasty.
The conference featured 80 exhibitor stands spotlighting more than 200 products. Merz Aesthetics and Syneron Candela were Platinum Sponsors, Wigmore Medical and Galderma were Gold Sponsors, and Solta Medical and SkinCeuticals were Silver Sponsors. There were 30 1-hour sponsored workshops showcasing products and technologies. For example, Sinclair Pharma sponsored a Sculptra® Masterclass with Danny Vleggaar, MD, a dermatologist from Geneva, Switzerland. Merz Aesthetics sponsored a series of special workshops and demonstrations titled, "How Scientific Data Inform Clinical Practice," presented by a group of global thought leaders. The Americans included Fredric S. Brandt, MD, Hema Sundaram, MD, and Michael A.C. Kane, MD; alongside the Europeans that included Sabine Zenker, MD, of Munich, Germany; Kate Goldie, MD, of London; Simon Ravichandran, MD, of Glasgow, Scotland; and Michael Prager, MD, of London.
Ines Verner, MD, a dermatologist from Tel Aviv, Israel, and Pablo Naranjo, MD, a dermatologist from Madrid, Spain, presented their experience with Syneron Medical's eTwo® advanced techniques using Sublative technology featuring eTwo® for skin rejuvenation and acne scarring, and Sublime for wrinkles and skin tightening. "I like to treat each patient as a new and individual challenge. It often takes time, care, and listening to what is not said as much as what is said to really understand the patient's motivations. The key is to combine treatments for best results. This is paramount to success," Verner said.
London dermatologist Tapan Patel, MD, presented a 3-hour invitation-only session on treating burn scars using CO2RE ablative technology and V Beam Perfecta from Syneron Candela. Each participant was asked to make a time or financial contribution to the Face Forward Foundation, a Yorkshire charity.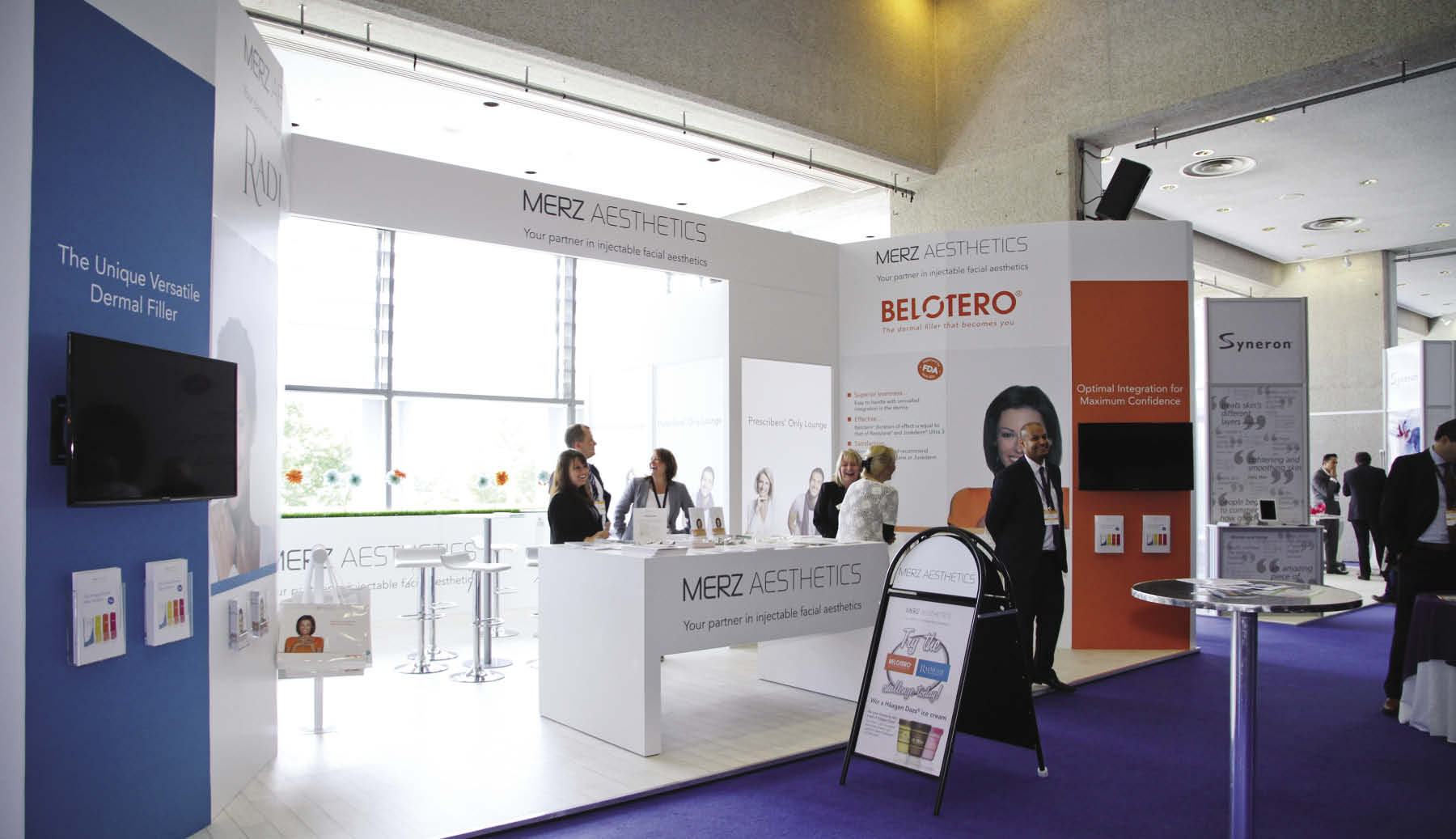 Platinum sponsors Merz Aesthetics and Syneron enjoyed the views.
NEW LAUNCHES GALORE
Numerous presentations covered hot topics and emerging technologies, including a session on CoolSculpting with the UK's Ros Debenham, MD; a discussion on Iovera Focused Cold Therapy™ with Daniel Cassuto, MD, from Milan, Italy, and Yannis Alexandrides, MD, FACS, from London; and a session on Ultherapy® for facial rejuvenation with London-based plastic surgeon Alex Karidis, MD, FRCS, to name just a few of the don't-miss talks.
Every year, there are several notable launches and an uptick in first-time exhibitors. For example, Ambicare Health Ltd launched a new version of its Lustre Pure Light called Lustre Pro that delivers blue-light therapy to fight acne lesions in only 20 minutes per day. Lustre Pro is a unique portable and rechargeable device available through specialist skin clinics that has flexible therapy heads to target problem areas. Treatment is delivered while the product is worn.
Invasix introduced its new comprehensive InMode MD platform of aesthetic applications. Energist Ltd promoted its NeoGen Nitrogen Plasma Technology for unique deep-tissue remodeling with rapid healing. From Galderma, there was a lot of interest in Pliaglis® 70 mg/g + 70 mg/g Cream containing Lidocaine and Tetracaine, the self-occluding topical anesthetic cream that gets peeled off after a 30- or 60-minute application.
The SKIN forum included 2 days of debates and clinical evidence on topical agents, cosmeceuticals, peels, and other in-clinic treatments. A novel topical wrinkle filling agent, Aminofil (LineLift by NeoStrata®), was introduced. M. Elizabeth Briden, MD, a dermatologist from Edina, Minn, presented compelling clinical studies showing how this unique amino acid derivative exerts a visible plumping effect on the skin. She also shared her approach to chemical peeling, including combining peels with other cosmetic procedures. According to Briden, "FACE 2013 had a great lineup of speakers and very interesting topics were presented, including the latest products and techniques for aesthetic practitioners."
Stefanie Williams, MD, a dermatologist from London, lectured on future-proofing the skin, and shed new light on good versus bad anti-aging hormones and the negative effects of a diet high in sugar. London and Athens dermatologist Penelope Tympanidis, MD, chaired the Advanced Peeling Session with a panel of experts presenting their unique (and often opposing) views and experience. "The panel provided a great deal of insight and gave the audience an opportunity to learn a lot about peels, the do's and don'ts, and most importantly, the science about peeling and the fact that peeling is the core of skin care and anti-aging therapies," Tympanidis said.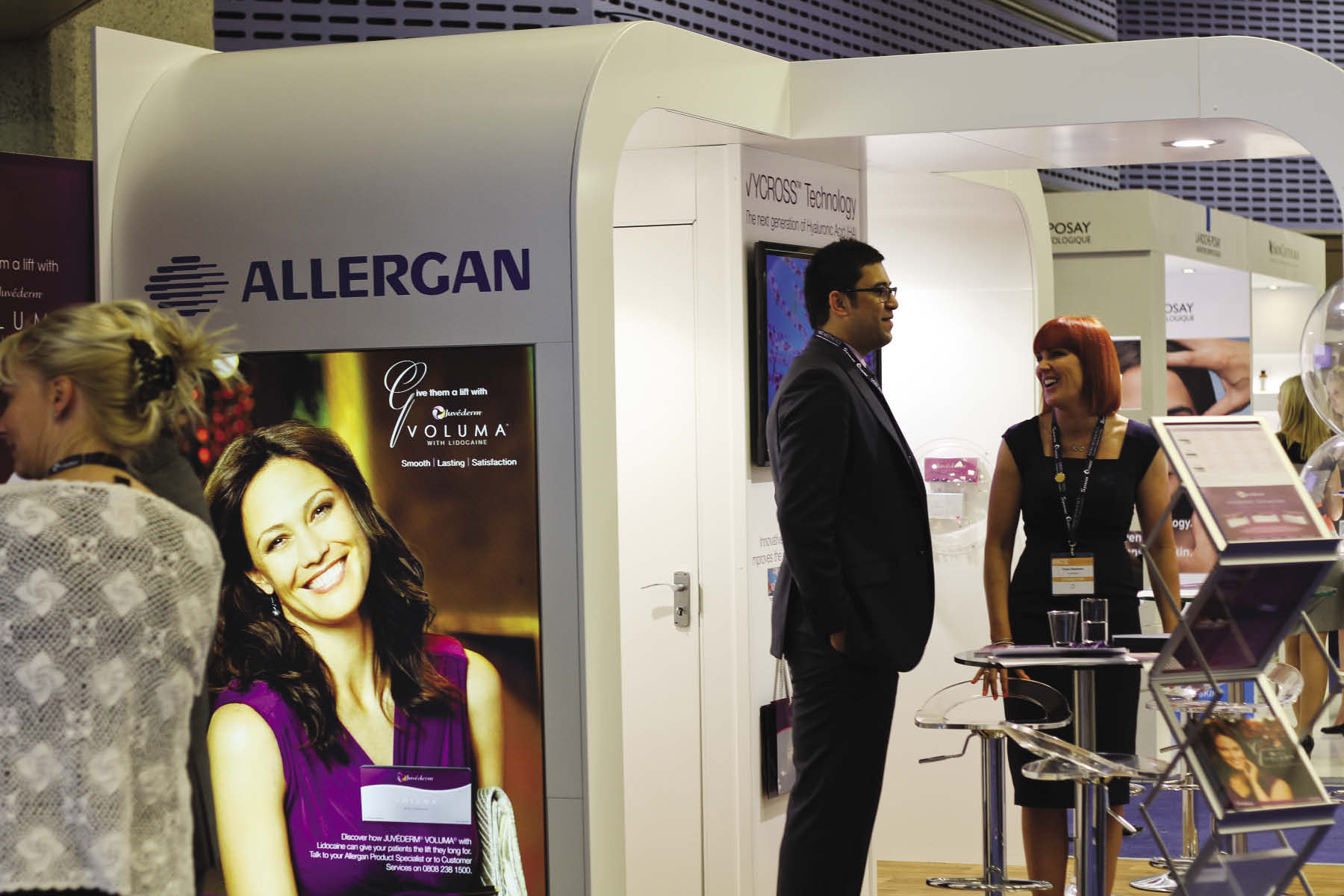 Allergan displayed Voluma with its new Vcross technology.
FOCUS ON SKIN OF COLOR
Another focus of this year's conference was treating skin of color. Dermatologist Mukta Sachdev, MD, MBBS, from Bangalore, India, said, "This year's FACE conference in a great new picturesque location provided a well-rounded approach for skin of color. There is increasing interest in how to handle skin of color conditions and complications across the board, confirming that globalization and mixed racial ethnicities are becoming more common."
Moreover, there was a lot of discussion about cosmeceuticals for darker skins and how to avoid and manage complications in this diverse skin type, Sachdev said. "It was a great learning experience with a focus on the synergy between skin care and new technologies, which is the future of aesthetic dermatology."
Among the new and noteworthy skin care exhibitors, Auspect Clinical from Australia made a big splash
| | |
| --- | --- |
| | ONLINE EXTRAS |
| | For more information, visit |
with its professional range of skin care treatments. La Roche Posay from L'Oreal introduced Toleraine Ultra, which is formulated with a unique soothing agent for sensitive skin. Forlle 'd, a luxury skin care brand from Japan, made its debut featuring Hyalogy. The anti-aging product line is a low-molecular Hyaluronic acid, which means it is able to penetrate deeper into the skin.
In addition to the core faculty, there is always a fresh crop of exciting presenters from all corners of the world at FACE. One of the perennial faculty members, Beverly Hills dermatologist Zein Obagi, MD, led a full-day ZO® Skin Health European Symposium that covered the science of how to restore skin health, cellular activity, and function, and how to improve the skin's ability to tolerate aesthetic procedures. The symposium faculty also included Raj Acquilla, MD, Jonquille Chantrey, MD, and David Eccleston, MD, all from the UK, and Rachael Eckel, MD, from Ireland.
WRAPPING IT UP
As Cary, NC's Flynn put it: "The great thing about FACE is the fact that we have such good presentations, the faculty is excellent, and one can learn a lot of valuable science as well as practical techniques."
Whether you are an aesthetic nurse, dermatologist, cosmetic surgeon, clinic manager, a solo practitioner, or work in a group practice, if you are committed to learning more about aesthetic treatments, FACE ticks all the boxes as a conference not to be missed.