Oculoplastic surgeons refine niche for Neotensil® | Plastic Surgery Practice August 2014
By Julie Ann Woodward, MD, and Betsy Colón-Acevedo, MD
Neotensil® may have benefits other than improving the appearance of lower-eyelid bags.
BACKGROUND
Neotensil® is a new topical polymer film designed to minimize the appearance of lower-eyelid bags by tightening the skin over prolapsed steatoblepharon within 1 to 3 hours. Strateris® was invented by an interdisciplinary team of researchers and clinicians at Living Proof® led by Bob Langer, PhD, the David H. Koch Institute Professor of Chemical and Biomedical Engineering at the Massachusetts Institute of Technology (MIT), Betty Yu, PhD, an MIT-trained chemical engineer, Rox Anderson, MD, a professor of dermatology at Harvard Medical School and the director of the Wellman Center for Photomedicine, Massachusetts General Hospital in Boston and Barbara Gilchrest, MD, a professor and Chair-Emeritus of Dermatology at Boston University School of Medicine.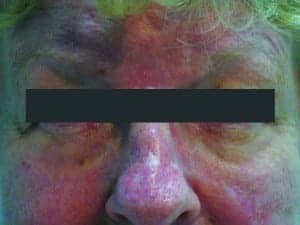 The Strateris® technology is a two-step topical formulation that is applied to create the crosslinked film that is micro thin with adhesive and elastic properties along with great tensile strength. It's not epoxy chemistry, but rather a method to create a meshwork of crosslinked polymers. The kit contains the two polymers, an application tool, plus cleaning wipes and a removal solution. After the skin is cleansed, Polymer 1 is applied to the skin with firm pressure from the included application tool. Polymer 2 is then applied on top of Polymer 1 with a very gentle pressure. The patient must then maintain a "neutral gaze" straight ahead for at least 5 minutes. The maximal result occurs about 1 hour after application and can last up to 16 hours.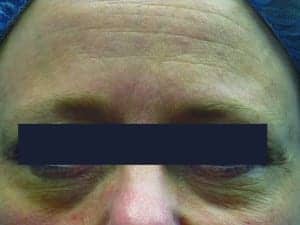 Four dermatologists and one facial plastic surgeon performed the original clinical trials. They utilized the lower-eyelid BAG scale (an acronym for the doctors who developed it). This scale rates 1 as minimal and 9 as severe lower lid bags. The study found 94% of patients responded favorably to the product and that 69% improved by two or more points on the bag scale. Skin hydration was also noted during the trial.
METHODS/RESULTS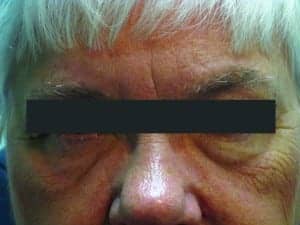 We used the product on three patients (see images). In the figure, Patient 1 was not an ideal candidate for the product because she had very thick, taught skin and an orbicularis muscle with moderate steatoblepharon. She went on to schedule blepharoplasty. Patient 2 had an excellent result. However, she looked downward at her cell phone after 10 minutes, so she developed a lower lid crease where the polymer crosslinked on itself. Patient 3 had a very nice result with improvement seen in her lower lid bags and the rhytids of her lower-eyelid festoons. In all three photos, there is a perfect taper of the product that allows for a seamless transition into the unaffected skin.
CONCLUSIONS
As oculofacial surgeons, we enjoy operating—whether it be with a laser or a scalpel. When we observed the first photos of Neotensil® in October 2013, we were skeptical, but our skepticism has since turned to optimism. Not only can the lower-eyelid bags be compressed, but there is also no visible demarcation line. This enthusiasm must be coupled with a learning curve for both patient selection and proper application to obtain optimal results. The ideal candidate has thin and loose skin with a crepey texture skin and orbicularis.
Going forward, Neotensil® may have benefits other than improving the appearance of lower-eyelid bags. Dr Yu described research where it could be adjusted to tighten the skin of the neck and areas with cellulite. For these applications, polymer 1 would need to be adjusted. It may also be useful for eczema, wound healing, and/or scar improvement. We look forward to more research on this novel new product.
Julie Ann Woodward, MD, is the chief of Oculoplastic and Reconstructive Surgery Service at Duke University Medical Center in Durham, NC, and a member of the Plastic Surgery Practice editorial advisory board. Betsy Colón-Acevedo, MD, is an oculofacial fellow at the Duke Eye Center. They can be reached via PSPeditor@allied360.com.
Original citation for this article: Woodward JA, Colón-Acevedo B. The eyes have it. Plastic Surgery Practice. 2014;(8),26-28.