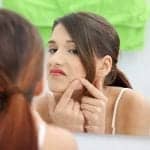 The US Food and Drug Administration approved ONEXTON™ Gel (clindamycin phosphate and benzoyl peroxide) for the once-daily treatment of acne.
The new gel, manufactured by Valeant Pharmaceutical International, is approved in 1.2% and 3.75% strengths for comedonal and inflammatory acne in patients 12 and older. Valeant plans to launch ONEXTON™ in early 2015.
In a 12-week Valeant-led trial of 498 patients with moderate to severe acne, the new gel reduced non-inflammatory lesions by an average of 52% versus 28% vehicle. In addition, the gel reduced inflammatory lesions by an average of 60% versus 31% vehicle. Fewer than than 1% of patients reported an adverse event, and none stopped treatment during the trial.
Serious side effects including colitis and allergic reactions have been reported with the use of combination clindamycin/benzoyl peroxide products. Patients should stop using the new gel if they experience severe watery or bloody diarrhea; severe itching, swelling of the face, eyes, lips, tongue, or throat; or difficulty breathing.