Inside Compression Garments
Postoperative recovery can be greatly affected by the correct garment choice, proper fit, and patient compliance
After almost any surgery procedure, a large part of a patient's healing process is wrapped up in wearing compression garments.
An important part of healing and recovery requires the use of postoperative compression garments for an extended period of time, in order to achieve the best possible and desired aesthetic result.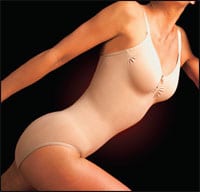 Phase2wear™ by Lipo-In-A-Box is Stage 2 compression wear that is completely seamless or has minimal seams. It is available in brief, midthigh, capri, high-waist, and bodysuit lengths.
They are essential for blood circulation, removing harmful fluids from the body, reducing swelling, and speeding the healing process.
The required compression can be achieved using a garment that is properly sized and fitted. Several vendors offer garments in many shapes, sizes, and levels of quality—with due diligence in mind, seek out the finest quality.
Though patients may balk at price, a straightforward explanation of why and how should convince them that comfort and proper healing take precedence over cost.
In addition, you and your staff should be trained in selecting and fitting the appropriate garment(s)—the garment manufacturer may be a good source for lessons.
Foremost, though, is the need for patient education about compression garments.
Typically, patients wear compression garments all day and night, every day, for up to 6 months. Therefore, patient education and compliance are extremely important. And during this period, compression garments and other accessories will make the patient's recovery more comfortable and appealing.
Tell your patients that, as long as they comply with your instructions for using compression garments, their blood circulation will likely improve.
In addition, proper use of the garments can minimize swelling after the procedure, keep implants in their correct position, flush potentially harmful fluids out of the body, accelerate the healing process, and allow the patient to return to daily routines sooner.
Figure 1.
Benefits of Compression Garments
---
Speeds the healing process
Reduces swelling
Increases blood circulation
Helps skin adjust to its new contours via compression of the skin
Reduces edema by compressing and flushing potentially harmful body fluids out of the body
Lets the patient return to daily routines sooner
A HISTORY LESSON
During the time of Hippocrates, compression was used to treat patients with ulcers of the extremities. Throughout history, various body-wrapping types were used to minimize swelling and edema.
Body wrapping with compression was used to help treat burns and to minimize the formation of scar tissue. Early compression garments appeared around the introduction of blunt liposuction techniques in France in the late 1970s.
The precursor to our compression garment was the so-called elastic wrap, also named French tape, which wrapped the patient's body but were difficult to apply uniformly. The French wraps were reportedly very uncomfortable, and lack of patient compliance was a common problem.
Concurrently, nylon and other synthetic fabrics were starting to be used in the manufacturing of female underclothing. This led to the development of the modern compression garment.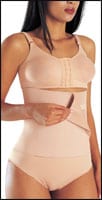 AART's compression garments are manufactured from durable materials, and their seams are constructed to minimize patient discomfort.
THE PROPER GARMENT IS KEY
A compression garment should provide support to surgical areas for more comfort and help the skin fit better to its new contours. Depending on the physician's instructions, patients may need to wear support and compression garments for a period of time ranging from days to weeks, and longer.
Physicians should inform patients why it is important to avoid wearing regular spandex or a nonmedical, over-the-counter garment.
Patients may buy a nonmedical garment because it seems to offer a degree of compression. Make a point of informing them that when it comes to postoperative recovery from surgery, nonmedical garments are not the answer.
Wearing a nonmedical garment from your local store—one that is not specifically made for a cosmetic or medical procedure—can unnecessarily prolong recovery time, slow down healing, worsen swelling and other symptoms, and increase discomfort during the healing journey.
Nonmedical products do not have the needed features, construction, materials, and technology used in compression garments for aesthetic surgery.
A proper medical garment is designed to provide patients with maximum compression in key areas of the body, as well as features that are unavailable in nonmedical garments—eg, no seams at key surgical areas, labels placed on the outside of the garments to avoid irritation, etc.
For additional comfort, many garments have flat lock stitching and come with an open-crotch design, so that they do not have to be removed at any time.
The best-quality products are 100% latex free or both 100% latex and formaldehyde-free. They are constructed using breathable, lightweight compression fabric that feels good next to the skin and dries quickly.
In addition, they should not lose compression properties or "memory" over time, and should provide constant and consistent compression from every direction, for long wear during the recovery process.
When consulting with patients, physicians should make specific recommendations of the type of compression garment or accessories that must be worn after surgery.
Breast surgery patients, for example, can peruse a catalog or list of the various garments from which to choose, including specific instructions regarding the type of bra and when it is to be worn in the weeks after surgery.
Most garments or bras must be worn continuously (all day and night) for at least a week after surgery. For liposuction, abdominal surgery, or breast surgery patients, 24/7 use of compression garments or bras may be required for months after surgery. The only time they would not be worn is during bathing.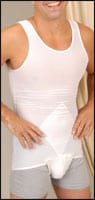 Cosmetic Garment's Men's One-Piece Body Suit features non-slip shoulder straps and a snap-crotch fly front. Used for liposuction, abdominoplasty and all types of male chest surgeries.
THE STAGES
Stage 1 compression garments are designed with zippers and eyehooks to minimize friction and ease pulling against tender skin and incisions. Most physicians recommend that patients wear them 24 hours per day.
These above-knee-length compression garments are intended for use immediately after abdominal and upper legs procedures, such as tummy-tuck surgery; liposuction of the abdomen, hips, and thighs; thigh lift; and buttock-lift surgery.
They minimize swelling, support the incisions, promote skin retraction, increase comfort, and speed recovery.
Examples: Tummy tuck garments, abdominal binders, liposuction girdles, compression sleeves, and surgical bras.
A Stage 2 garment, which is typically worn around 2 to 3 weeks after surgery, provides the lighter compression that is necessary after patients have outgrown the initial Stage 1 garment.
Somewhat less bulky than Stage 1 garments, Stage 2 garments can be easily worn underneath the patient's everyday clothing.
In addition, these garments are less restrictive, allowing the patient to resume at least some of their daily activities.
Even though patents will usually wear their garments less frequently as healing progresses, the second stage of recovery can last several weeks or several months.
In fact, many physicians recommend that their patients purchase a pair of garments, due to the extended amount of time they must be worn—in that way, patients will always have a clean garment to wear while laundering the other.
Examples: Waistnippers, camisoles, second stage girdles.
---
Shannon Triplett Leade is a contributing writer for PSP. She can be reached at [email protected].
The Right Compression Garment
---
The choices are staggering: so many body styles, types, and manufacturers of compression garments available for all manner of surgical procedures.
It is challenging for physicians and patients to make the best choices. It is, however, the physician's responsibility to know exactly what to look for in a compression garment, and to feel confident which one will provide optimum postoperative results and patient comfort to ensure compliance.
The garment's fabric must evenly compress the specific body area and act like a "second skin" that molds precisely to the body's contour, retaining a "memory" of the body's curves. It must allow the patient to move freely without discomfort.
Characteristics:
Durability
Antimicrobial
Stretch
Allergy-free
Softness
Absorption
Wicking
Design and Construction:
Shielding, preferably soft-cushioned fabric or padding, keeps fasteners and zippers away from contact with the skin.
Seams and labels must be on the outside of the garment.
Minimal skin contact with rough edges or surfaces.
The design must accommodate body functions and provide easy ways for patients to get in and out of the garment. Staged garments should be available to assist in proper compliance throughout the healing process.
Finally, sizing has been a challenging issues for patient and physician. Proper measuring and sizing of compression garments is an extremely important part of surgery planning.
Purchase Guidelines
Abdominal, leg, and arm surgery—No-show seams, "breathable" fabric, and no hooks (pull-ons) for long-term recovery. In order to accommodate the body's gradual reduction in size, different sizes and types of garments may be required throughout the recovery process.
Blepharoplasty—Large and wide eyeglasses with wraparound protection, which protects sutures and incision scars from the elements.
Facelift—Facial bands and cushioned hats with wraparound ties.
Breast surgery—Bras with soft cups; wide, cushioned, and padded shoulder straps; seamless, breathable fabric; a front hook; and no underwire.
---
Compression Garments Vendor Listing
AART Inc
866-853-6800
www.aartinc.net
AART provides a complete range of premier implants and accessories for facial and body contouring, including custom implants. AART's dual lines of compression garments address every need and price.
Anthony Products Inc
800-428-1610
www.anthonyproducts.com
Anthony Products specializes in ENT, plastic surgery, and dermatology equipment and instruments.
Art-Y-Bil Enterprise Inc
800-676-9377
www.art-y-bil.com
We are a comprehensive provider of new and preowned medical, operating room, pain-management, and anesthesia equipment, primarily for office surgery and ambulatory surgical centers in the plastic surgery market.
Beautysurg.com
866-342-3288
Online plastic surgery recovery store providing 24-hour access for your patients to compression garments, camouflage makeup, medical supplies, scar treatments, and physician-recommended skin care.
Carrothers Ltd Inc
800-683-3826
www.liposuctiongarment.com
Comfort and compression at a reasonable cost. Silhouette garments offer a complete line with 55% Lycra content. Customs available next day.
Contemporary Design Inc
800-330-6300
www.contemporarydesigninc.com
The patented breakthrough inventions of our Expander Sizer and Wonderfabric make Contemporary Design the premier resource for compression garments.
Cosmetic Garments
877-548-5500
www.cosmeticgarments.com
We manufacture a variety of liposuction compression garments, postsurgical bras, abdominal binders, athletic support garments, hysterectomy products, compression stockings, and more.
Cosmetic Surgery Suppliers Inc
800-525-7752
www.cosmeticsurgerysuppliers.com
We feature a full line of liposuction equipment, instruments, supplies, and compression garments.
Dale Medical Products
800-343-3980
www.dalemed.com
Dale postsurgical bras are used for light support and comfort needed following mastectomy, lumpectomy, radiation therapies, and other oncology procedures.
Delasco
800-831-6273
www.delasco.com
Delasco is proud to support the plastic surgery market by offering the latest products in areas such as pharmaceuticals, sharps, surgical instruments, electrosurgical units, sterilization, disposables, and more.
Expand-a-Band Medical
800-582-5332
http://www.breastbinders.com
Expand-A-Band Medical manufactures a unique line of postsurgery compression products featuring breast binders, breast bands, drain pouches, compression bras, and abdominal binders.
Frank Stubbs Co Inc
800-223-1713
www.fstubbs.com
Frank Stubbs Co produces a full line of plastic surgery compression garments, including girdles, bras, facial wraps, abdominal binders, vests, and more.
HK Surgical
800-909-0060
www.hksurgical.com
HK Surgical markets a complete line of products, including aspiration and infiltration equipment, cannulas, compression garments, and disposable items.
Lipo in a Box Phase2Wear
866-547-6269
www.lipoinabox.com
Lipo in a Box® phase2wear® has a complete line of Stage 2 compression wear. Lipo in a Box garments encourage patient compliance due to the combination of comfort and support it offers the wearer.
LPG One
800-222-3911
www.lpgone.com
LPG One has remained unchallenged as the world leader in cellulite technologies for 20 years.
Marti Era Designs Inc
217-427-2198
www.martieradesigns.com
Our company specializes in postsurgical bras designed by a breast-cancer patient who experienced difficulty finding bras after her double mastectomy and reconstruction.
MD Resource
800-633-8423
www.mdresource.com
We are a manufacturer and distributor of a full line of aesthetic surgery products and equipment such as aspirators, infiltrators, tumescent measuring devices, cannulae, microcannulae, and garments.
Medco Manufacturing
800-953-2555
For the past 20 years, Medco has been a leader in the liposuction industry. We have a complete line of garments in white, black, or beige.
Medical Z
800-368-7478
www.medicalz.com
We have a complete line of postsurgical compression wear for men and women and scar-management gels.
Medico International Inc
877-411-7009
www.medicointernational.com
Medico International offers a full line of quality compression garments and cold-therapy products, all at wholesale pricing.
Mentor Corp
800-525-0245
www.mentorcorp.com
Mentor, a world leader in cosmetic and reconstructive surgery for more than 30 years, continues to provide the broadest selection of products and services to enhance your practice.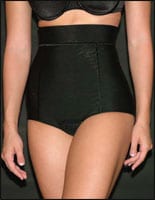 The Abdominal Girdle 1 Zipper by Nouvelle offers a reinforced abdomen and a zippered side closure that opens completely.
Morris Designs
800-766-5578
www.morrisdesigns.com
Morris Designs manufactures a full line of female and male compression wear. Custom orders are always welcome.
Nouvelle Inc
866-578-4733
www.nouvelleinc.com
Nouvelle offers a line of postsurgical compression garments designed for comfort and support as the most important features.
Pearson Surgical Supply
800-671-8400
www.pearsonsurgical.com
A division of Pearson Dental Supply, our surgical division provides physicians with a complete comprehensive range of surgical supplies, equipment, and pharmaceuticals.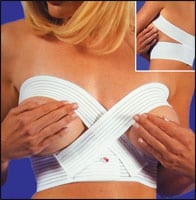 Shippert Medical Technologies carries a full line of compression garments, including a Rubenesque line for full figures. All the garments are washable and latex-free.
Shippert Medical Technologies Corp
800-888-8663
www.shippertmedical.com
Shippert Medical has been supplying the medical industry with quality products since 1978.
Snowden Pencer Division of Cardinal Health
800-843-8600
www.snowdenpencer.com
Snowden Pencer offers the Spacemaker® balloon dissector, compression garments, and an endobrow fixation kit.
Torbot Group Inc—Jobskin Division
800-207-1074
www.torbotgarments.com
Torbot Group Inc—Jobskin Division manufactures compression garments for use following body-contouring procedures.
Mapping the Garment District
---
What patients can expect in a compression garment
Liposuction
Compression garments can help decrease swelling and increase general comfort, as well as promote proper tissue adherence after medium- to large-volume aspirations.
Many patients report discomfort when getting used to wearing a garment, but after a while they will feel like it has become a part of them—and a welcome relief from discomfort and swelling during the healing process.
Breast Augmentation
Some patients may experience throbbing sensations after an augmentation mammoplasty when not wearing a compression garment. Proper support is essential.
Patients must be informed that a lack of proper support can cause the incision to stretch.
Some patients are fine to wear a "strap" only, which pushes the implants into position, while others must use both a strap and a support garment. Some don't need to wear a garment at all.
Breast Lift/Breast Reduction
Compression garments are the norm for these patients. They offer relief from suture tension, as well as reduce pain and swelling.
As with breast augmentation patients, breast lift surgery patients may feel a throbbing after their mastopexy when not wearing a garment. Inordinate tension is put on the new suture lines and the scars may stretch.
Realistically, many patients will have to wear their supportive bras for up to 1 year, until scar-tissue maturation.
The same drill applies to breast reduction patients, many of whom can be expected to wear a supportive bra for up to 1 year after surgery.
Facelift
Comfort. I can't say it enough.
The facelift patient will likely wear a compression head wrap as a way to reduce swelling, aid in tissue adherence, and ease pain. A product design that emphasizes comfort is essential.
This is one area in which comfort trumps price, as the patient may have to pay top dollar in order to experience optimum results from his or her surgery.
For facial implant patients, compression wraps can ease swelling and bruising, as well as keep implants in place by disallowing shifting and reducing swelling in the surrounding tissues. Comfort is also an absolute must.
Neck Lift
The general guide for these compression garments follows the theme developed in earlier paragraphs—comfort is extremely important, as the patient will live in the compression wrap for several days and may be sleeping in it for many weeks.
In addition, they help a patient's recovery immensely by restricting his or her head movement to slow turns.
Tummy Tuck
When it comes to abdominoplasty surgery, surgeons almost universally mandate compression garments to help reduce swelling, support the back, provide abdominal muscle support, and assist in tissue adherence.
The use of drains helps make postoperative pain less severe and may assist in healing by preventing fluid buildup. Almost all patients wear the drains inside the garment, with drain openings on the side or bottom.
—STL