DEVELOPING STORY – The FDA has finally given its coveted nod to Allergan's Natrelle 410 Highly Cohesive Anatomically Shaped Silicone-Gel Filled Breast Implant for augmentation in women at least 22
years old and reconstruction in women of any age.
This is a big deal in the industry and signals a growing confidence in the safety of silicone-filled breast implants on the FDA's part. The approval follows that of Sientra's portfolio of silicone breast implants. Both fall under the umbrella of "gummy bear Implants," a name coined by Marina del Rey, Calif-based plastic surgeon and PSP advisor W. Grant Stevens, MD. The FDA is also weighing the safety and effectiveness of Mentor's highly cohesive silicone gel implant, the CPG.
The FDA approval of Natrelle 410 was based on an extensive review of various studies and data, including pre-clinical device testing and clinical data from Allergan's 10-year prospective, multi-center pivotal study, involving nearly 1,000 women who have undergone breast reconstruction, augmentation, or revision surgery.
There were, of course, some conditions of the approval, including submission of the final report for the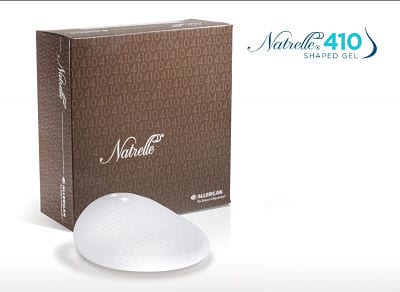 10-year clinical study, continued follow-up through 5 years of patients in the Continued Access Revision/Reconstruction Expansion (CARE) and Continued Access studies, a large study of newly enrolled patients followed for 10 years, participation in developing the National Breast Implant Registry and contributing data from the large new enrollment study upon implementation of the registry, completion of case-control studies on five rare disease outcomes, completion of a focus group study to evaluate the patient labeling, and annual reporting of analyses conducted on all 410 devices explanted and returned to Allergan.
PSP reached out to breast augmentation experts to get their thoughts on the new approval.
"It's been long-awaited for years and will rival Sientra's textured shape highly cohesive implant," says Jennifer Walden, MD, a plastic surgeon in Austin Tex. "Europe has been using them for years and years. They have a great safety profile and are highly cohesive and form-stable for long-lasting results. The breast feels a little more firm, though," she says. But "basically, It's about time!"
Walter L. Erhardt, Jr, MD, has been on the front lines of this implant's journey through the pipeline as a clinical investigator. "I have had the opportunity to use this implant for over 10 years and with many many patients," he says. "My patients who have chosen this implant have been very happy with it and the results that they have obtained, as it provides a nice, natural result. I think that the approval of this implant now gives women another choice when considering implants for breast surgery, whether that surgery is for cosmetic or reconstructive reasons."
Choices are important, he adds. "There is no one implant that is perfect for everyone," he says.
"With the recent approval by the FDA, all plastic surgeons now have unrestricted access to highly cohesive, form-stable gel breast implants," agrees Adam D. Schaffner, MD, a New York City plastic surgeon. "This will further advance our ability to provide implants with minimal risk of wrinkling, rippling, or capsular contracture while providing shape to the breast."
Allergan requires surgeons to complete a certification program before they are able to offer the Natrelle® 410 shaped gel implant option to their patients. Surgeons can visit www.allerganacademy.com for more information on this program.