There's a new cellulite treatment on the horizon, and it's poised to be the first-ever FDA-approved treatment for cellulite.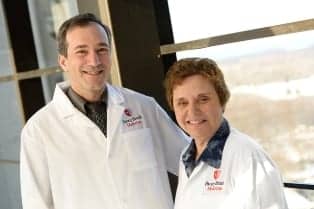 Researchers at Stony Brook University in New York plan to begin phase IIa placebo-controlled clinical trials of an injectable form of the enzyme collagenase. The treatment method is licensed to BioSpecifics Technologies Corp, sublicensed to Auxilium Pharmaceuticals Inc, and uses clostridial collagenase histolyticum ("CCH").
Injections of CCH are designed to break down the collagen that anchors cellulite dimples and, consequently, even out skin irregularities.To date, there has been no FDA-approved treatments for cellulite.
In 2006, Marie A. Badalamente, PhD, professor of orthopaedics, and Alexander B. Dagum, MD, a professor of surgery and orthopaedics, Interim Chair of Surgery and Chief of Plastic and Reconstructive Surgery at Stony Brook University School of Medicine (both pictured), obtained an investigational new drug number from the FDA for CCH in the treatment of cellulite. They subsequently completed a phase I pilot clinical trial of 10 women treated at Stony Brook for cellulite. Participants received CCH injections based on an assessment of cellulite on the back of their thighs. On average, there was a 77% reduction of cellulite as soon as 1 day after the injection. After 6 months, the patients had on average a 76% reduction of cellulite in the injected area. Only minimal side effects were reported, such as bruising, soreness, and mild edema, shortly after the injection. After 6 months, the patients reported an average satisfaction score of 1.75 (1=completely satisfied, 4=not satisfied).
Overall, study results serve as potential proof of concept for CCH efficacy and safety in treating cellulite.
Auxilium is currently licensed to market and distribute XIAFLEX® (an FDA-approved version of CCH) to treat adult Dupuytren's contracture patients with a palpable cord.