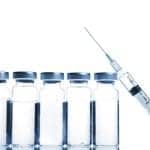 As the US Food and Drug Administration mulls the approval of Kythera's fat-melting injectable ATX-101, another company is slated to initiate two Phase 3 trials of its targeted fat-melting injectable LIPO-202.
The active ingredient in Neothetics' Lipo 202 is salmeterol xinafoate,which is found in common asthma medications. While ATX-101 and Lipo-202, if approved, do fall under the same umbrella category, ATX-101 targets submental fat while Lipo-202 is aimed at tummy bulges (at least for the time being).
"During the second quarter of 2015, Neothetics plans to initiate two pivotal Phase 3 trials of LIPO-202 for central abdominal bulging due to subcutaneous fat in non-obese subjects," George Mahaffey, president and CEO of Neothetics Inc in San Diego, tells PSP. "The studies will enroll 1,600 patients at 80 clinical sites across the United States, and we expect to report top-line data by the end of 2015."
A full course of Lipo-202 treatment involves 20 shots with a 30-gauge needle. The injections are dispersed evenly over the abdomen, and performed once a week for 8 weeks. Each treatment takes about 5 minutes. Preliminary data suggest that the treatments produce measurable results as soon as 4 weeks from initial treatment, and that the benefits last for a minimum of 3 months post-treatment.
Stay tuned.