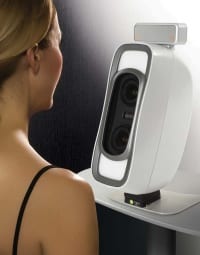 TABLETOP 3D SYSTEM
Cornfield Imaging Systems, Fairfield, NJ, announces the latest addition to its line of 3D solutions. The 12MP VECTRA® M1 facial system includes a fully integrated software package that provides high-resolution visualization of facial form, texture, vascularity, and pigmentation; as well as Canfield's Face Sculptor® software module, which enables lifelike simulation of injectables, laser treatments, resurfacing, and facial contouring. It features fast image capture and precise subject positioning using a unique "Ranging light" design. The system packs away neatly into a fitted carrying case for easy transport, and can be set up for operation in minutes. As part of the VECTRA "M" series, it can be easily upgraded to a larger-field, multicamera 3D system as the practice may require.
Canfield Imaging Systems
(800) 815-4330
www.canfieldsci.com
---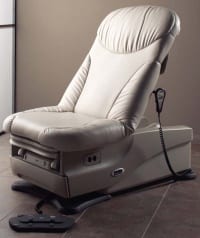 EXAM TABLE
Midmark, Versailles, Ohio, introduces the Midmark 625 Barrier-Free Power Examination Table. The fully adjustable table supports up to 650 pounds, has 32-inch-wide upholstery options, and can be lowered to a height of 18 inches. Its power height and back option gives physicians easy access and accessibility during the patient exam while enabling the patient to be relaxed and in a comfortable position. The table's Quick Exam™ one-touch button enables physicians to prep for exams while the patient is being positioned, and its faster actuator speed helps reduce positioning time by 35%.
Midmark Corp
(800) 643-6275
www.midmark.com
---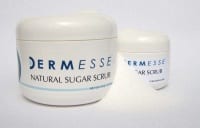 BODY SCRUB
Axia Medical Solutions, Carlsbad, Calif, introduces Dermesse Sugar Scrub. The gentle exfoliating rinse formulated with 98% natural ingredients contains sugar crystals that buff away rough spots on the face, neck, feet, hands, and elbows. It also contains vitamins A and E, which act as antioxidants.
Axia Medical Solutions
(866) 494-4466
www.dermesse.com
---

EYE CREAM
Axia Medical Solutions, Carlsbad, Calif, introduces Optimize Eye Cream, which helps treat the inflammatory cause of baggy eyes, dark circles, and wrinkles. It contains anti-inflammatory agents to treat redness, botanical extracts and enzymes to address the signs of aging, and emollients to maintain the epidermal barrier.
Axia Medical Solutions
(866) 494-4466
www.dermesse.com
---

ANTIAGING SERUM
La Roche-Posay, New York City, introduces DERM AOX anti-glycation and anti-oxidation serum, which, according to the company, inhibits the glycation process and protects against cell oxidation to slow the skin-aging process, smooth wrinkles, and restore radiance. It combines three ingredients: carnosine, which maintains the skin's suppleness by preventing the skin's matrix from stiffening; Pycnogenol®, which neutralizes free radicals and helps protect skin cells from damage; and vitamin C, which helps restore skin structure, smooth skin texture, and increase radiance.
La Roche-Posay
(888)LRP-LABO
www.laroche-posay.us
---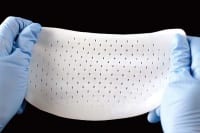 BIOLOGIC MESH
TEI Biosciences, Boston, introduces SurgiMend® PRS, a biologic mesh made from SurgiMend Collagen Matrix—derived from the skin of fetal or neonatal calves—that is designed specifically to be used for breast
reconstruction. It is available in three unique shapes and sizes that easily conform to breast contours and provide sound structural support during healing. It also incorporates a dense network of finestrations that assist with fluid drainage, provide gradual stretch, and improve incorporation.
TEI Biosciences
(866) 524-0022, opt 1
www.teibio.com